Zuma's Night of Long Knives Risks ANC Split, Credit Rating
By and
Malusi Gigaba replaces Pravin Gordhan as finance minister

Rand plunges after Zuma makes sweeping changes to cabinet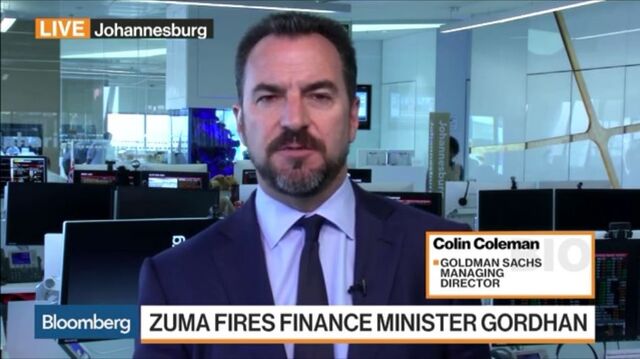 South African President Jacob Zuma fired Finance Minister Pravin Gordhan and made sweeping changes to his administration in a high-stakes power play that may threaten his own presidency and place the nation's investment grade credit rating at risk.
Zuma replaced Gordhan, with whom he feuded over state finances, with Home Affairs Minister Malusi Gigaba, who has no financial or business experience. He also named lawmaker Sfiso Buthelezi to take over from Mcebisi Jonas as deputy finance minister. The cabinet overhaul came in a late-night move that threatens to split the 105-year-old ruling African National Congress and trigger a revolt against the president. The rand extended losses, heading for its worst week in more than a year.
"Zuma has been playing Russian Roulette with our investment-grade rating through his actions," Colin Coleman, head of sub-Saharan Africa at Goldman Sachs Group Inc., said in an interview on Bloomberg TV on Friday.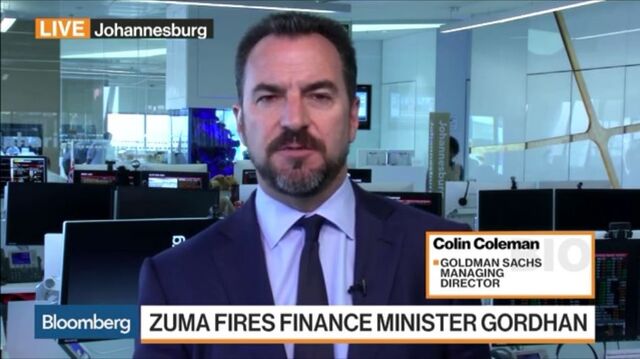 Zuma's decision to replace Gordhan, popular with investors because of his efforts to rein in spending, came in the face of opposition from three of the top six members of the ANC and its alliance partner, the South African Communist Party. Some cabinet ministers were said to be ready to turn against the president, who's survived a series of corruption scandals and presided over the party's worst-electoral performance since the end of apartheid in 1994 in municipal elections in August.
While Zuma told the ANC leaders about Gordhan's removal at the Thursday night meeting, they weren't consulted about the rest of the cabinet changes, according to the party's secretary-general, Gwede Mantashe. Gigaba was a compromise candidate, he said.
Stormy Relationship
"We were just given a list," he said by phone Friday. "All decided, it was thrown at us."
Gordhan's ouster marked the end of a stormy relationship that began almost as soon as Zuma named him as finance minister in December 2015, four days after the president triggered a sell-off in the rand by replacing the respected Nhlanhla Nene with a little-known lawmaker. He clashed with his boss over the affordability of building nuclear power plants and the management of state-owned companies.
While removing an opponent in a key position may strengthen Zuma's grip over the government in his final year as ANC leader, a backlash within the party would galvanize his detractors as he seeks to secure his choice as successor in a party election in December.
The rand tumbled, weakening as much as 2.6 percent against the dollar and was at 13.4421 by 10:34 a.m. in Johannesburg on Friday. It has plunged 7.5 percent this week, the most of more than 140 currencies tracked by Bloomberg. Yields on benchmark rand-denominated government bonds due December 2026 climbed 36 basis points on Friday to 8.86 percent.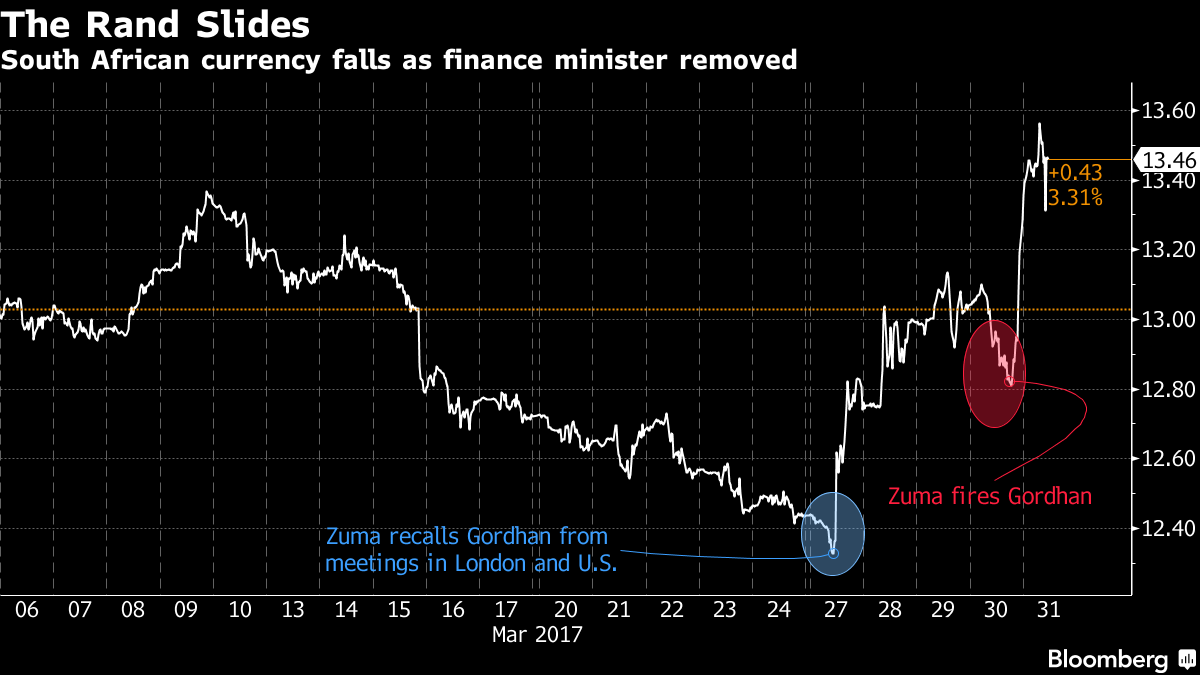 QuickTake Why South Africans Are Losing Faith in Zuma and ANC
"Unlike when Nene was fired, the opposition to Zuma within his government is now much stronger, presaging a full-blown political crisis," said Nicholas Spiro, a partner at London-based Lauressa Advisory Ltd., which advises asset managers.
Zuma's made 20 changes to his administration, capping a dramatic week when he ordered Gordhan on Monday to cancel a series of meetings with investors in the U.K. and the U.S. and return home.
South Africa's fourth finance chief in 15 months, Gigaba, 45, was appointed as minister of home affairs in May 2014. A former president of the ruling party's youth wing, he trained as a teacher and holds a masters degree in social policy. He previously served as the minister of public enterprises, deputy home affairs minister and as a lawmaker for the ANC.
The other cabinet changes announced by Zuma include the appointment of Mmamoloko Kubayi as energy minister to replace Tina Joemat-Pettersson, Joe Maswanganyi as transport minister in place of Dipuo Peters and Tokozile Xasa as tourism minister in place of Derek Hanekom.

Several ministers were given new portfolios including Fikile Mbalula, who becomes police minister, and Nathi Nhleko, who was named minister of public works. Ayanda Dlodlo will take over the communications portfolio from Faith Muthambi, who becomes minister of public service and administration. Hlengiwe Mkhize succeeds Gigaba as home affairs minister.
Zuma didn't bring in Nkosazana Dlamini-Zuma, the former head of the African Union Commission and his ex-wife, who is seen with Deputy President Cyril Ramaphosa as a leading contender for ANC president at a party electoral meeting at the end of the year.
Political Survivor
Zuma has survived a series of scandals since he became president in 2009. The Constitutional Court last year ruled that he broke his oath of office by refusing to repay taxpayer's money spent on his private home.
The nation's graft ombudsman also implied that he allowed members of the Gupta family, who are in business with his son, to influence cabinet appointments and the issuing of state contracts. Zuma and the Guptas deny having ever intentionally broken the law.
The two biggest opposition parties, the Democratic Alliance and the Economic Freedom Fighters, have filed for votes of no confidence in Zuma in parliament. The DA sought a court order Friday to stop the swearing-in of the new ministers.
The cabinet changes will leave South Africa's credit rating vulnerable. Moody's Investors Service, which rates South Africa's debt at two levels above junk and with a negative outlook, is scheduled to publish a review of the nation's creditworthiness on April 7. S&P Global Ratings and Fitch Ratings Ltd. kept their assessments at the lowest investment grade late last year.
"We expect the current explosion of political turmoil and its resulting economic and fiscal uncertainties to catalyze sovereign rating downgrades," said Phoenix Kalen, director of emerging-market strategy at Societe Generale SA in London.
— With assistance by Guy Johnson
Before it's here, it's on the Bloomberg Terminal.
LEARN MORE