What Happens When Your CFO Drops Dead?
Insurance and noncompete agreements can help protect small businesses if a crucial employee dies or defects.
By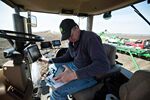 Although Frahm Farmland has been run by the same family for six generations, it's not just another family farm. The 30,000-acre spread in Colby, Kan., is a high-tech agribusiness. "We can run almost the whole farm from iPhones and iPads," says owner and Chief Executive Officer Lon Frahm. "We can monitor soil conditions, turn the irrigation on and off. Everything we own steers itself."
Frahm has only nine employees, each well-versed in those technical aspects. Replacing a worker would mostly require teaching him how to master the technology. But at age 59, Frahm has been thinking, What happens when I can't walk through the door?
Managing key-employee risk is crucial for any business's survival, especially small ones. "It's a huge risk," says Wayne Rivers, president of the Family Business Institute, a consulting firm in Raleigh, N.C. "If you've got 10 people, and one person's out, your workforce is down 10 percent, and if it's a key person, your productivity could be down 50 percent or more."
One way to address the risk is to take out life insurance on critical employees. Benefits on such policies are paid to the business, not the employee. The funds can be used to pay an executive search firm to find a replacement for the deceased employee, keep the business afloat in the interim, and, in the case of an owner's death, pay estate taxes on the business.
But insurance has its limits. "The problem with key-man insurance is it only covers somebody dropping dead," Rivers says. "What if you're running a small business, and you've got a right-hand person who's really a go-getter, and that person decides to leave and go work for the competition?"
Rivers says that to find and train a replacement, businesses need to draft standard operating procedures, or SOPs, detailing what each essential employee does. "Let's say your key person is your No. 1 sales guy," he says. "Someone had better be documenting how he goes about prospecting, nurturing leads, and converting them into sales. Or if the person is your chief financial officer, you need to document what her SOPs are—what she does every day, week, month, quarter. That way, if they do leave you, you're not caught with your pants down. You're in a position to bring in a new person and train them on the same SOPs that have proven successful for you."

Having created SOPs, you should have replacements in mind for key employees, including yourself, in case the worst happens. "Your team of advisers—your lawyer, your accountant, and your financial adviser—they need to know, if you died tomorrow, who do they need to contact to replace you?" says Gary Pittsford, a financial planner at Castle Wealth Advisors who advises small family businesses on succession.
Three years ago, Frahm made arrangements with his lawyer so that in the event of his death, a four-person trust would run the farm until a suitable replacement was found. He has some candidates in mind. "It might be a supplier of mine or a banker," he says. "I joke that our seed dealer practically has a desk at our operations."
Businesses also need to prepare if a key employee leaves to start a rival operation, Rivers says. "If you drew a circle of a 5-mile radius around the offices of some of our clients, you could probably identify a half-dozen people that once worked for them that went off to start competing businesses."
One way to prevent this is to get employees to sign noncompete agreements barring them from working in the same industry for a period of time. But beware: Laws and legal precedents on noncompete agreements vary significantly by state. California, North Dakota, and Oklahoma prohibit them. "For states that allow noncompetes, the rule overall is the agreement needs to be reasonable in scope for both the time period and geography," says Koray Bulut, an employment lawyer with Goodwin LLP, in San Francisco. One to three years is standard.
Frahm says that in his 30-plus years running the farm, no employee has left for a competitor. "A goal of mine is to become the employer of preference in the community," he says. To build loyalty, he pays for employees and their families to vacation with him. This year they'll all be going on a Caribbean cruise.
The bottom line: Insurance policies and noncompete agreements can help protect small businesses if a crucial employee dies or defects.
Before it's here, it's on the Bloomberg Terminal.
LEARN MORE