Senate Panel Pledges Strong Russia Probe as House Stalls
By
Senate Intelligence starts hearing as House panel is stymied

Democrat Warner says Russian meddling wasn't 'fake news'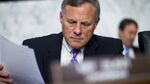 Leaders of the Senate Intelligence Committee promised a thorough and impartial investigation into Russian meddling in the U.S. presidential election at the opening of a public hearing Thursday, held as a House probe remained mired in partisan disputes.
"If we politicize this process, our efforts will likely fail," panel Chairman Richard Burr, a North Carolina Republican, said in opening remarks at the hearing in Washington. "The public deserves to hear the truth about possible Russian involvement in our elections."
Witnesses told the panel that computer hacking by Russia was more extensive than previously understood, including against members of Congress.
"We simply must -- and we will -- get this right,'' added Senator Mark Warner of Virginia, the panel's top Democrat. "The chairman and I agree it is vitally important that we do this in as credible, bipartisan and transparent a manner as possible."
Still, Warner directed a few pointed barbs at President Donald Trump, saying the Russian effort to disrupt the election wasn't "fake news." He said it's a threat to both political parties because "it will happen again."
Warner also expressed concern about what he called Trump's "wild and uncorroborated accusations" that then-President Barack Obama ordered Trump Tower wiretapped and about Trumps intermittent attacks on intelligence agencies.
Sustained Effort
Several experts told committee members of a misinformation effort that began as early as 2008 and reached a crescendo during last year's election. They cited stories such as a report of a terrorist attack on U.S. forces at the Incirlik air base in Turkey and the "Pizzagate" conspiracy in the waning days of the election, where a Washington pizzeria was falsely accused of being involved in illegal activities connected to Hillary Clinton's campaign.
Clint Watts, a national security expert at the Foreign Policy Research Institute, said Russia will continue similar efforts and attempt to sway future elections. The aim is to undermine citizen confidence in democratic governments and advance Russian goals and interests, he said.
Watts, a former FBI agent, said other recent targets included House Speaker Paul Ryan and Senator Marco Rubio, both Republicans. Rubio of Florida, a member of the Intelligence panel, said staff members on his presidential campaign were unsuccessfully targeted in July 2016 by hackers using an address in Russia. Former campaign staffers were again targeted Wednesday, he said.
"From these objectives, the Kremlin can crumble democracies from the inside out," Watts said.
Thomas Rid, a professor of security studies at King's College in London, said while Russian hacking events began during the last decade, they gained new traction in the last two years as intelligence operators began to combine hacking and disclosure into an active influence campaign.
"The tried-and-tested way of active measures is to use an adversary's existing weaknesses against himself," Rid said. "The more polarized a society, the more vulnerable it is -- America in 2016 was highly polarized."
The inquiry by U.S. intelligence agencies into Russian meddling, including the hacking and release of Democratic emails, has expanded into the explosive question of whether anyone close to Trump abetted the effort.
House Gridlock
The House Intelligence panel's parallel investigation has been gripped by partisan paralysis. That committee's chairman, California Republican Devin Nunes, has refused to share with other panel members intelligence he said he viewed during a trip to the White House grounds. He also refused to disclose the source of the information.
Russian President Vladimir Putin on Thursday reiterated his denials that Russia meddled in the U.S. presidential election, saying, "As Reagan once said about taxes, 'Read my lips: No,'" apparently confusing former U.S. President Ronald Reagan with his successor, George H.W. Bush.
Several senators said that Russia's attacks are helping unify their chamber in working to take on Putin's regime.
"He certainly consolidated us," Senator James Lankford, a Republican from Oklahoma, said as he read Putin's statement to the committee. "It is painful to watch the Russian people trapped in a regime that is doing this worldwide."
Even so, the rancor in the U.S. House panel has intensified, with a number of leading House Democrats calling for Nunes to recuse himself from the committee's investigation into Russia.
'Thorough and Bipartisan'
Ryan, who has backed Nunes, told reporters Thursday the panel's probe needs to be "thorough and bipartisan."
"I think you're right, this has gotten a little political," Ryan told reporters. "What I'm worried about with Russia, is you have elections in Europe this year."
The House committee's top Democrat, Adam Schiff of California, has called for Nunes to step down from the probe. Schiff has said he hoped to find a way to resume the investigation and that he wanted to meet with Nunes later Thursday.
"The only way that this is going to be credible is if we can somehow come together on a bipartisan report," said Schiff.
— With assistance by Billy House
Before it's here, it's on the Bloomberg Terminal.
LEARN MORE