politics
Most Popular Serb Leader Since Milosevic Set to Be President
By and
Prime Minister Vucic seen winning Sunday vote in first round

Critics warn candidacy may result in Turkish-style power grab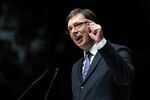 The last time Serbia had a leader this popular, it was at war.
Almost two decades after NATO bombers forced Slobodan Milosevic's troops from Kosovo, his former information minister, Premier Aleksandar Vucic, is headed for a landslide victory in Sunday's presidential election. Unlike Milosevic, Vucic has promised to bring his country closer to the European Union. But he's also tapped nationalist sentiment, championed ties with Russia, and maneuvered through the voting process in what his opponents warn is a power grab.
At first glance, Vucic's aspiration to the mostly ceremonial role is a step down from head of government in the largest former Yugoslav republic. Still, he pushed aside his ally, President Tomislav Nikolic, to run himself, saying their Serbian Progressive Party can't risk a loss by letting the less-popular incumbent try for a second five-year term. That prompted opposition parties to warn he's trying to corner power outside of traditional means, following a trend of other leaders who have bridled against the concept of liberal European democracy from Poland to Turkey.
"The presidency is weaker on paper than the premiership, but we see it highly unlikely that Vucic will stop dominating Serbia politically from the new post," said Nate Schenkkan, project director at Washington, D.C.-based Freedom House, an independent organization that advocates for democracy. "That creates a situation like what we have right now in Turkey, where the president de facto runs the country, even though it is still a parliamentary system."
Vucic is set to win 54 percent in Sunday's election, eclipsing the other 10 challengers, according to a survey by the Ipsos pollster published in the Politika newspaper on Friday. Enough to avoid an April 16 runoff, that would be the most since Milosevic won his first presidential election with 65.3 percent in 1990, before the former Yugoslavia's bloody disintegration.
Read more about concerns that Vucic will corner political power in Serbia
Vucic, once a member of the hard-line nationalist Serbian Radical Party, has launched accession talks with the EU and vowed to prepare the country for entry by 2020. For the 7 million Serbs whose living standards are just above a third of the EU average, membership is seen as the most certain guarantor to catch up economically and shrug off the lingering stigma of being part of the continent's deadliest conflict since World War II.
His government has made economic progress under a deal with the International Monetary Fund, slashing the fiscal deficit to 1.4 percent of gross domestic product, from almost 7 percent in 2014. Unemployment was 13 percent in February, a drop of a third from a year earlier, according to the statistics office in Belgrade.
Investors have responded by pushing down Serbian borrowing costs. The interest on the country's dollar bonds maturing in 2021 rose three basis point to 3.844 percent at 11:27 a.m. in Belgrade, almost a full percentage point lower than a year earlier, according to data compiled by Bloomberg.
"Vucic has already proved that he knows what he's doing," said Zlatan Lekovic, a 41-year-old salesman who struggled to find work after the economic crisis before landing a job in 2015. "He's shown that he can bring things in order. Who needs uncertainty in times like these?"
Still, IMF-endorsed austerity has angered some voters. Hundreds of pensioners rallied in Belgrade this week to protest pension cuts and workers at companies struggling after state subsidies were eliminated have taken to the streets to demand overdue wages.
Back Burner


Like Putin and Milosevic, Vucic has maneuvered through elections to strengthen his position. Besides his presidential bid, he also held and won two snap parliamentary ballots since 2014 that helped keep the fragmented opposition on the back foot. Critics also complain he's misused his position to dominate news coverage, suppress the voices of opposition parties and media and stoke nationalist sentiment that has poured cold water on support for western integration.
After holding his biggest campaign event on the anniversary of the start of the North Atlantic Treaty Organization-led bombing that drove Milosevic's forces from Kosovo in 2000, Vucic traveled to Moscow this week to negotiate the delivery of fighter jets and armored vehicles, pledging to strengthen economic and defense ties with Russia. He has also vowed to never support the EU's sanctions against Russia for its annexation of Crimea in 2014.
Other parties have also picked up on the the tilt toward Russia, which has coincided with a drop in backing for EU membership. Support for joining the bloc is 43 percent, the lowest in five years, according to a poll this month.
"Putting the EU on the back burner is a bit worrying," Bojan Klacar, a researcher at the Center for Free Elections and Democracy, said by phone. "Right-wing populism from Europe is spilling over to Serbia and is damaging Serbia."
(
Updates with markets in eighth paragraph.
)
Before it's here, it's on the Bloomberg Terminal.
LEARN MORE