politics
FCC Mulls Broadband Deregulation That Would Have AT&T Popping 'Champagne Corks'
By
AT&T and CenturyLink may reap rate relief for high-speed line

FCC will vote April 20 on a measure to deregulate rates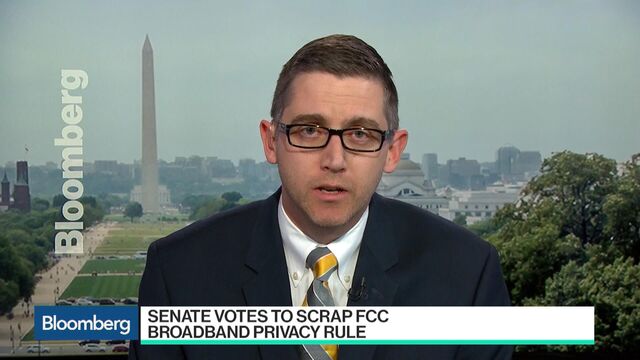 AT&T Inc. last year fought proposed regulations that would have cut the rates it charges for high capacity broadband lines needed by banks, universities, hospitals and other businesses.
Now, after renewed lobbying, the company may get what it wanted and more. The U.S. Federal Communications Commission has scheduled a vote on a measure that could instead give companies more freedom over rates in the $45 billion market.
"They're going to go in the exact opposite direction," said Gigi Sohn, a fellow at the Open Society Foundations policy group who helped craft last year's proposal as an FCC aide. "AT&T and CenturyLink are going to pop the champagne corks."
The proposed change, set Thursday for a vote at the FCC's April 20 meeting, would extend a winning streak for big telecommunications companies since the election that brought President Donald Trump to power. The agency under Republican Chairman Ajit Pai has suspended part of a privacy rule, cleared mobile providers to exempt in-house video from monthly data caps, eased scrutiny of some combinations of TV stations, and prompted speculation that media ownership rules will be relaxed.
Prior story: The $45 Billion Market Where Businesses May Welcome Regulation
"Based on the number and specificity of recent lobbying meetings" deregulation appears likely, Paul Gallant, an analyst with Cowen & Co., wrote in a March 28 note to clients. Unlike last year when they were before a Democratic FCC, AT&T and CenturyLink Inc. "are playing offense, not defense," he said.
As a minority member of the FCC, Pai was critical last year as the Democrats moved toward imposing rate cuts. New entrants increasingly are taking market share from the dominant providers, showing that regulation is not needed to ensure competition, Pai said.
The issue faded when Democrats failed to bring it to a vote before the election that gave Republicans the majority of the commission. But discussion inside the agency picked up pace in recent weeks after AT&T requested pricing flexibility for lines using an older technology that still makes up most of the market. Price caps could discourage the transition to newer, faster lines, AT&T said in a filing.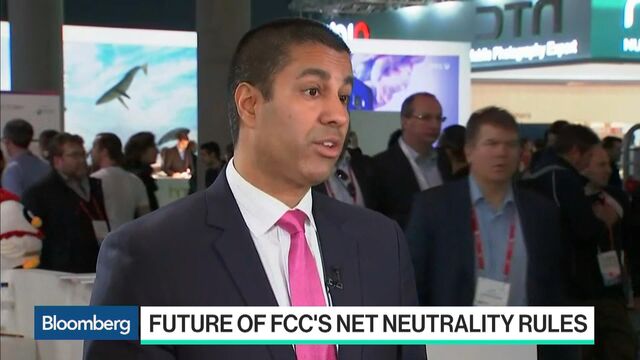 "Our FCC filings are consistent with the positions we've taken for the past two years in this proceeding," said Michael Balmoris, an AT&T spokesman.
Bloomberg Intelligence: FCC's Business-Data Rules Are Casualty of Trump White House Win
AT&T's plan ties price deregulation to demonstrated showings of competition in specific geographic areas, said Gallant, the analyst. Another proposal from CenturyLink and Frontier Communications Corp. asks broader relief, he said.
CenturyLink and Frontier in an FCC filing asked to be freed from "stultifying" rate rules, saying they face competition from smaller providers in 95 percent of localities where they offer business data service.
"Our proposal reflects that competition exists," said John F. Jones, CenturyLink senior vice president of public policy and government relations. "In the same way that the highly competitive long distance market was deregulated in the 1990s, business data services are highly competitive and driven by the marketplace."
The requests for deregulation are opposed by Sprint Corp. and Windstream Holdings Inc., who are buyers of the business broadband services. "A small handful of companies are overcharging," Sprint said in a March 22 filing.
'Dramatic Reversal'
"The AT&T proposal would be killing competition" and push "billions" of dollars of price increases onto smaller companies, Chip Pickering, chief executive officer of the Incompas trade group that represents network operators that compete with the biggest providers. Sprint and Windstream are members.
Pickering said the proposal represents "a dramatic reversal" and a "choice to rig the market to protect the incumbent from free markets and competition."
The discussion revives a debate that seemed to peter out with the Nov. 8 election. The FCC, then under Democratic leadership, had concluded that parts of the market aren't competitive, and it proposed ordering rate cuts for three straight years. The agency abandoned the proposal on the eve of a proposed vote after Republican lawmakers asked for a halt to most regulatory actions until Trump took office.
After a quiet interim, the previously moribund proceeding sprang back to life as the Trump administration arrived.
Dozens of Meetings
There have been more than two dozen meetings touching on the topic at the FCC since mid-January, according to disclosures filed by companies with the FCC. Cable providers have sought assurances their high-speed lines won't be regulated. Competitors including Windstream have said it would be unfair to switch direction without a full round of comments that could take months.
AT&T sent Bob Quinn, its top Washington official, to visit Pai's aides on Jan. 10 for discussion "as the commission prepares for the transition to a new administration," with the business-data proceeding among topics covered, according to a disclosure filing. Three days later Quinn met with Commissioner Michael O'Rielly, the Republican who along with Pai now forms a decisive majority at the agency; again business-data was discussed.
No new arguments were made at either meeting, AT&T said in the filings. The company had criticized as "unnecessary and unfair" the changes proposed last year by the FCC, saying they would produce "a substantial, unwarranted wealth transfer" to Sprint and Windstream. In a Feb. 6 meeting AT&T officials suggested to Pai's adviser for wireline issues that the agency had enough evidence to decide the matter, and on March 9 the company proposed a new regime.
Before it's here, it's on the Bloomberg Terminal.
LEARN MORE