EU to Trump: Mess With Brexit and We'll Mess With Texas
By and
U.K.'s departure is a new beginning for EU, leaders say

Bloc will remain united during U.K. negotiations, Tusk says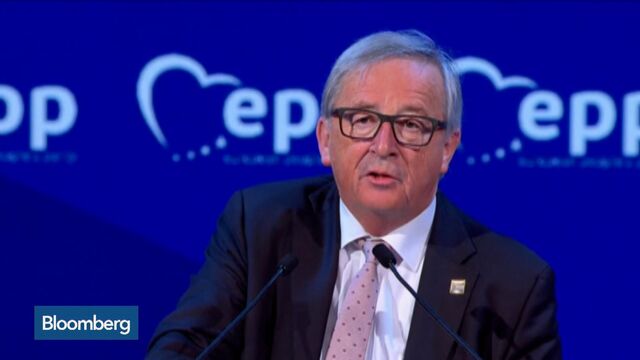 Follow @Brexit for all the latest news, and sign up to our daily Brexit Bulletin newsletter.
European Commission President Jean-Claude Juncker hit back at Donald Trump's support for the U.K.'s withdrawal from the European Union, saying that he would champion American states that wanted to secede from the union.
"The newly elected U.S. president was happy that Brexit was taking place and was asking other countries to do the same," Juncker told delegates from his pan-EU Christian Democrat group in Malta. "If he goes on like that, I'm going to promote the independence of Ohio and the exit of Texas."
Whether known to Juncker or not, Texas has long been associated with autonomous leanings, having declared itself the independent Republic of Texas in 1836 after seceding from Mexico, according to the Texas State Library and Archives Commission. It didn't join the U.S. until 1845.
Juncker's tone belies the anger among EU chiefs that President Trump has stoked the Brexit fire and, with it, egged on other countries to follow the U.K.'s lead.
Read more: What We Learned the Day May Triggered Article 50
'New Beginning'
Leaders from the European People's Party, including German Chancellor Angela Merkel and EU President Tusk, were meeting a day after Prime Minister Theresa May officially notified the bloc that Britain is withdrawing, starting two years of negotiations.
"Brexit isn't the end of everything, we must consider it to be a new beginning," Juncker said.
The U.K.'s decision will make the EU "more determined," Tusk said, adding that the bloc would remain "united in the future, also during the difficult negotiations" with the U.K.
While Merkel didn't mention Brexit in her speech directly, she also chose to focus on unity.
"Many people are saying the world and Europe are going a bit off the rails," said Merkel, who as leader of the EU's largest economy will have the biggest say on the final deal the bloc strikes with the U.K. "If we act together in Europe, we can do it much better than if we do things on our own in a world that isn't sleeping."