business
Drugmakers Are Trying a New Strategy: Charging Less
By
Regeneron CEO calls decision 'setting a new paradigm'

Political pressure is rising in U.S. over cost of medicine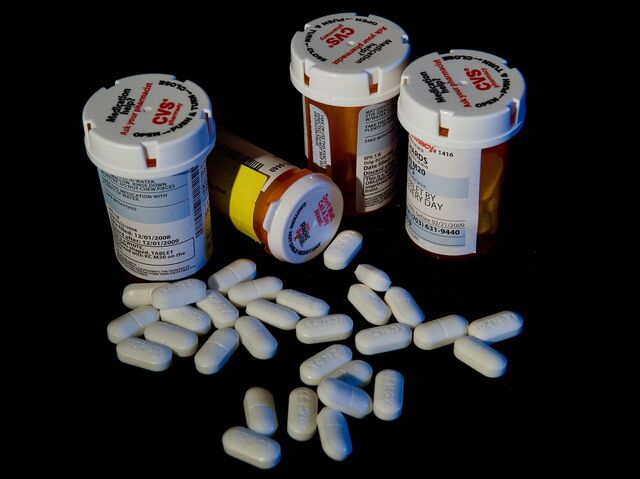 Two of the biggest pharmaceutical companies in the world did something unusual this week when they announced the introduction of breakthrough drugs: they charged less.
If that sounds odd, it is. Drugmakers typically engage in an upwards race to price new medications above older competitors, arguing that the new treatments are worth more because of better effectiveness or fewer side effects. The result has been upward-spiraling list prices in the U.S.
Sanofi and Regeneron Pharmaceuticals Inc. on Tuesday said its new treatment for atopic dermatitis, a debilitatingly painful skin condition, will cost $37,000 a year. That's substantially lower than the $50,000-a-year price charged for similar, older drugs, and the companies said they'd held long talks with insurers to avoid yet another blowup over drug pricing.
Later in the day, Roche Holdings AG did the same thing -- pricing a new multiple sclerosis drug at $65,000, 25 percent cheaper than a 15-year-old competitor, Merck KGaA's Rebif.
The lower price tags come as drugmakers have suffered two years of battering over the prices of medications in the U.S., with criticism stemming from the public and politicians. Drug prices have also become increasingly complex, with large, opaque discounts and rebates to compensate for the rapidly rising up-front prices.
'Ain't Over Yet'
"We believe that Sanofi and Regeneron and the payers are heading perhaps towards setting a new paradigm," Regeneron Chief Executive Officer Leonard Schleifer told investors and analysts on a call Tuesday night. "But it ain't over yet."
Drugmakers are waking up to a new reality, says Roger Longman, CEO of data analytics company Real Endpoints, which focuses on how to value drugs.
"In the old days, if you could convince the physician that one drug was slightly better than another, then he or she would prescribe it, it didn't matter what the cost was," Longman said. "Now, the decision makers are the payers: the insurance companies, the employers."
In the past two years, insurers and pharmacy benefit managers have flexed their muscles, forcing price wars or restricting access to only the sickest of patients. They've also helped fan the political flames, as President Donald Trump has threatened to have government intervene on drug costs. Coming in at a lower price could help avoid those toxic politics.
Talks With PBMs
Regeneron and Sanofi started talks with payers before Dupixent was approved to try and find a mutually agreeable price. They won over Express Scripts Holding Co., which has about a third of the U.S. market in drug claim management, and said they're confident that patients with the skin condition will face limited pre-approval requirements from insurers before before they start the drug -- overcoming a common restriction for many expensive treatments.
At the same time, drugmakers are anxious to be compensated for the costs of research and development. Regeneron has been working on the atopic dermatitis drug, Dupixent, for 20 years, spending what can amount to billions of dollars to bring a drug through trials, according to President George Yancopoulos. He called $37,000 a "fair and reasonable price that provides a fair return."
The Real Price
There's another factor in the lower list prices, however, which don't tell the full story. Since Dupixent is a "first-in-class" drug, meaning it's a novel type of treatment and has no direct competitors, the drugmakers won't have to give the large discounts that are common with drugs that have more competition, and that represent the true cost.
The actual price Regeneron gets, known as "net price," is likely to be in the low $30,000s range, according to the company. That's in line with the net prices other drugmakers get from similar products, said Leerink analyst Geoffrey Porges.
Likewise, though Roche's list price for Ocrevus at $65,000 is 10 percent lower than Biogen Inc.'s drug Tysabri, the take-home pay is likely to be similar since Ocrevus is the only option for patients with a form of the disease called primary progressive multiple sclerosis. Roche won't need to offer as big discounts to be covered, Porges said.
Roche's price is likely to also help it compete with pills for relapsing MS, such as Novartis AG's Gilenya and Biogen's Tecfidera, which carry list prices of about $70,000 to $80,000, according to Emmanuel Papadakis, an analyst at Barclays Plc.
In trials, Roche's drug was tested against Merck's treatment Rebif, and was found to be superior, said Kimberly Muscara, a spokeswoman for Roche's Genentech unit. Yet it will have a list price 25 percent lower, and the company says it won't take the annual price increases that have become common in the industry, as companies wring every last drop of revenue from products.
"We do not intend to follow the path of current multiple sclerosis manufacturers with regard to price increases," said Muscara.
Merck called the price comparison improper, since the drugs are typically paid for differently and Roche's will face fewer discounts.
"With the various types of discounting we provide, the direct comparison in price being cited is misleading," Merck said in a statement. Biogen said it realized the importance of "identifying new approaches to value-based pricing."
Longman said he thinks drugmakers will begin to compete more aggressively on price.
"Drugmakers used to say, 'We can price whatever we determine is the value,'" he said. "Now they're saying, 'Wait a minute, we cannot determine value in a vacuum.'"
— With assistance by Naomi Kresge
Before it's here, it's on the Bloomberg Terminal.
LEARN MORE