pursuits
Biggest China Banks' Bad-Loan Problem May Finally Be Easing
Bloomberg News
ICBC, largest rivals eased up on loan provisions last year

Construction Bank, Agbank reported lower bad-debt ratios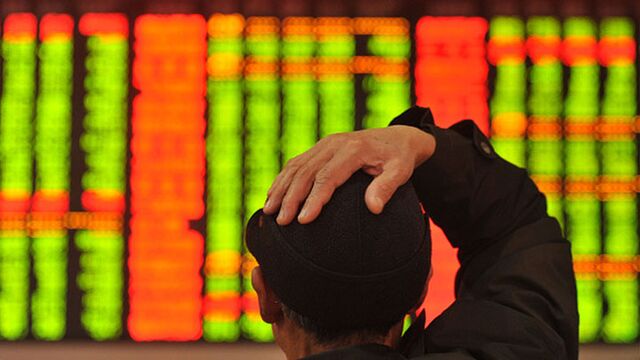 The bad-loan challenge for China's biggest banks, which worsened steadily over much of the first half of the decade, may finally be easing.
Earnings reports this week from Industrial & Commercial Bank of China Ltd., China Construction Bank Corp. and Agricultural Bank of China Ltd. showed that their provisions for losses on bad loans stabilized last year, helping them to post higher-than-estimated profits.
The lenders' bad-loan ratios either declined or, in ICBC's case, held steady, a sign that the banks benefited from a rebound late last year in the world's second-biggest economy. That's a welcome change for an industry that has been contending with loan defaults, narrower margins and tighter regulations on mortgage lending and off-balance sheet wealth-management products.
"We have started to see signs of stabilization and slight improvement in ICBC's asset quality," the bank's Chairman Yi Huiman said at a press conference in Beijing on Thursday. "I believe our asset quality will be better in 2017 than 2016. As the Chinese economy recovers, the external operating environment for banks is also improving."

His bank and its two rivals reported combined loan-loss provisions of 262.2 billion yuan ($38 billion) for 2016, little changed from the previous year, exchange filings show. That's a stark contrast to the 43 percent increase in charges in 2015 from 2014 -- during which the lenders saw their bad-loan ratios soar as the nation's economic growth cooled.
Construction Bank reported Wednesday an end-2016 NPL ratio of 1.52 percent, down from 1.56 percent in September and 1.63 percent in June, according to exchange filings. Agbank's level slipped to 2.37 percent by December from 2.39 percent three months earlier, while ICBC was unchanged at 1.62 percent.
Lower Expenses
The full-year earnings posted by the three lenders all beat analyst estimates thanks to cost reductions and the lower-than-expected charges for bad loans. Their combined provisions for 2016 were more than 20 billion yuan below the amount expected by analysts in a Bloomberg survey.
On Friday, Bank of China Ltd., the country's fourth-largest bank, defied the trend on bad-loan charges by reporting a 50 percent increase in full-year provisions. Still, its NPL ratio dropped to 1.46 percent by December from September's 1.48 percent. The lender has had the lowest ratio of the nation's biggest four banks since the second quarter of 2015, data compiled by Bloomberg show.
"Our nonperforming-loan coverage ratio rose more than 9 percentage points as we are operating our business in a prudent manner and controlling risks effectively," Bank of China President Chen Siqing said at a media briefing in Beijing after his company's results. "That's why our provisions grew relatively high, bucking the trend seen from our peers."
Combined Profit
Shares of ICBC lost 0.8 percent in Hong Kong on Friday, matching the decline in the benchmark Hang Seng Index. Construction Bank and Bank of China dropped at least 1 percent, while Agricultural Bank was unchanged.
All five of the largest Chinese banks have now released their 2016 results, narrowly avoiding their first decline in combined annual profit since 2004. Their total net income of 925.4 billion yuan for 2016 was 0.2 percent higher than the previous year, data compiled by Bloomberg show.
Not every economist is convinced by the improving numbers. While the bad loans may have stabilized, it's against a backdrop of rapid credit growth as the government pumps stimulus into the economy in an effort to keep its expansion on track.
Robust consumption and a manufacturing rebound helped China's economy grow a faster-than-estimated 6.8 percent in the fourth quarter. Still, the full-year expansion of 6.7 percent was the slowest since 1990, and economists in a Bloomberg News survey expect growth to weaken to 6.5 percent this year and 6.2 percent in 2018.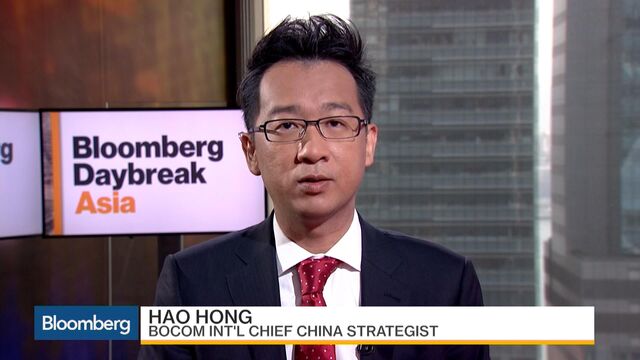 The government plans this year to add credit the rough equivalent of Germany's annual economic output to its already massive stock of total social financing.
As long as government stimulus continues, it will be too soon to call a peak in bad loans, said Xia Le, a Hong Kong-based economist at Banco Bilbao Vizcaya Argentaria SA. "The recently improved NPLs are more like a cyclical phenomenon. As the current recovery runs out of steam, the NPL problem will surge again."
The head of Bank of Communications Co., China's No. 5 lender, offered a more cautious assessment of nonperforming loans on Tuesday, even after his firm revealed an end-2016 bad-loan ratio of 1.52 percent -- down slightly from 1.53 percent in September.
"What's positive to us is different nonperforming-loan indicators dropped during the period, meaning our risk-control measures were efficient," Bocom President Peng Chun told reporters in Hong Kong after his bank's results. "What worries us is that the pressure is huge. I think for our new nonperforming loans, it's hard to say they have peaked."
— With assistance by Jun Luo, Alfred Liu, Heng Xie, Xiaoqing Pi, and Enda Curran
(
Updates with Bank of China results in eighth paragraph.
)
Before it's here, it's on the Bloomberg Terminal.
LEARN MORE