markets
Trump Trade Correlation Erosion Tests the Faith of Market Bulls
By and
Equity markets may benefit from looser dollar, bonds link

Oppenheimer sees reflation trade resuminng after consolidation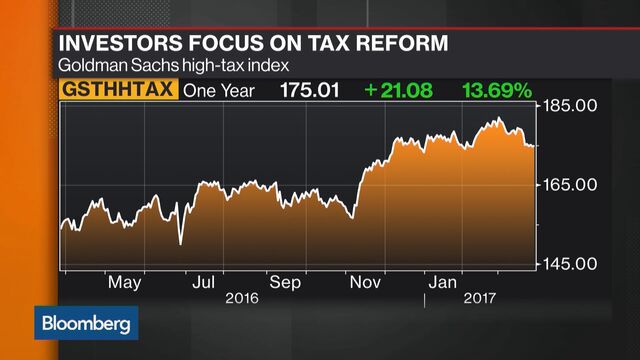 Will markets have a case of the Mondays or the Tuesdays?
That's one of the the biggest questions facing investors as the relationship between U.S. equities, the dollar and Treasury bond yields becomes less correlated. After stocks deviated from the others in a move higher Monday, they traded in tandem again Tuesday in what has become known as the reflation trade since the election of Donald Trump.
"Once the U.S. presidential election was out of the way, global markets responded to the pick-up in global growth," said Stuart Thomson, a Glasgow, Scotland-based fund manager at Ignis Asset Management. "As we started to move into 2017, the question became how sustainable is this."

The deterioration comes as the administration struggles to gain traction for its legislative agenda, suggesting that traders are questioning whether an acceleration in U.S. economic activity will boost revenue growth, long elusive for publicly-traded companies throughout the bull market.
At the same time, the slipping relationships are welcome news to some analysts who have raised concern that continued gains in bond yields and the dollar will have an adverse effect on equities.
"The recovery will continue if we don't have a big rise in the dollar and yields and oil," said Christopher Sullivan, who oversees $2.3 billion as chief investment officer at United Nations Federal Credit Union in New York. "People kind of get skittish with yields when the 10-year gets to the December highs of around 2.6 percent or so."
Earnings Expectations
Consider the start of 2015, when the market's response to a rising greenback was in stark contrast to its post-election reception. Investors fretted then that a stronger dollar would erode companies' earnings from abroad. Bespoke Investment Group macro strategist George Pearkes cited this as reason why the dollar's role as a risk-on currency will be fleeting.
"It's harder for big U.S. companies because of how much money they earn overseas," Pearkes said. "The benefit to their imported goods prices is smaller than the cost of directly lower profits because of these currency changes."
The end of the reflation trade is far from a universally held -- or desired -- view. Among those expecting the post-election backdrop to re-emerge in earnest include Oppenheimer & Co. technical analyst Ari Wald.
"We're not yet concerned about weakening economic growth given the 10-year's rising 200-day moving average," Wald wrote. "But if yields continue to reverse lower though the course of the year, as in the second half of 2014, then our bullish outlook on the S&P's cycle will need to be re-evaluated due to the positive correlation between rates and the risk-on reflationary trade."
Fed Signals
Other analysts caution that reliance on these relationships to guide positioning is unwise.
Investors have an unwarranted belief in the value and sustainability of many presumptive correlations, such as the effect of Federal Reserve rate increases from low levels on the equity market and the greenback, said David Kelly, chief global strategist at JPMorgan Funds. At this juncture, they should be focusing on the signals sent from the U.S. central bank, he said.
A Fed that continues to increase interest rates -- Kelly reckons one hike per quarter -- ought to be supportive of cyclical stocks relative to defensive ones, he reasons.
"This is not a good time for using back of the envelope rules of thumb on correlations," Kelly said. "It's an unusual market in a long expansion, with an unusual stance by central banks and an unpredictable stance in terms of U.S. trade and fiscal policy."
— With assistance by Julie Verhage
Before it's here, it's on the Bloomberg Terminal.
LEARN MORE