Toshiba Projects Record Loss as Nuclear Unit Files for Bankruptcy
By and
Toshiba warns full year loss may widen to 1.01 trillion yen

Japanese company trying to sell memory chips division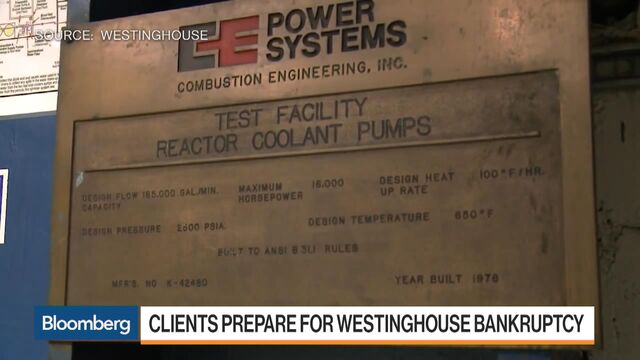 Toshiba Corp. projected its annual loss could more than double to a record 1.01 trillion yen ($9.1 billion) as its U.S. nuclear unit Westinghouse Electric filed for Chapter 11 bankruptcy.
The collapse of Westinghouse, once the linchpin of Toshiba's plans to diversify away from consumer electronics, caps a disastrous run for the Japanese conglomerate as project delays crippled earnings from the nuclear plant business. The company has now put its prized memory chip unit up for sale just as it was recovering from a profit-padding scandal that claimed the scalps of senior executives.

Pennsylvania-based Westinghouse, whose technology forms the basis of about half the world's atomic units, has been grappling with project setbacks in Georgia and South Carolina, which led to Toshiba's impairments. The forecast loss by the Japanese parent company would be a record for a Japanese manufacturer, according to data compiled by Bloomberg, and is more than double the company's 390 billion yen projection last month.
"They need to start being able to give people confidence in what the maximum liabilities will be, but every time they put out an estimate, the loss gets bigger and bigger," said Zuhair Khan, an analyst at Jefferies in Tokyo. "I don't think this is the last cockroach we have seen coming out of Toshiba."
Toshiba Chief Executive Officer Satoshi Tsunakawa said there is no risk of additional losses to the company from overseas nuclear projects.
"Today's filing by Westinghouse is an important step toward recovery," he said. "It is also in-line with our goal of limiting risk from overseas nuclear operations."
Westinghouse said in a statement that it obtained $800 million in debtor-in-possession financing to help fund the reorganization. The company has agreed with owners of its AP1000 reactor developments to continue the projects during an initial assessment period, and it will continue work in China, it said.
For a Gadfly commentary on the Westinghouse bankruptcy, click here
Toshiba listed as much as $10 billion debt for Westinghouse and another entity. The nuclear unit filed in U.S. Bankruptcy Court for the Southern District of New York and proposed to appoint Weil, Gotshal & Manges LLP as legal adviser, AlixPartners LLP as financial adviser, and PJT Partners Inc. as investment banker, subject to court approval.
Toshiba said last month it expected to write down 712.5 billion yen in its nuclear-power business, citing cost overruns and diminishing prospects for atomic-energy operations. The company has twice delayed its earnings report, with results for the December quarter now due on April 11.
"There were warning signs when Toshiba delayed releasing financials earlier this year," said Emmanuel Chua, senior associate at Herbert Smith Freehills in Singapore. "The big question mark is whether the restructuring plan and process presents real opportunities for a turnaround, or whether it is simply an exercise of 'kicking the can down the road."'
Shares of Toshiba have slumped 23 percent this year after advancing 13 percent in 2016. The loss forecast was announced after the close of trading on Wednesday.
Expectations that the company may be too big to fail for the Japanese government, and the likelihood that it will get state support is bolstering its bonds. Toshiba's 20 billion yen of December 2020 bonds were little changed at 88 percent of face value, according to data compiled by Bloomberg.
Toshiba's $5.4 billion purchase of Westinghouse in 2006 may have seemed promising at the time. In 2005, the U.S. government gave nuclear developers a package of tax credits, loan guarantees and cost-overrun backstops. Westinghouse signed deals in 2008 to build four reactors for Southern Co. and Scana Corp., the first U.S. nuclear plants since the 1979 accident at Three Mile Island to be approved for construction by regulators.
Read more: How an American Tech Icon Bet on Nuclear -- and Lost its Way
Spiraling Costs
But costs increased after stricter safety standards were put in place in the wake the 2011 Fukushima nuclear accident in Japan. On top of that, a plunge in natural gas prices has made nuclear generation less attractive.
Scana and Southern could end up facing billions of dollars in additional costs, according to Morgan Stanley. Scana faces as much as $5.2 billion in higher costs that could drag its shares down 5 percent, analysts at the bank including Stephen Byrd said in a March 22 research note, while cost overruns for utility owner Southern could reach $3.3 billion.
Westinghouse wants to exit its role as contractor for building two new reactors in Georgia for Southern, the state's Public Service Commission Chairman Stan Wise said in a phone interview Tuesday. The state's regulators believe Southern has "appropriate levels of parental guarantees from Toshiba" on the project.
Japan's Nikkei reported Monday that Westinghouse has turned to Korea Electric Power Corp. as a sponsor for its reorganization. A spokesman for the Korean company known as Kepco said it will consider such a role if requested and that its interested in Toshiba's NuGen stake in the U.K. Toshiba declined to comment on any potential sponsors.
Reactor Pedigree
Westinghouse supplied the world's first pressurized water reactor in 1957 for a nuclear power plant and has been one of the most prominent companies in the atomic industry. Toshiba, one of Japan's three biggest reactor suppliers, was banking that the U.S. company's modular construction design would be easier and faster to execute. The idea was to make reactor components and ship them to construction sites where they could be snapped together, speeding completion.
Construction for Scana and Southern, however, didn't go smoothly. Some projects failed regulatory tests, while others fell behind schedule. Work that should have been finished last year or this year were pushed back to 2019 or 2020.
In February, Toshiba announced it would no longer build new nuclear facilities and would focus instead on supplying parts and engineering. The company said it has received some offers for its NAND memory business, which should be enough to restore its shareholder equity to positive by the end of next fiscal year.
"It will be interesting to see who will buy Toshiba's NAND business at or near the top of the cycle," Amir Anvarzadeh, head of Japanese equity sales at BGC Partners Ltd. in Singapore, wrote in a note to clients late Wednesday. "We stay on the sidelines as we have no idea which way the shares will go."
— With assistance by David Yong, Aaron Clark, Lianting Tu, Takako Taniguchi, and Neil Denslow
Before it's here, it's on the Bloomberg Terminal.
LEARN MORE