These People You've Never Heard of Will Be Negotiating Brexit
They'll be hashing out the details that will affect millions
By and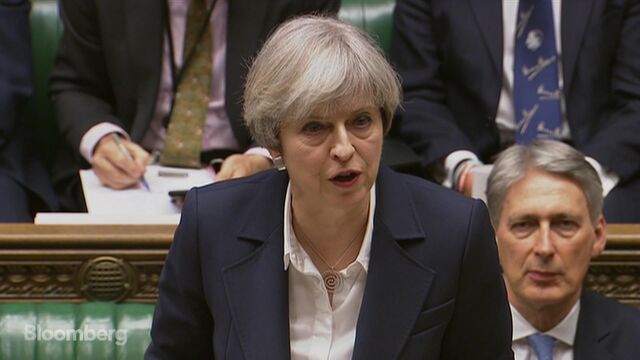 Follow @Brexit for all the latest news, and sign up to our daily Brexit Bulletin newsletter.
Brexit is finally upon us. The letter was delivered by hand, and now is the time to meet the negotiators behind the scenes, the ones that rarely if ever give a news conference. Some don't even have a Wikipedia page, and their digital footprint is minimal. Their faces won't be familiar to the public, but they'll be in many of the critical meetings, hashing out the nitty-gritty details that will be impacting the lives of half a billion people.

You'll be familiar with the chief adversaries: Brexit czar David Davis and Michel Barnier, chief negotiator for the European Union. To start us off, here are two of their closest collaborators who will be seeing a lot of each other over the next two years: Oliver Robbins and Sabine Weyand.
Oliver Robbins, 41
Permanent Secretary at Department for Exiting the EU
An Oxford graduate in Philosophy, Politics and Economics — the classic calling card in the U.K. for a career in the civil service — Robbins went straight into government. He started under then Conservative Prime Minister John Major, a vocal opponent of Brexit, and rose rapidly through the ranks, earning praise as one of the "stars of Whitehall." His fans say experience gleaned over nearly two decades in both the Treasury and 10 Downing Street, the prime minister's office, makes Robbins particularly well-suited for the daunting negotiations ahead.
Critics say he has no European experience per se and point to some unflattering headlines. Photos of Prime Minister Theresa May at an EU summit in Malta showed him carrying her handbag, something he was ridiculed for in media coverage back home. More seriously, he was kicked out of a parliamentary committee after only 20 minutes during a year-long stint as Home Office Second Permanent Secretary for giving "unsatisfactory" replies to questions about budget cuts, and was threatened with contempt. May intervened to defuse the row, a testament to his standing with her. He has a Twitter handle but has only sent one tweet. @OllyRobbins
Sabine Weyand, 52
EU's Deputy Chief Negotiator 
Along with her mother tongue, the German trade expert speaks fluent English and French and is the epitome of the technical and political expertise on the European side of the table. She spent a year at Cambridge University in 1986 while studying political science, economics and English literature before advancing to a doctorate, where her interest in European integration became apparent with a thesis on common transport policy. That gave her an opening at the European Commission, the EU's executive arm. She began working on international car trade in the industry department in the mid-1990s, moved on to the cabinet of then EU trade chief Pascal Lamy and served as an adviser to the previous commission president, Jose Barroso.
With more than two decades at the center of decision-making for the 28-nation bloc, her rapid ascent was capped with the October appointment as Barnier's right-hand person. On Twitter Robbins follows her, but not the other way around. She describes herself an "avid reader, news junkie and foodie." @WeyandSabine
Here are four other key players who will have their say during talks — two from each side — ranging from a polyglot Polish politician with a large online presence to a media-shy Conservative adviser with impeccable French.
Katrina Williams, 54
U.K. deputy ambassador to EU
Her boss, Tim Barrow, may be the one handing the letter to EU president Donald Tusk but as his No. 2, Williams will also be on the front lines of negotiations. The career diplomat has held a range of roles since joining the civil service in 1983, including in the Department of Trade and Industry, Foreign and Commonwealth Office and Cabinet Office as well as the Ministry of Agriculture, Fisheries and Food. She served as deputy head of the European Secretariat in the Cabinet Office from 2003 to 2006, advising Tony Blair on European issues before and during the U.K.'s last presidency of the EU in 2005. That experience suggests she will be well-placed in understanding the complex web of rules and regulations tying the U.K. to Europe. She describes herself on LinkedIn as speaking survival French and Spanish. Williams keeps a low profile with no social media presence to speak of, certainly not Twitter. Her appointment to the Brussels was announced only 16 days before May fired the starting gun on Brexit.
Danuta Huebner, 68
Chair of the Constitutional Affairs Committee in the European Parliament
Born in a small town in eastern Poland, Huebner is an economist by training with a string of publications to her name. But her passion is politics and over the course of three decades she has crossed the ideological spectrum from the Polish communist party to Europe's Christian Democrats in Brussels and Strasbourg, France. She's pragmatic by nature, believes in the economic benefits of integration and is sensitive to the status of Poles living in the U.K. Expect to see those interests to play out.
As head of the European Parliament's constitutional-affairs committee she'll be the one making a recommendation to the whole 751-seat assembly on whether to approve any Brexit accord. Huebner has spent the past 13 years either as a European commissioner or as an EU lawmaker. Along the way, she's picked up English, German, French, Spanish and Russian. She maintains a website — in her native language — and a blog. @danutahuebner
Hubert Legal, 62
European Council Legal Director
With a surname like that, Legal seemed destined for the law. He was trained at an elite university in his native France, had a short stint teaching English before finding his way into the legal profession. As chief lawyer in the Brussels office of EU governments, he has to ensure any Brexit agreement is airtight. He can draw on three decades of experience spread over several countries. Legal has worked as a judge, a legal counselor for the French mission at the United Nations and at the Conseil d'État, which advises the French government on the preparation of bills, ordinances and certain decrees.
He played a key role in drafting the policy concessions the EU offered former U.K. Prime Minister David Cameron last year as part of his failed referendum campaign against Brexit. In Brussels, he has a reputation for  intellectual openness and candor, a quality that also landed him in trouble. In 2005, Legal was replaced as head of a panel of judges hearing the appeal on the Microsoft EU antitrust case after writing in a French legal journal that some clerks regarded themselves as "ayatollahs of free enterprise."
Denzil Davidson, 41
Special Adviser to 10 Downing Street
A longtime Tory insider, Davidson is part of the Europe Unit in Downing St that has May's ear. The foreign affairs expert, who rarely speaks to reporters, helped negotiate Cameron's abortive new deal with Brussels last year and worked with once-party leader William Hague in his former role as foreign secretary. Along with knowledge he brings of the EU institutions, Davidson has the pulse of the party, having started working for the Tories nearly two decades ago. A fluent French speaker, he's a graduate of Edinburgh University, where he studied history and law.
Before it's here, it's on the Bloomberg Terminal.
LEARN MORE