The Drug Overdose Epidemic in America's Suburbs
Overdoses are killing more Americans than ever, while motor vehicle deaths are way below their level a decade ago.
By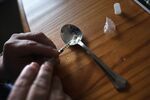 A decade ago the suburbs were the safest place in America when it came to the number of drug overdoses. Now they're the most dangerous. That's one finding in a shocking report released Wednesday.

"This has been a very dark report," says Marjory Givens, one of the authors of the 2017 County Health Rankings. She is deputy director of data and science for the project as well as an associate scientist at the University of Wisconsin's Population Health Institute. "We're facing a crisis here."

To compare causes of death, the ranking project analyzed how many years of potential life were lost per 100,000 people from various causes of death. It used age 75 as the baseline, so if one person died of an overdose at age 25, it would count as 50 years of potential life lost. Large suburban metros had the lowest ratio of potential life lost of any type of community in 2006 but the highest of any type of community in 2015, which was the last year studied. The suburban increase in potential life lost was about 50 percent.



Drug overdoses were the leading cause of death in 2015 for Americans 25 to 44, the study found.
Overdoses are killing more Americans than ever, making up for a decrease in motor vehicle deaths. (Traffic fatalities did tick back up in 2015.) The overall rate of premature deaths bottomed out in 2012, rose slightly in 2013 and 2014, and rose at a faster pace in 2015, the report says. 

The county health-ranking project is a collaboration between the University of Wisconsin Population Health Institute and the Robert Wood Johnson Foundation, a charity devoted to improving health. The annual report contains detailed rankings of the health of every county in every state. It compiles data on health and mortality from a variety of sources, including the Census Bureau and the Centers for Disease Control. The new findings echo those of other research, including a new report on "deaths of despair" among less-educated, middle-age whites.

Givens said one ray of hope is that some communities have responded innovatively to the drug overdose crisis. She cited the Safe Station program in Manchester, N.H., which opens fire stations to drug users who need counseling or emergency treatment "without fear of retribution or arrest."
(Updates to note that traffic fatalities did tick back up in 2015.) 
Before it's here, it's on the Bloomberg Terminal.
LEARN MORE