Pound Drop Seen Short-Lived as Negativity Overdone, Analysts Say
By and
U.K. set to start official process of leaving European Union

Don't expect sharp sustained sterling selloff: MUFG's Halpenny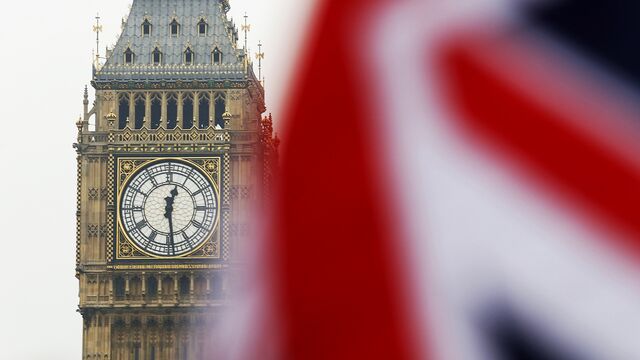 For now, the pound may have fallen far enough.
After sterling's slide of more than 16 percent since Britain voted out of the European Union in June, room for further declines is limited until there is more clarity on how Brexit negotiations will pan out, analysts say.
Sterling pared some of its losses after falling to a one-week low on Wednesday as the U.K. officially starts the process by which it will leave the European Union. Sterling fell to $1.2377, its lowest since March 21, earlier Wednesday but has since pared losses and was at 1.2440 as of 12:05 p.m. in London.
Below is a roundup of analysts' views before the Brexit process starts:
MUFG
Derek Halpenny, European head of global markets research

Do not expect much in the way of a sharp sustained pound selloff or any notable pickup in volatility
Given GBP positioning, the bias would be toward a stronger pound over the coming weeks as once today's event has passed, there won't be much for speculators to trade off for perhaps up to six weeks
The first litmus test that the financial markets will be looking closely at will be the current disagreement in regard to how negotiations proceed
In the meantime, there might not be a lot for the markets to determine any sense of how negotiations will proceed and hence the pound might be somewhat direction-less
Rabobank International
Jane Foley, senior currency strategist

Without doubt there is a lot of bad news priced into GBP. This suggests a fast compromise on the Brexit bill has the capacity to trigger some short covering
While it is too early to anticipate any detail from the EU regarding their negotiating stance on Brexit, the messages from both Tusk and Merkel could give a crucial clue as to the tone that will be taken
We see GBP as more vulnerable versus EUR in part because we see scope for further short-covering in the euro following the spring elections in France, assuming that Le Pen fails in her bid for the Presidency
We expect EUR/GBP to push toward the 0.89 level by the end of the year
Oxford Economics
Martin Beck, analyst

We think the pound is significantly undervalued. It hasn't broken below the October lows despite the hawkish policy shift by the Fed, a less dovish ECB and Brexit-specific shocks materializing

Sterling will likely rebound to 1.32 against the dollar by end-2017. We see risks of an overshoot to our forecast in the intervening period

The working assumption is that tough negotiations will inevitably drive sterling lower. However, there is more than a reasonable chance that pragmatism will prevail and cliff edges will be avoided given the potential costs to both sides if no agreement is reached
UBS Wealth Management
Caroline Simmons, strategist

Sterling appears to be one of the cheapest currencies relative to fair value among G-10 peers and could reach $1.36 in the next 12 months
Pessimism in the pound looks "overdone" and it could recover from current levels if negotiations between Britain and EU are broadly constructive
If talks aren't smooth, sterling could suffer some weakness but a fall to around $1.18 would likely be an attractive long-term entry point
UBS Wealth Management is sticking to its earlier message from January to clients to "keep calm and stay invested" in the U.K. for now
ING Groep NV
Viraj Patel, FX strategist

The more market-relevant event to focus on will be the EU's initial response to the letter handed in by the U.K. 

Donald Tusk is set to make a short responsive statement today, with a draft copy of the EU's negotiating guidelines released tomorrow. This may prove to be the clearest steer yet on whether we're on course for a soft or hard Brexit

The recent hawkish BOE re-pricing, cleaner GBP positioning means downside risks have increased going into today's events, it won't take much bad news for GBP to jolt lower
ING predicts GBP/USD to fall toward 1.20
Bank of America Merrill Lynch
Kamal Sharma, strategist

We retain a structurally long bias in GBP/USD volatility and also believe that longer-dated GBP implied volatility is underpricing the risks of a messy conclusion to negotiations and the potential risk of a Scottish Referendum

Tactically bearish GBP but wary of strong April seasonals; EUR/GBP head-and-shoulders top formation on charts is a risk

Article 50 triggering doesn't itself provide a catalyst for renewed GBP weakness

Market complacency on the ability of the U.K. and EU to strike a comprehensive deal within the timeline with the least political/economic disruption is the motivation for a move back toward the bottom end and test of the trading range
UniCredit SpA
We fear that the picture for sterling remains exposed to some volatility: 

Higher inflation in the U.K. could create a policy dilemma for the BOE, given expectations that the British economy will likely deteriorate further on the back of Brexit

Admittedly, we cannot rule out temporary spikes in GBP/USD in the near term, given the weaker USD and because data from the International Monetary Market (IMM) suggests that short positioning on GBP/USD is currently already extreme, which exposes the pair to abrupt corrections
However, over the next two quarters, we still see a slightly weaker sterling with respect to current levels against both the USD and the euro and we therefore stick to our GBP/USD targets of 1.21 and 1.23 for end-2Q17 and end-3Q17, respectively, and a steady 0.89 for EUR/GBP over this period
Before it's here, it's on the Bloomberg Terminal.
LEARN MORE