Hamon Calls on French Left to Unite After Valls Defection
By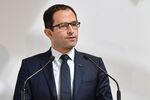 French Socialist Benoit Hamon called on all leftist voters to unite behind his presidential bid Wednesday after former prime minister Manuel Valls said he will vote for rival Emmanuel Macron rather than his own party's nominee.
In a brief statement at his campaign headquarters, Hamon said Valls' support for Macron was "dishonorable." Hamon defeated Valls in the Socialist Party's January primary, in which all participants pledged to support the eventual winner.
With less than four weeks to go until the first round of voting on April 23 Hamon is trailing in fifth place, meaning he is well out of the running to qualify for the May 7 runoff.
Hamon called on all leftists, from "social-democrats" to communists to back his "transformative and credible project," including those who now back rival leftist candidate Jean-Luc Melenchon, who is currently polling ahead of Hamon.
"I am the only one who can make us all win and create the conditions for a parliamentary majority to govern," Hamon said.
Before it's here, it's on the Bloomberg Terminal.
LEARN MORE