Brexit Bill Is Up for Negotiation, Dutch Foreign Minister Says
By and
Koenders says calculations on exit payment are complicated

U.K. triggered two years of Brexit talks earlier Wednesday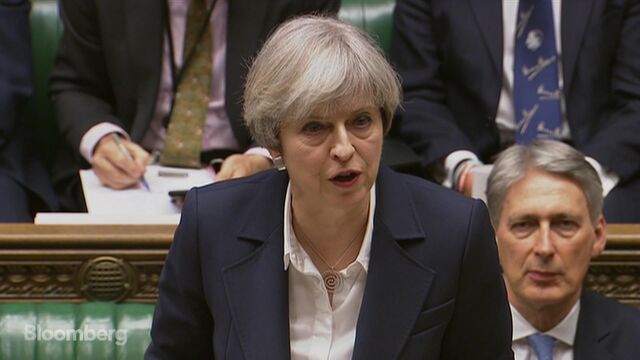 The size of the bill the U.K. will have to pay to the European Union for leaving the bloc will be up for negotiation as part of the Brexit talks, Dutch Foreign Minister Bert Koenders said.
"It is very complicated and unprecedented," Koenders said in an interview in The Hague on Wednesday just a couple of hours after U.K. Prime Minister Theresa May formally triggered Britain's withdrawal from the EU. "Really, the devil is in the details." 
May's six-page letter to EU President Donald Tusk kicks off two years of what are likely to be contentious talks. An early flashpoint will be money, with the EU pushing for the U.K. to pay about 60 billion euros ($65 billion) to settle its accounts. May signaled she realizes the U.K. would need to cover some past financial commitments but hinted Britain would make its own claims as it withdraws.
Asked whether the amount the U.K. will have to pay is set in stone, the Dutch minister replied "No," but he refused to be drawn on any precise figures. "I first want to look precisely" at how the bill is determined, Koenders said. "It concerns pensions, assets, what you have to pay to structural and cohesion funds, net and gross contributions."
While May is calling for talks on the divorce arrangements and Britain's future deal to be discussed in parallel, the Dutch minister argued that the two sides need initially to sort out the financial settlement and other exit arrangements. "It is more than just money," he said. "I think that logically the main points of that bill should be discussed first."
EU countries "need to determine the guidelines and the mandate" for the bloc's chief negotiator, Michel Barnier, when they hold a summit April 29, Koenders said. "Then detailed negotiations will start."
Even though elections in Germany don't take place until September, Koenders said he expects negotiations to start "somewhere in June.'' Unity among the remaining 27 EU countries is "very big,'' he said, with all agreeing that the U.K. can't pick and choose what aspects of EU membership it can retain and that its relationship with the bloc can't be better than it is now once outside.
Koenders is unlikely to remain Dutch foreign minister through the negotiations; his Labor Party suffered heavy losses in parliamentary elections two weeks ago and is not involved in initial talks on forming a new multiparty coalition under Liberal Prime Minister Mark Rutte.
Before it's here, it's on the Bloomberg Terminal.
LEARN MORE