Trump Public Media Cut to Curb Critical Voice, Democrat Says
By
Trump budget proposal cuts all funding for public broadcasting

Trump's $1.065 trillion plan funds government for fiscal 2018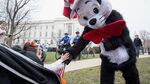 President Donald Trump, who has sparred with the media and accused outlets he doesn't like of peddling "fake news," is trying to erase funds for public broadcasting to silence a voice he deems critical of him, a House Democrat said Tuesday.
"Eight of 10 Americans trust PBS at a time when the Trump administration delegitimizes any reporting it doesn't like as fake news," Representative Nita Lowey, a New York Democrat, said during an Appropriations subcommittee hearing in Washington. "It's a transparent attempt to keep Americans in the dark about their failures and ethical improprieties."
The 50-year-old Corporation for Public Broadcasting would lose all federal funding under the budget proposal Trump released earlier this month. The private, nonprofit organization created by Congress received $445 million in federal funding in each fiscal year from 2014-2016 and is seeking the same for fiscal 2018. The administration's $1.065 trillion plan to fund the federal government for fiscal 2018 is meeting resistance in Congress.

While not promising to reverse the proposed cuts, subcommittee Chairman Tom Cole, an Oklahoma Republican, signaled some level of support.
"This is an agency we all admire," he said. "The corporation represents a unique public-private partnership with each radio and television station leveraging five non-federal dollars for each dollar made through federal investment."
Big Bird and Ernie
In 1995, Lowey brought the characters Big Bird and Ernie -- stars of the Public Broadcasting Service's touchstone "Sesame Street" children's program -- to the panel to speak against cuts proposed by then-House Speaker Newt Gingrich. The corporation also produces news programs and documentaries.
"We are keenly aware of budget constraints facing the country," said Patricia de Stacy Harrison, president of CPB. "If the appropriation was to go away it would be a domino effect."
Stripping funding for CPB would devastate local stations in rural areas, which rely on the federal government for as much as 80 percent to 100 percent of their budget, the agency said in a statement. CPB funnels federal money to more than 1,500 locally owned television and radio stations.
The cuts wouldn't be as damaging to stations in larger cities, which get most of their funding from other sources. "Sesame Street," one of the most famous publicly funded programs, made a five-season deal with HBO to rescue Big Bird from financial ruin. Declines in DVD and merchandising sales caused the program to lose money in 2015, the last year before its HBO deal.
'Poisons the Well'
Representative Andy Harris, a Maryland Republican, said he is concerned about what he sees as an agenda in some programming that he said "poisons the well" for many conservatives.
"We talking about a government-funded press," said Harris, who criticized funding for a documentary on same-sex marriage. "Agenda is not education."
Cole said the panel has "tough decisions" to make and declined to say whether the committee would block the cuts.
Harrison said that under her agency's charter, CPB receives so-called forward funding to minimize political pressures and preserve its independence.
"Our mission is very different from commercial media," she said, and added later, "People in this country are yearning for content they can trust."
The week after Trump's administration suffered the rejection of its plan to repeal Obamacare, many lawmakers are turning their attention to his proposed budget. The elimination of CPB funding would come in Trump's budget for the fiscal year beginning Oct. 1.
CPB funding isn't addressed in the $18 billion in non-defense spending cuts in Trump's supplemental spending proposal released Tuesday to fund the government from April 29 through September. Republicans and Democrats have said those cuts are a nonstarter.
In the late 1980s, "Sesame Street" featured a character named Ronald Grump -- a real estate developer, like the president -- who tried to force Oscar the Grouch from his trash-can home in order to build "Grump Tower."
— With assistance by Erik Wasson, and Lucas Shaw
Before it's here, it's on the Bloomberg Terminal.
LEARN MORE