Ryan Backs Nunes as Intelligence Chairman Spurns Recusal
By
House speaker says Nunes can handle Russia investigation

Nunes says he won't step aside, asking 'What's the purpose?'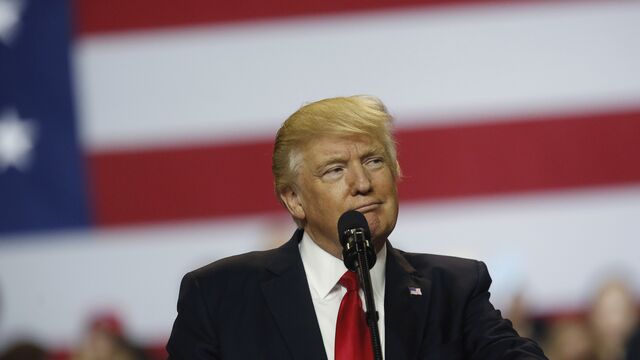 House Speaker Paul Ryan backed the embattled chairman of the House Intelligence Committee, as Devin Nunes lashed back Tuesday at Democratic calls for him to recuse himself from his panel's investigation of Russian meddling in the U.S. election.
"No," Ryan said Tuesday when asked whether Nunes should step aside from the probe.
Nunes told reporters Tuesday he wouldn't. "What's the purpose?" the California Republican asked.

Congressional Democrats, including the panel's top Democrat, Adam Schiff of California, and party leaders, said that Nunes should remove himself from the committee's Russia probe after admitting Monday that he visited the White House grounds to meet with a source to view intelligence documents that he used to bolster President Donald Trump's claims of surveillance by the previous administration.
Asked Tuesday if the committee's investigation can continue with him as chairman, Nunes asked. "Why would it not?" 
As for Democrats' claims the probe has been compromised by his action, Nunes said: "That sounds like their problem. My colleagues are perfectly fine."
'A Little Bizarre'
Some Republicans have criticized Nunes, including Senator Lindsey Graham of South Carolina, who said on NBC Tuesday that Nunes's trip to the White House was "a little bizarre" and that "he has to repair the damage." Graham stopped short of calling for Nunes to recuse himself from leading the investigation.
While members of the House committee were mired in partisan discord, their Senate counterparts continued to send signals of cooperation. Republican Richard Burr of North Carolina, chairman of the Senate Intelligence Committee, and Mark Warner of Virginia, the panel's top Democrat, announced plans for a joint press conference on Wednesday afternoon to provide an update on their investigation of Russian meddling.
As calls grew on Capitol Hill for an expanded probe, the House Intelligence Committee canceled its remaining meetings for the week, including a closed-door session that was expected so that panelists could question FBI Director James Comey and former National Security Agency Director Mike Rogers. They "could not come in" as hoped, committee spokesman Jack Langer said. He said the committee was trying to schedule a new time for the meeting.
The panel had earlier canceled a planned public hearing for Tuesday with several former Obama administration officials, including former acting attorney general Sally Yates.
"We are aware that former AG Yates intended to speak on these matters, and sought permission to testify from the White House," Schiff said Tuesday in a statement. "Whether the White House's desire to avoid a public claim of executive privilege to keep her from providing the full truth on what happened contributed to the decision to cancel today's hearing, we do not know."
No Contact
Langer said Tuesday that neither the chairman nor the panel's staff has been in contact with the White House about Yates's appearance.
"The only person the committee has spoken to about her appearing before the committee has been her lawyer," he said. "The committee asked her to testify on our own accord and we still intend to have her speak to us."
Nunes defended his panel's work, despite the new questions about how Nunes received intelligence intercepts, which he described as routine, legal surveillance that picked up conversations with Trump aides during the transition.
"We're doing a very thorough job on this investigation. As you know, this Russia issue we've been on it for many many years. So, we'll continue to be on it," Nunes said.
He added, "I don't think that's any different politics than normal, which is fine, you guys know how this place works."
White House Grounds
Nunes told Bloomberg View's Eli Lake on Monday that he went to the White House grounds last Tuesday because it was the most convenient secure location with a computer connected to the system that included the reports, which are only distributed within the executive branch. The next day, Nunes visited the White House again to brief Trump personally on the intercepts he saw, before briefing fellow panel members.
"We don't have networked access to these kinds of reports in Congress," said Nunes. The White House said it learned from public reports that Nunes confirmed he was on White House grounds last Tuesday.
The way Nunes got the information and whom he got it from has emerged as a new twist in the attempt by the White House to bolster a Trump tweet accusing his predecessor of spying on him.
Several congressional committees, as well as the FBI and the U.S. intelligence community, are investigating Russian meddling in the U.S. election, including the hacking and release of Democratic emails. For the House Intelligence Committee, that probe has expanded into the explosive question of whether anyone close to Trump abetted the effort. Paul Manafort, Trump's former campaign chairman, and veteran Republican operative Roger Stone offered Friday to testify before Nunes's committee.
White House press secretary Sean Spicer said Monday at a news conference that the administration had no reason to take issue with Nunes's explanation of the visit and declined to "get in the middle" of the committee investigation. He added that there's a difference between a leak and a review of the situation.
"Someone who is cleared to share classified information with someone else cleared is not a leak," Spicer said.
— With assistance by Jennifer Epstein
Before it's here, it's on the Bloomberg Terminal.
LEARN MORE