Many Democrats Set to Risk 'Nuclear' Fight With GOP Over Gorsuch
By
He has 'real uphill climb' to overcome filibuster: Schumer

At least seven more Democrats say they will try to block him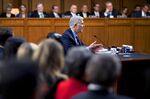 Neil Gorsuch will have a "real uphill climb" to win confirmation to the U.S. Supreme Court, Senate Democratic leader Chuck Schumer said Tuesday as more party members said they're determined to block the nominee even if it leads to a "nuclear" fight with Republicans.
In the end, the matter may come down to Senate Majority Leader Mitch McConnell, who again guaranteed to reporters that Gorsuch will be confirmed and said the vote will be held April 7. 
"It's almost amusing to watch our Democratic friends try to come up with some rationale for opposition," he said.
Although Gorsuch avoided any major stumbles during his Senate Judiciary Committee hearing last week, Democrats seem willing to risk a confrontation that might end with Republicans changing Senate rules to prevent all future Supreme Court picks from being filibustered. McConnell had assailed former Senate Majority Leader Harry Reid, a Democrat, for ending filibusters for executive-branch picks and lower-court judges in 2013.
Ross Baker, a political scientist at Rutgers University in New Brunswick, New Jersey, said it's hard to predict what McConnell will do now. He's an institutionalist but "he's also a very strong partisan," Baker said. Last year, the majority leader blocked all Senate consideration of then-President Barack Obama's nominee to fill the high-court seat, leaving it open for President Donald Trump to fill.
"We'll get Judge Gorsuch confirmed," McConnell, of Kentucky, said Tuesday.
QuickTake: Gorsuch and the U.S. Supreme Court
Republicans are united behind Gorsuch. Maine's Susan Collins, a Republican who is considered a moderate, urged Democrats during a Senate floor speech to "resist the temptation to filibuster a Supreme Court nominee who is unquestionably qualified." She called on them not to "abandon the traditions of comity and cooperation."
Earlier in the day, Senator Lindsey Graham, a South Carolina Republican who strongly backs Gorsuch, said on NBC's "Today" program, "It will break my heart if we have to change the rules over this guy." Still, he didn't say he would refuse to do so.
Democratic opposition to Gorsuch mounted on Tuesday, with at least seven more Democrats announcing they'll vote to oppose him and stick with their party to filibuster him. They are Dick Durbin of Illinois, Chris Van Hollen of Maryland, Chris Murphy of Connecticut, Gary Peters and Debbie Stabenow of Michigan, and Jeanne Shaheen and Maggie Hassan of New Hampshire. At least 20 party members have said they'll vote to block confirmation.
Democrats' Concerns
Democrats say Gorsuch's appellate court rulings raise concerns that his elevation to the high court will restore a 5-4 conservative majority that will rule against workers and consumers.
"For me, the evidence was very, very strong in terms of his rulings," said Stabenow, who has faced strong lobbying because she's up for re-election in a state that voted for Trump. "People in Michigan want someone who isn't always going to be on the side of special interests and big institutions. They want the little guy to have a fair shake."
Senator Joe Manchin of West Virginia is the first Democrat to say he'll vote with Republicans to advance Gorsuch's nomination. Senator Ben Cardin of Maryland said Tuesday he'll oppose Gorsuch, but a spokesman said he hasn't decided whether he would vote with Republicans to let Gorsuch get a final vote.
Republicans control the Senate 52-48 and need eight Democrats to proceed to a final vote. If they get the votes, Republicans then could confirm Gorsuch with a simple majority. Otherwise, a GOP rule change -- known as the "nuclear option" -- would allow him to win confirmation.
Senators in Play
With the Senate Judiciary Committee set to approve Gorsuch along party lines Monday, attention is shifting to a handful of Democrats -- most from Republican-leaning states -- who are seen as being in play. The Democrats, many up for re-election next year, are under intense pressure from groups opposing Gorsuch, including NARAL Pro-Choice America, the Alliance for Justice, and the Progressive Change Campaign Committee.
"We're letting leadership and red-state Democrats know if they do everything to keep Gorsuch off the court, there will be positive actions back home," said Adam Green, a co-founder of the PCCC. "Good actions are rewarded."
People for the American Way and other groups are funding television ads highlighting a 2008 decision by Gorsuch that used a narrow standard for assessing the educational rights of disabled children. The ads are running in the home states of Democrats Claire McCaskill of Missouri, Joe Donnelly of Indiana, Jon Tester of Montana, and Heidi Heitkamp of North Dakota. An ad also is running in Maine, home of independent Senator Angus King, who like the others is undecided and on the ballot in 2018.
$10 Million Push
On the pro-Gorsuch side -- where groups led by Judicial Crisis Network are spending $10 million to aid the appellate court judge -- the focus centers on those five senators and also Democratic Senator Michael Bennet of Colorado, Gorsuch's home state.
Gary Marx, who is helping lead the pro-Gorsuch efforts, said his side hopes others such as Vermont Democrat Patrick Leahy will vote to allow a final vote even if they oppose the judge. However, he said, he thought a turning point came this week when Senator Bill Nelson, a Florida Democrat, said he opposes Gorsuch and will try to block him. Nelson in 2006 opposed Justice Samuel Alito, but was still willing to let him have a final vote, Marx noted.
Nelson's announcement "makes it much more likely" the nuclear option will be utilized, Marx said.
Democrats opposing Gorsuch insist they're willing to take that risk even though they are debating about a conservative judge replacing another conservative -- and might lose the ability to block later nominees who could tip the court's balance even further to the right.
Schumer and others also insist McConnell won't go nuclear.
Seeking Accommodation
"I'm still hopeful he will find accommodation with Senator Schumer on how this will be handled," said Cardin, the Maryland senator. "If that's not the case, then he'll present his procedural issues and we'll make our judgment on how to handle it."
Van Hollen is among those who say Gorsuch performed poorly at the hearings, answering too few questions for Democrats to embrace a pick who whose selection was made in conjunction with conservative groups like the Heritage Foundation and the Federalist Society.
"He did a good job of talking for many days without revealing anything about his judicial philosophy, so you have to look at his record," Van Hollen said. "The record shows a consistent bias in favor of big corporate special interests against individual rights, worker rights, consumers rights."
Some, including Jeff Merkley of Oregon and Tom Carper of Delaware, say the fact that Obama nominee Merrick Garland never got a hearing or vote is reason enough to reject Gorsuch.
"Unlike Neil Gorsuch, Merrick Garland got very few meetings with Republicans, never had a hearing," Carper said. "And until that happens, I'm not going to consider the nomination of Mr. Gorsuch."
As the quest for more Democratic support escalates, Gorsuch continues to seek their votes himself. Manchin said he planned to meet with the judge this week.
"We are going to pound the drum on this all the way to confirmation," said Ron Bonjean, a spokesman for Gorsuch.
— With assistance by Greg Sullivan
Before it's here, it's on the Bloomberg Terminal.
LEARN MORE