Germany Said to Seek Early U.K. Brexit Pledge to Pay Its EU Bill
By and
Merkel's government sets priorities for EU-U.K. talks

No reason to be accomodating on exit costs: Merkel lawmaker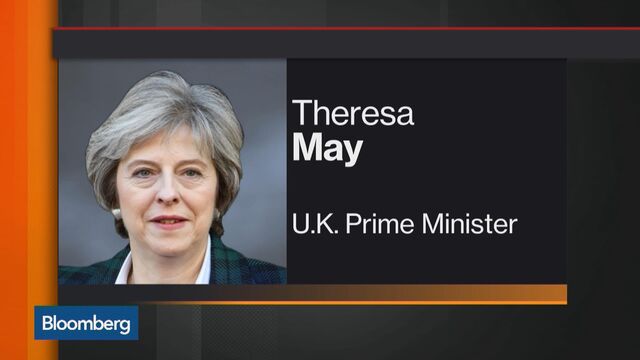 A key German priority when Brexit talks get under way is locking in an early commitment by the U.K. to pay its European Union bills, two people familiar with the government's strategy said.
While the exact amount owed by the U.K. can be agreed later, Germany wants Prime Minister Theresa May's government to acknowledge at the start that it can't dodge what it owes, according to the people, who asked not be identified discussing private deliberations.
With the European Commission tallying U.K. obligations of as much as 60 billion euros ($65 billion), the struggle over funding is shaping up as the first test of German Chancellor Angela Merkel's balancing act: rallying the EU behind a common purpose without Britain, while minimizing the risk of Germany's second-biggest European trading partner walking out of the talks.
Germany's stance reflects the fiscal and domestic political risks of having to step in once Britain, the union's second-biggest net payer, is out.
"On the cost issue, I expect Britain to honor its obligations," Eckhardt Rehberg, who sits on the German parliament's budget committee for Merkel's Christian Democratic Union, said in emailed comments. "I see no reason why the EU should be accommodating on this point."
Merkel, who's running for re-election this year on a platform of open borders and free trade, says maintaining EU unity during the Brexit talks is her main goal. She has avoided publicly criticizing U.K. negotiating tactics, saying May has always been open with her.
'Need Money'
Germany's public caution contrasts with warnings by other British allies, such as Sweden, that say taking a hard line will hurt the U.K. in the talks. Still, the government in Berlin is keenly aware of the looming budget impact, and Merkel swiftly dismissed her foreign minister's proposal last week that Germany get ready to boost its share of the EU budget.
"If we need money for specific projects, we should find it in Europe" as a whole, Merkel told ARD television.
The goal of the Brexit talks must be to make the U.K. honor its share of existing EU budget commitments, including any EU spending plans agreed while Britain is still a member, according to a German Finance Ministry checklist of issues likely to emerge in the negotiations.
The document, obtained by Bloomberg, also warned that failure to reach a Brexit deal or transitional arrangements for the financial industry could cause market upheaval and pose risks to financial stability.
Budget Hole
Brexit will deprive the EU budget of about 10 billion euros a year on average after 2020, according to Michel Barnier, the EU's Brexit negotiator. The EU currently has an annual budget of 140 billion euros, which runs through 2020.
Merkel's government is working on the assumption that Britain's financial obligations toward the EU are governed by law, that any disputes are for lawyers to solve and that May's government will abide by the rules.
"I don't believe that the U.K. will seriously question that it has to meet its obligations when it exits," German Finance Minister Wolfgang Schaeuble said in Brussels on March 21.
Before it's here, it's on the Bloomberg Terminal.
LEARN MORE