Einhorn Was Rejected by GM, But Revealed Barra's Big Problem
By
CEO has produced profits but investors haven't pushed up stock

Einhorn notes underperformance, lack of respect for dividend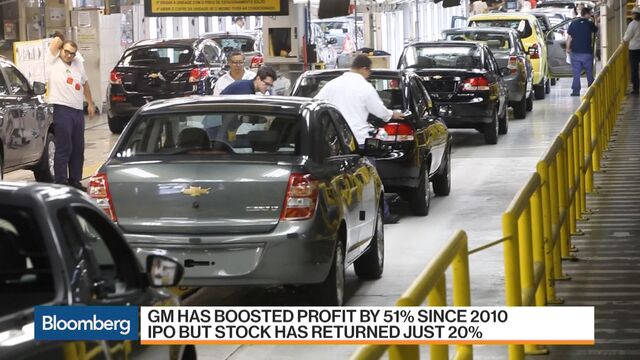 Mary Barra has more than turned around General Motors Co. That's not been good enough for Wall Street.
Record profit Barra has delivered as chief executive officer has failed to inspire shareholders including a high-profile one: hedge-fund billionaire David Einhorn. His proposal on Tuesday to split GM stock into two classes -- summarily dismissed by GM -- underscores the challenges Barra faces in translating GM's enviable financial results into a higher stock price.

The discrepancy also shows why the Detroit automaker continues to be a tempting target for activist investors, hedge funds and merger-minded rivals. Unlike major competitors including Toyota Motor Corp. and Volkswagen AG, she can't count on the protection of government ownership or family control to swat away the gadflies.
"Everyone else who GM competes with, like Toyota or Volkswagen, doesn't deal with this," Maryann Keller, who followed GM as a Wall Street analyst and has written several books about the company, said by phone. Einhorn's idea to introduce a class of dividend shares "doesn't make sense."
The Ford family controls Ford Motor Co. with a special class of stock that can ward off investor pressure. Fiat Chrysler Automobiles NV has the Agnelli family's Exor NV investment firm and Volkswagen has the Porsche family and Germany's Lower Saxony among its owners. Very little happens to France's carmakers without the government's say.
CEO's Run-ins
Barra, on the other hand, has faced two activist challenges and public pressure for a merger with Fiat Chrysler during her more than three-year stint leading GM.
Her first bout in 2015 was with four hedge funds and Harry Wilson, who was the U.S. Treasury Department's overseer of GM when the government sponsored the company's 2009 bankruptcy. Complaining that GM was swimming in cash and needed to share with investors, the group got Barra to conduct a $5 billion buyback and commit to returning more cash on a regular basis.
Later that year, Fiat Chrysler CEO Sergio Marchionne publicly called for GM and FCA to merge and emailed Barra to start talks. She and the board rejected the idea.
Enter Einhorn, who gained notoriety as a short seller by betting against Lehman Brothers Holdings Inc. before the bank's 2008 collapse. His approach was motivated in part by GM's stock trading at a cheap valuation relative to other stocks, including car companies.
Lagging Returns
While GM has boosted profit by 51 percent since its November 2010 initial public offering, its stock has returned just 20 percent, trailing the 127 percent gain for the Standard & Poor's 500 Index, the president and co-founder of Greenlight Capital wrote in slides posted to the hedge fund's website.
Einhorn wants to split GM's shares into two classes, with one collecting on the company's dividend and another capturing the value from its earnings. The dividend stock buyers would be entitled to the $1.52 per share a year GM pays out now.
"GM's dividend is not respected by the market," Einhorn wrote. Creating a second class of shares would "unlock GM's value by forcing the market to appropriately value the dividend and give credit for GM's earnings potential."
The two stocks together would be worth between $43 and $60 a share, boosting shareholder value by as much as $38 billion, Einhorn said. His proposal helped send GM's stock up 2.4 percent Tuesday, the biggest jump in six weeks. The shares were little changed Wednesday, closing down two cents to $35.54.
Push Back
Einhorn made his proposal seven months ago, prompting a review by GM executives, directors and bankers and direct talks with Greenlight, which has held the company's shares since early 2011.
Ultimately, GM didn't buy the argument that the two stocks would raise value and thought it might even prompt investors to react negatively. The company also turned down Greenlight's nomination of four candidates to join the board as directors.
"This valuation is a structural issue -- not a GM issue," Matt Stover, an analyst with Susquehanna International Group, wrote in a report Wednesday.
GM floated the proposal with credit rating companies. Moody's Investors Service, Standard & Poor's and Fitch Ratings said a share class with a fixed dividend could prompt them to lower their credit ratings for GM. Analysts at Evercore ISI surveyed 61 investors on Einhorn's proposal, and 87 percent said they didn't see it leading to material value for GM.
'Unacceptable Risk'
"The proposed structure creates an unacceptable level of risk for our company and its shareholders," Barra said in a statement on GM's website.
On CNBC, Einhorn called the credit ratings issue a "red herring."
"The company had informal conversations with the ratings agencies," he said Tuesday on the television network. "I think they misrepresented what we shared with them."
GM reckons that losing its investment-grade credit rating would necessitate keeping another $5 billion to $10 billion in cash on its balance sheet more than the $18 billion its targeting now.
"While we appreciate the creativeness to try to attract additional investors to the stock, in our view the proposal is a non-starter" because of the credit rating risk, Joe Spak, an analyst at RBC Capital Markets, said in a report Tuesday.
Tesla Gaining
The agitations from investors may be far from over. Many analysts are predicting the strong run of growth for the U.S. auto market will end this year, putting more pressure on GM's stock. While the company has the Chevrolet Bolt electric vehicle hitting the market this year ahead of Tesla Inc.'s Model 3, the upstart run by Elon Musk is gaining on GM in market capitalization.
Over the last three years, Tesla shares have surged 73 percent and GM's slipped 3.6 percent. At $45.3 billion, Tesla's market value is now just $8 billion less than GM's.
The next industry sales dip will determine whether GM can find love from investors, said Keller, the independent auto analyst.
"If GM can sustain profits in a down cycle, then people will notice," she said.