business
College Endowments Are Rebounding
By and
Median gain was 4.4% in six months to Dec. 31, Wilshire says

Some funds consider cutting spending after lagging performance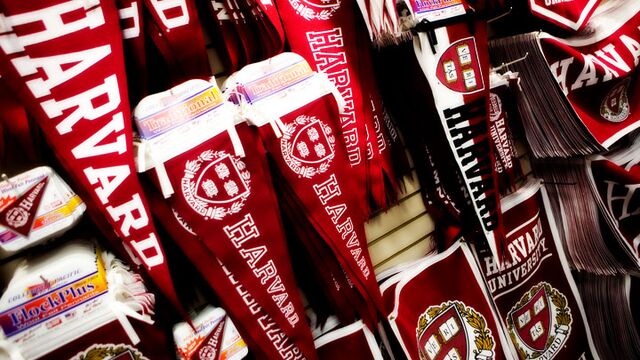 U.S. university endowment performance picked up after losses in 2016 forced some schools to spend more than they earned and consider cutting back.
Endowments of all sizes gained a median 4.4 percent in the six months through Dec. 31, according to Wilshire Trust Universe Comparison Service. Schools said equities contributed to the boost in performance, a move that may be short-lived as stocks turn choppy. The MSCI All-Country World Index rose 6.8 percent in the period, including reinvested dividends.
The mid-year gains are welcome news for endowments, which had investment losses of almost 2 percent on average for the 12 months through June 30, according to a survey. Spending for student aid, faculty salaries and other costs are often determined by three- or five- year return averages, and administrators say they need to earn at least 5 percent plus inflation to stay ahead without losing value.

Some schools including Michigan State University have already cut their spending and others are in their second year of spending more than they earned from their endowment.
"We have to look at whether we are eating into the purchasing power of the endowment," said Jeff Amburgey, vice president for finance at Berea College, which next month is expected to review its spending rate. "You don't make decisions on a year-to-year basis. You look at it for the long-term."
The Kentucky school, with a $1.1 billion endowment, expects to spend 5 percent this year. The fund had an investment return of 4.9 percent for the six months through Dec. 31.
Stocks, Private Equity
Global equities in the first six months of fiscal 2017 contributed to the strong performance. At Berea, large-cap U.S. stocks gained 7.1 percent, followed by international shares in developed markets, which were up 6 percent, and emerging markets equities, up 5.4 percent.
Ohio State University was 43 percent invested in public equities as of Dec. 31 and had a gain of 5.3 percent. Publicly traded long equities and private equity provided the strongest returns in the period for the $3.9 billion endowment, John Lane, Ohio State's chief investment officer, said in an email.
The University of California system reported a 7.1 percent gain, also propelled by global stocks and private equity. Public equity made up 46.5 percent of school's $9.9 billion endowment as of Dec. 31, according to documents. The University of Kentucky said it was up 3.4 percent, led by U.S. equities and absolute return strategies, which include hedge funds.
Read more: A QuickTake explainer on the riches of university endowments
Indiana University's portfolio increased 5.7%, with U.S. stocks performing slightly better than international equities, according to Gary Stratten, chief investment officer.
"Other areas contributed as well," Stratten said in an email. "Assets that were detractors last year, such as hedge funds and natural resources, were nice contributors."
Pennsylvania State University's $3.8 billion fund had a 4.9 percent gain, while the University of Florida rose 3.9 percent. The University of Michigan returned 7.4 percent for its marketable securities portion of the fund, about 60 percent. The University of Iowa's foundation reported a 4.3 percent gain. The foundation invests about $950 million of the school's $1.3 billion endowment. The University of Washington, with $2.9 billion in assets, gained 7 percent.
Feeling 'Euphoria'
Endowments of all sizes had an average 41 percent invested in U.S. equities in the first half of fiscal 2017, while funds with more than $500 million had 27 percent, according to Wilshire. The Wilshire data is from custodial organizations that submit asset positions and performance data.
Among schools with smaller endowments, the University of South Carolina, with $461 million, gained 6.2 percent and Seton Hall University's almost $245 million fund was up 4.8 percent, led by 44 percent in U.S. equities as of last June.
Business officers said they hope the momentum carries them through fiscal 2017, which ends June 30 for most schools. The markets may not cooperate. The S&P 500 Index is up so far this year but stumbled this month as investors assess the prospects for the Trump administration's pro-growth policies.
"Everybody's feeling the same euphoria that things are going well," said Robert McLaughlin, Seton Hall's associate vice president for finance. "March is not looking quite as good."
Before it's here, it's on the Bloomberg Terminal.
LEARN MORE