markets
China's Underground Bank Crackdown Risks Headaches in Hong Kong
By and
Remittance services are worried about tighter Chinese scrutiny

Faster outflows to Hong Kong seen amid fears of clampdown
Business is good, but Dickson Chan is worried.
The Hong Kong money changer saw remittances from mainland China increase by 10 percent to 20 percent last month from the end of 2016, yet he is not sure how long the operation can last. The company he works for, Professional Foreign Currency Exchange Ltd., helps clients move cash between China and Hong Kong with a bank account in each place by squaring opposing transactions.

"Now people feel that the Chinese government may tighten capital controls further and it wants more yuan depreciation, so many clients want to transfer money to Hong Kong more quickly," Chan said from his store, located in the basement of a drab mall in Causeway Bay, the world's second-priciest retail district. "We're worried the Chinese government will introduce some regulations to ban this business, so now although we're still doing it, we're trying to raise revenues from other currencies."
The fate of Hong Kong's money changers shows both the reach of Chinese authorities, and the limits to their power. While a determined crackdown could kill the industry, such a response would risk spooking China's citizens and exacerbating outflow pressures. The exodus of funds from Asia's largest economy has spurred three years of yuan depreciation that at times roiled global markets and influenced monetary policies worldwide, and pushed up asset prices in cities from Hong Kong to Vancouver.
An estimated $1.8 trillion has left Asia's largest economy from the start of 2015 through January 2017, as the yuan lost almost 10 percent and returns on onshore assets dropped amid slowing economic growth. To stem the flows, the authorities have tightened capital curbs, stepping up scrutiny of residents' foreign-currency purchases and limiting insurance buying in Hong Kong.

Money changers in Hong Kong provide ways to sidestep such restrictions. Once the cash reaches the semi-autonomous Chinese city, which has no capital controls, it can go almost anywhere.
Hong Kong's shopping districts are dotted with money changers advertising their remittance services and yuan conversion rates in simplified Chinese characters typically used on the mainland. There are 1,891 licensed money operators in the city, Hong Kong customs data show.
Money changers or remittance firms need to obtain a license from the government, which requires the companies to conduct customer due diligence and keep records, Hong Kong's Customs and Excise Department said in an email.
As part of a sweeping effort to contain outflows, just before the new year, Chinese regulators boosted disclosure requirements for citizens converting yuan into foreign exchange -- while retaining the $50,000 annual quota. Authorities busted at least 380 cases of major underground banking involving more than 900 billion yuan ($131 billion) of funds last year, Xinhua News Agency reported in February.
Click here for a QuickTake Q&A on China's capital outflows
A separate operation that has about 10 employees in Hong Kong, Shanghai and Shenzhen said the daily southbound remittance doubled from last year to about 6 million yuan in February. While the amount is small, the trend runs counter to official data showing a slowdown in outflows this year, reflecting persistent household demand for overseas assets even in the face of tighter capital curbs. Foreign-exchange reserves dropped at a slower pace in January and unexpectedly climbed last month.
"Orders came flooding in after Jan. 1 and we had a few sleepless nights filling them," said the co-owner, who didn't want himself or the firm to be named. "It seems the tighter controls become, the keener people are to get their money out. Thanks to more restrictions at banks, we are doing really well."

While Professional Currency Foreign Exchange's Chan said his licensed firm acts as a middleman facilitating the transfer of cash between the two parties so that there technically isn't a movement of money across the border, others may use mainland Chinese trading companies to exaggerate import or export volumes for currency conversion.
Many small competitors have closed down amid increased scrutiny by mainland authorities, which has elevated risks for companies that use people to carry cash across the border, the co-owner who wanted to remain anonymous said. The firm now exchanges the clients' funds from yuan to Hong Kong's dollar at a 4-percentage point bid-ask spread, compared with 2.5 percentage points in 2016.
Illicit flows have been a substantial part of China's fund exodus. Net errors and omissions in the nation's balance of payments -- an accounting fix used to plug the gap when official records of cross-border flows don't balance -- dropped precipitously below zero starting from late 2014, reaching a record-low negative $188 billion in the last quarter of that year. Goldman Sachs Group Inc. said in January 2015 this item reflects hidden cash transfers.
Suspicious fluctuations in data on Chinese imports from Hong Kong have also led to speculation these channels are being used to mask outflows. Inbound shipments from the former British colony surged more than 100 percent year-on-year in four months last year, even as total imports shrank or barely grew.
The use of underground banks may wane as China steps up its crackdown and the exchange of tax information through the so-called common reporting standards comes into effect for Hong Kong and China in 2017, which may weaken the incentive for transfers across the border, said Oliver Rui, a Shanghai-based professor of finance and accounting at China Europe International Business School.

The yuan has also shown signs of stabilizing, rebounding 1 percent in 2017 as dollar strength faltered and the Chinese economy improved.
Still, concern the authorities will toughen rules on outflows is boosting demand for underground banks. Alice Lu, a 30-something-year-old in Shenzhen, moved about 5 million yuan to Hong Kong through an online money changer in December, after selling a home in Shenzhen to raise cash for a planned overseas property purchase.
She sent her money to the company in three batches to lower risks and received Hong Kong dollars across the border in about three hours. She considered carrying cash to the city but decided it would be riskier and more time-consuming, she said.
"I'm not in a rush to invest overseas, but I feel I need to get the money out early in case they shut the gates," Lu said. "It may be against the rules, but those are bad rules anyway."
Watch Next: China Capital Controls Are A Key Concern to Investors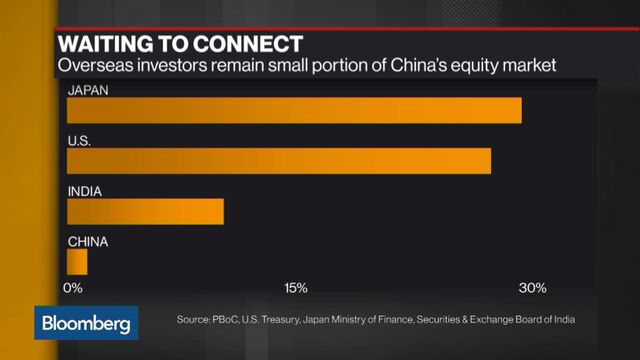 (
Updates yuan move in fourth paragraph from the bottom.
)
Before it's here, it's on the Bloomberg Terminal.
LEARN MORE