May Pitches for Friendly Divorce in Brexit Letter to EU
By and
Prime Minister's envoy kicked off legal process in Brussels

Two years of tough talks will unravel 44 years of membership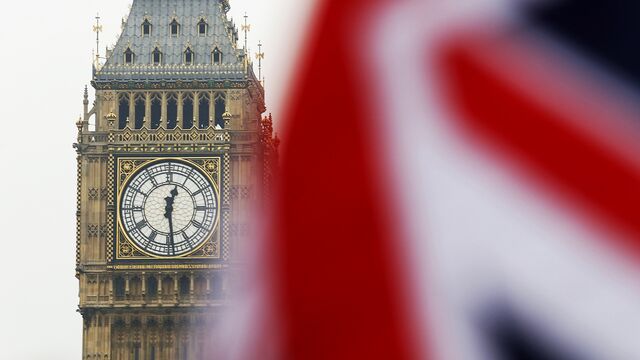 Follow @Brexit for all the latest news, and sign up to our daily Brexit Bulletin newsletter.
U.K. Prime Minister Theresa May struck a conciliatory tone toward the European Union as she coupled her demand for divorce with a request for a sweeping free-trade deal encompassing financial services.

In a six-page letter submitted on Wednesday to EU President Donald Tusk, May formally triggered two years of likely contentious talks that will end with Britain breaking ties with its largest trading partner after more than four decades.
May sought to smooth over tensions from the start by calling on both sides to negotiate "constructively and respectfully," saying that she wants the bloc to "succeed and prosper." The charm offensive may be aimed at winning what she called a "bold and ambitious" free-trade deal to cover "crucial" industries like banking and technology.
Read more about what comes next now that the Brexit trigger has been pulled.
But an immediate clash was evident over the sequence of the discussions, as May called for the future partnership to be decided alongside the terms of exit, while Tusk insisted the first phase must focus only on "key arrangements for an orderly withdrawal."
"Our first priority will be to minimize the uncertainty caused by the decision of the United Kingdom for our citizens, businesses and members states," Tusk said, speaking on behalf of the 27 other EU governments.
Battle Lines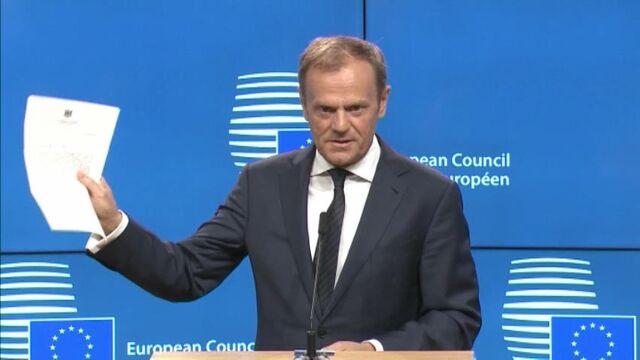 In another sign of political differences, the European Parliament, which must endorse any Brexit deal, plans to say that the U.K. must "honor all its legal, financial and budgetary obligations." A draft resolution by the assembly of politicians from throughout the bloc also said any post-Brexit transition should be limited to three years.
Nine months after Britons unexpectedly voted to break with the EU, the die was cast at about 1.20 p.m. in Brussels, when the U.K.'s EU envoy, Tim Barrow, handed Tusk the letter invoking Article 50 of the Lisbon Treaty, the legal mechanism to exit the bloc which has never been used.
"This is an historic moment from which there can be no turning back," May told lawmakers in London shortly afterwards.
The pound weakened against all of its Group-of-10 peers and fell to a one-week low against the dollar, before edging back up. It has dropped 17 percent since the referendum although it stabilized recently as investors awaited signs of how the talks would progress.
Security Warning
May's missive did contain a hint of menace. She said a collapse in talks and the imposition of tariffs on U.K. exports to Europe would carry security implications as the joint fight against crime and terrorism would be weakened.
"Europe's security is more fragile today than at an time since the end of the Cold War," her letter said. "Weakening our cooperation for the prosperity and protection of our citizens would be a costly mistake."
One early flashpoint will be money as the EU pushes for the U.K. to pay around 60 billion euros ($65 billion) to settle its accounts. In her letter, May signaled she realized the U.K. would need to cover some past financial commitments, but hinted Britain would make its own claims as it withdraws. 
"We will need to discuss how we determine a fair settlement of the U.K.'s rights and obligations as a departing member state, in accordance with the law and in the spirit of the United Kingdom's continuing partnership with the EU," she said.
EU Citizens
May also said she wants an "early" agreement over the rights of EU citizens and Britons to live in each others' countries. Her central goal for Brexit is to win back control of labor flows, which raises questions about the legal status of 3 million EU nationals living in the U.K.
In an easing of rhetoric, May's letter carried no repeat of her past warnings that she would be willing to walk away from the negotiations, that "no deal is better than a bad deal" or that she could always turn her economy into a low-tax haven.
The letter's tone suggested May "now recognizes the importance of European goodwill if the U.K. is to avoid a disorderly and hard Brexit," said Mujtaba Rahman, a managing director of the Eurasia Group, a consultancy.
While May wants to sew up a trade deal by the time Brexit takes effect, she indicated she realizes that may not be possible by saying she wants "to avoid any cliff edge" for business. She asked Tusk to work with her to minimize disruption and help provide certainty to companies and investors.
Lose Influence
She also acknowledged that the U.K. will "lose influence over the rules" affecting the EU's economy, meaning British-based businesses will "have to align with rules agreed by institutions of which we are no longer a part." The premier insisted this was no different from how British-based firms operate in other parts of the world.
Carmaker Ford Motor Co. on Wednesday urged May to secure the continuation of tariff-free trade and warned failure to strike a deal would be the "worst case." Ryanair Holdings Plc said the U.K. risked losing air links to the continent, while JPMorgan Chase & Co. said "there will inevitably be some staff who will be asked to consider relocation."
The upcoming talks will test the negotiating mettle of a premier in power for just eight months and her ability to play to a domestic audience, especially the anti-EU wing of her Conservative Party that remembers she voted to stay in the bloc. Britain is divided over a "hard Brexit," where May could walk away with no deal, and "soft Brexit" with continued tariff-free trade.
Read more about what kind of trade agreements the U.K. hopes to strike
For Europe, it's a question of cohesion. Any deal struck between the U.K. and the EU potentially could decide whether Britain proves to be a trailblazer for other countries to leave, or remain the skeptical outlier it has always been. To ward against encouraging others to eye the exit door, EU officials say Britain will not be allowed to enjoy better terms outside the bloc than inside it.
Read more: These People You've Never Heard of Will Be Negotiating Brexit
German Chancellor Angela Merkel , who heads the biggest economy in the bloc, made her sentiments clear: we speak in one voice and there will be no shortcuts.
"In the talks, we first have to figure out how to disentangle" the bonds, she said in a speech in Berlin. "Only when those questions have been dealt with, hopefully soon, can we talk about how to craft our future relationship."
The EU will bide its time to make a considered response, knowing the British have ceded control of the clock to them and that they will leave the bloc in March 2019 regardless of whether a deal is struck. Tusk will publish draft guidelines for chief negotiator Michel Barnier by the end of the week, but leaders won't sign off on them until an April 29 summit.
"This is Day1 of a very long and difficult road," Barnier tweeted.
— With assistance by Alex Morales, Nikos Chrysoloras, Marine Strauss, Thomas Penny, and Birgit Jennen
Before it's here, it's on the Bloomberg Terminal.
LEARN MORE