Socialist Candidate Hamon Sinks in France as He Meets Merkel
By
Hamon slips to fifth place in polls after lackluster debate

Socialist candidate meets German chancellor in Berlin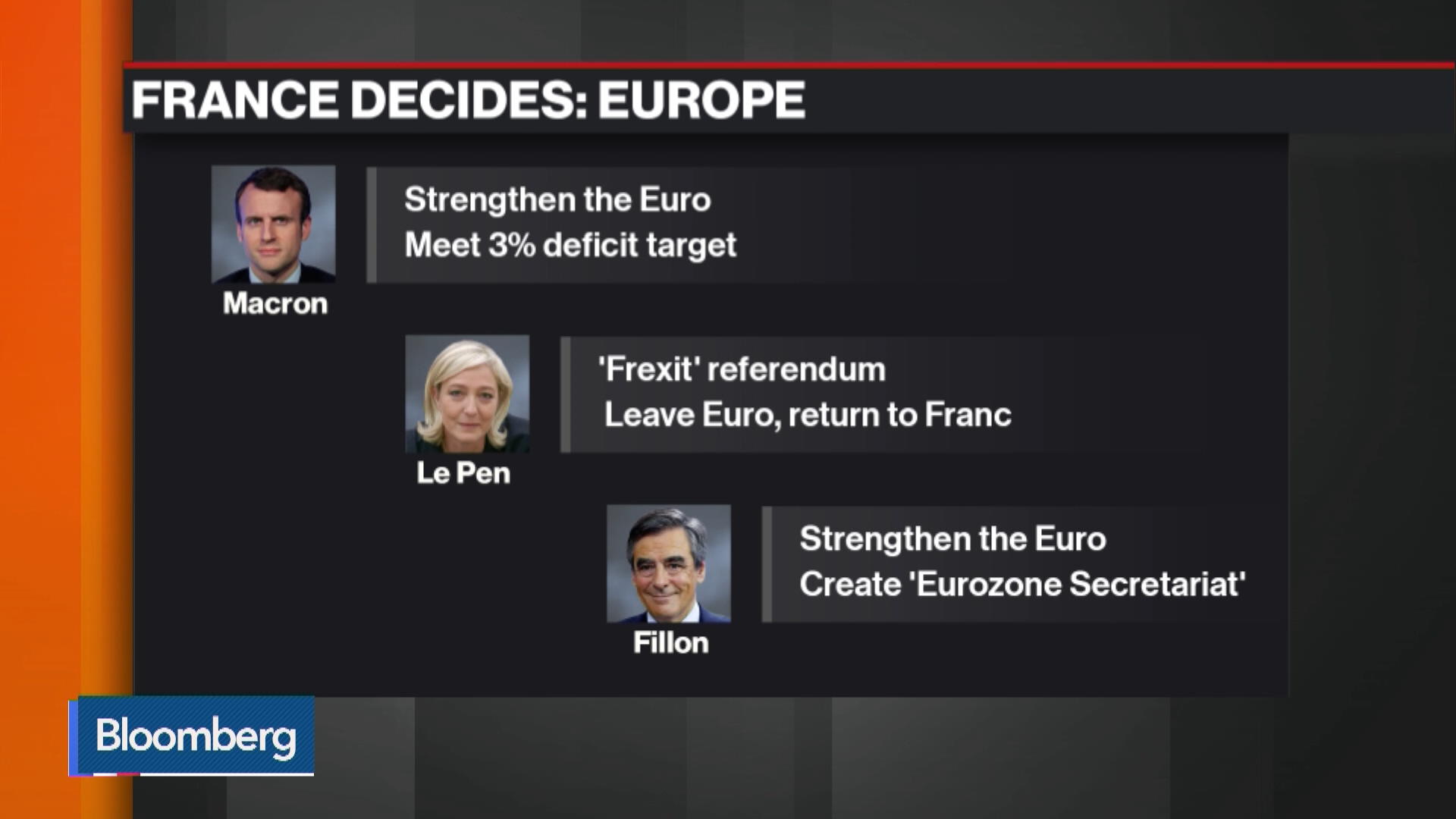 Socialist candidate Benoit Hamon is in Berlin Tuesday, desperate for anything that can revive his struggling French election campaign.
Hamon may represent France's oldest political party, but his polling numbers have been on the slide since the party's primary in January and he's now languishing in fifth place. On his left he's been overtaken by Communist-backed Jean-Luc Melenchon and in the center he's seen a steady stream of Socialists endorse independent Emmanuel Macron.
Read more: Macron and Le Pen Spar, Anticipating French Election Runoff
"The situation is grave for the Socialist nominee," said Pascal Perrineau, a researcher at Paris-based political institute Cevipof. "His political space is extremely limited."
In Berlin, Hamon met with Chancellor Angela Merkel during the morning and later in the day will see her challenger in next September's German election, Martin Schulz of the Social Democrats.
Hamon has defined himself as a "passionate European," and has pushed for greater integration with an elected parliament to oversee economic policy in the 19-country single currency zone. He's also criticized the deficit limits that Merkel has insisted on throughout the euro crisis. Hamon blames budget restrictions for sluggish economic growth and the high levels of unemployment that helped fuel a populist backlash against elites across Europe.
"There are two points on which we noted shared positions -- defense and energy transition -- one point where there is disagreement: my wish to end austerity," Hamon said after his conversation with Merkel. There was "an interesting discussion around my proposal for a democratic euro-zone assembly. So this proposal is on the table, and the dialogue is beginning," he added
Robot Tax
The 49-year-old former education minister is trying to revive the Socialists' fortunes after President Francois Hollande opted not to seek a second term with his approval rating near a record low. Hamon won over the party's base with a pledge to bring in a basic universal income, which would be partly paid for by taxing robots. Yet he's failed to broaden his appeal and French voters look set to eliminate both the country's traditional parties in the first round of voting on April 23.
In Monday's daily OpinionWay poll, Hamon was credited with just 11 percent of voting intentions in the April 23 first round of voting. He'd been at 16 percent in early March.
Nationalist Marine Le Pen was credited with 26 percent and Macron 24 percent, with Macron easily winning a May 7 runoff. Republican Francois Fillon trailed at 20 percent with Melenchon at 13 percent.

Talks with Melenchon to create a unified ticket failed in February, partly because neither man would consider making way for the other, and partly because of Melenchon's opposition to many European Union policies and his support for Russia.
As Hamon's candidacy has drifted, Socialist heavyweights including former Paris mayor Bertrand Delanoe and Defense Minister Jean-Yves Le Drian have broken ranks with their party and endorsed Macron, saying the 39-year-old independent is better placed to keep out Le Pen and her anti-euro platform.
Former Socialist Prime Minister Manuel Valls and his successor Bernard Cazeneuve have yet to say whom they will endorse. Valls speaks with between 60 and 70 lawmakers at 5 p.m. Tuesday in Paris, Agence France-Presse reported.
Hamon complained about being "stabbed in back" in an interview on France 2 television Sunday, and called on leftist voters to cast a positive ballot for him, rather than voting to keep someone else out.
"It's very late to make a comeback," said Philippe Moreau Chevrolet, a communications consultant and professor at Sciences Po institute in Paris. "Every day another member of the government leaves his camp."
— With assistance by Mark Deen, and James Regan
Before it's here, it's on the Bloomberg Terminal.
LEARN MORE