Top Republicans Offering 'No Deals' to Avoid Gorsuch Filibuster Fight
By and
Republicans will need eight Democrats to advance to final vote

No Democrat backing Gorsuch so far with panel vote set April 3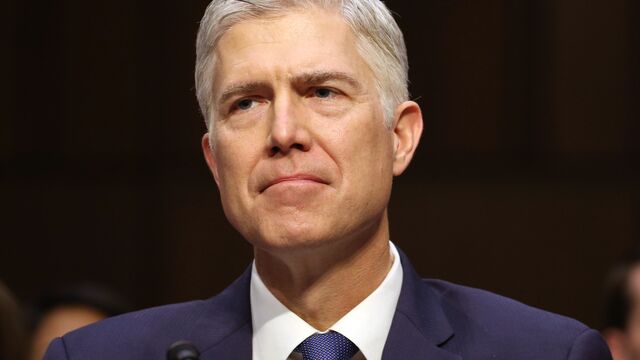 Three more Senate Democrats said Monday they will oppose Neil Gorsuch's nomination to the U.S. Supreme Court, while top Republicans said they won't propose any deals to avoid a "nuclear" confrontation.
"We're still hopeful that we'll get 60 votes" to advance the nomination to a final vote, said second-ranking Senate Republican John Cornyn of Texas. Republicans are offering "no deals" to Democrats, he said.
Also on Monday, Democratic Senator Joe Manchin of West Virginia became the first party member to say he'll vote with Republicans to advance Gorsuch's nomination. Spokesman Jonathan Kott said the senator hasn't decided how to vote on final confirmation. Manchin had been viewed as one of the Democrats most likely to make such a move.
Republicans control the Senate 52-48 and need eight Democrats to proceed to a final vote. Republicans then could confirm Gorsuch with a simple majority. If Democrats refuse to advance the nomination, the GOP could force confirmation by unilaterally changing Senate rules to end filibusters of high-court nominees, now and in the future -- a process known as the "nuclear option."
Senators Bill Nelson of Florida, Mazie Hirono of Hawaii and Sheldon Whitehouse of Rhode Island said they'll oppose confirmation. Nelson, like Manchin, has been under particular pressure because he is one of 10 Democrats seeking re-election next year in a state Trump won in 2016. The three joined more than a dozen other Democrats thus far in saying they'll oppose the nominee.
'Not Inclined'
Democrat Patrick Leahy of Vermont also said on Twitter Monday he was "not inclined" to vote for Gorsuch and would wait to see how the judge answers written questions before deciding whether to try to block a final vote.
So far, no Democrats have said they will back Gorsuch in the final confirmation vote. Last week, one of the Democrats who was seen as a possible supporter, Senator Bob Casey of Pennsylvania, announced he is a "no" vote.
Senate Republicans are united behind Gorsuch, who has served for a decade on the Denver-based 10th U.S. Circuit Court of Appeals. Senate Minority Leader Chuck Schumer, a New York Democrat, said Thursday he will vote against Gorsuch and said Democrats will insist on 60 votes to advance his nomination.
The Senate Judiciary Committee plans to vote on the nomination April 3, and Majority Leader Mitch McConnell says the full Senate will vote later that week. McConnell has repeatedly guaranteed that Gorsuch will be confirmed, telegraphing that Republicans are prepared to use the "nuclear option."
'Little Chance'
Several Republican senators said they see little chance of a bipartisan deal to avert any move by party leaders to change Senate rules, as happened under President George W. Bush when a compromise by a "gang" of 14 senators ended a similar feud.
The warring over confirmations in the Senate has escalated since then, and many Democrats remain angry over Republicans' refusal to even meet with appellate court Judge Merrick Garland, President Barack Obama's pick to fill the vacancy caused by Justice Antonin Scalia death in February 2016.
Republican Senator John McCain of Arizona said he isn't exploring any compromise to avoid a fight over a filibuster.
"The environment, unfortunately, is very different," McCain said. "It's much more partisan, unfortunately."
Groups backing Gorsuch, including the conservative Federalist Society, have said he might win approval with some Democrats voting to end debate even if they won't vote "yes" on his confirmation. In 2006, Justice Samuel Alito won confirmation when 19 Democrats voted with Republicans to end a last-minute filibuster, 72-25. Minutes later in the final vote, most of those Democrats switched their votes to "no" and Alito was confirmed, 58-42.
Still Undecided
Several Senate Democrats, including Martin Heinrich of New Mexico and Jon Tester of Montana, said Monday they were still undecided on Gorsuch but were certain they wouldn't split their votes -- they would vote the same on advancing the nomination and on final confirmation.
Many Democrats say they're concerned that Gorsuch, 49, will reinstate a conservative Supreme Court majority that over the past decade has voted 5-4 to roll back protections for consumers, workers and racial minorities, while giving companies new rights. At least a dozen other Democrats have previously announced their opposition, including Jeff Merkley of Oregon, Kirsten Gillibrand of New York, and Elizabeth Warren and Ed Markey of Massachusetts.
Before it's here, it's on the Bloomberg Terminal.
LEARN MORE