How a Premier May Become a Strongman in Serbia: QuickTake Q&A
By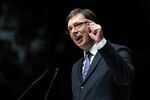 The April 2 presidential election in Serbia, a country with strong cultural and religious ties to Russia that's seeking to join the European Union, is shaping up to be an internecine tug-of-war. Opinion polls show Prime Minister Aleksandar Vucic, who manages to straddle the nationalist and pro-EU sides, is a heavy favorite and may win enough votes to avoid a runoff. That has triggered warnings from the opposition that he may overstep his power and try to institute one-man rule. Why so much interest in what previously had been a mostly ceremonial post?
1. What's at stake?
Vucic pushed aside incumbent President Tomislav Nikolic, a less-popular member of the prime minister's Serbian Progressive Party, pressuring him to forgo running for a second five-year term because he feared he might lose. Vucic's critics say his real plan is to use the presidential post to install a loyal party member to lead the government and then wield power behind the scenes.
2. How did Vucic become so popular?
Once an information minister for late strongman Slobodan Milosevic, Vucic has repeatedly used elections to strengthen his party's position, calling and winning two early votes since 2014. After once opposing EU integration, he has pledged to prepare the Balkan country of 7 million for entry by 2020 (actual membership may come much later). At the same time, he's also trying to keep channels open with Russia, a traditional ally, by strengthening economic and defense relations and condemning the EU's sanctions of Russia for invading Ukraine. Russia backs Serbia's refusal to acknowledge an independent Kosovo and has criticized efforts to grant former Yugoslav republics membership in NATO, which conducted a 1999 bombing campaign against Milosevic's regime. Vucic used the anniversary of when the bombing started last week to stage his biggest campaign rally in Belgrade.
3. Does it look like Vucic will win?
Yes. As of March 22, Vucic leads a field of 11 candidates in opinion surveys, with a poll by Faktor Plus putting him at 53 percent. Former ombudsman Sasa Jankovic was second with 15 percent, followed by former Foreign Minister Vuk Jeremic at 9 percent. Another poll last week put Vucic at 45 percent, which would mean he would have to proceed to a runoff. Opposition parties have complained Vucic is unfairly using his position to promote his candidacy and that they're being shut out by state-owned and pro-government media.
4. What authority would Vucic have if he wins?
As the leader of the Progressives, Vucic can wield far more influence than the traditionally ceremonial presidential post provides. If he wins, he'll switch jobs on June 1, a day after Nikolic's term expires. At that point, President Vucic would have the ability to name a new prime minister, who he has said should be from the same party as the president's. His ruling coalition holds a majority in parliament, making approval of his nominee likely. Vucic would then also have the power to sign all measures parliament passes, or to send bills back for amending, giving his party control over the entire legislative and governing process.
5. What if Vucic loses?
Vucic has said he will step down as prime minister if an opposition candidate wins. If that happens, it would topple his government. The Progressives may then push for early general elections.
6. What are the main issues?
Vucic has pledged to raise living standards that are at about 35 percent of the EU average, unchanged from 2012, according to Eurostat. He has also promised to sell or shut down hundreds of state companies that drain about $1 billion from the budget each year, a goal on which he's struggled to make progress. He faces anger over austerity cuts taken under a precautionary lending program with the International Monetary Fund. While Vucic's government has overseen economic growth and lower borrowing costs, his political rivals have also criticized him for suppressing opposition, wielding undue influence over courts and failing to fulfill a pledge to crack down on corruption.
7. How will the president be elected?
Voting starts at 7 a.m. and closes at 8 p.m. A candidate must get one vote more than 50 percent to avoid a runoff. If no one crosses that threshold, a second round will take place on April 16.
8. When will the results be known?
Serbia has no exit polls. After ballot stations close, the earliest first assessment will come from an organization of independent monitors, the CRTA. The first partial official results should be published by the National Electoral Commission at around 10 p.m. on Sunday.
The Reference Shelf

Before it's here, it's on the Bloomberg Terminal.
LEARN MORE