Threat of Cyclone Disrupts Mining in No. 1 Met Coal Exporter
By and
BHP, Glencore to suspend some Australia output as Debbie nears

Previous cyclones have led to prices spikes amid disruptions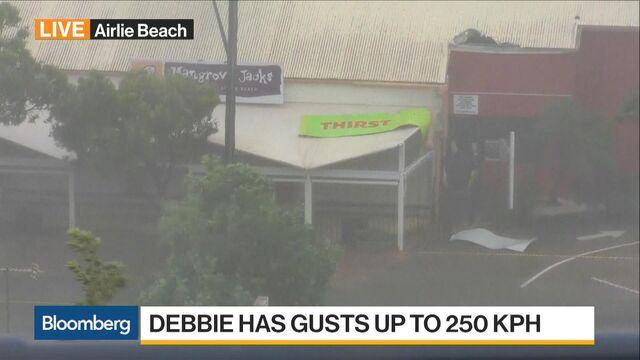 BHP Billiton Ltd. and Glencore Plc are halting some production in the world's largest exporter of coal used in steel-making, as the biggest cyclone since 2011 to hit Australia's Queensland nears the state.
South Walker Creek metallurgical coal mine operations will be suspended from the end of day shift on Monday and preparations are under way to manage increased rainfall throughout the week, BHP said in a statement. Glencore is preparing to temporarily halt output from the Collinsville and Newlands mines, the company said in a separate release.
Severe tropical cyclone Debbie is forecast to cross the coast Tuesday morning with wind gusts up to 260 kilometers (162 miles) per hour, according to the Bureau of Meteorology. Previous storms in Australia have flooded mines, swamped machinery and led to price spikes.
"The production impact is likely to be from drenching rain at the mines rather than a hit to the ship-loaders or the port infrastructure," said Robin Griffin, a research director at Wood Mackenzie Ltd. in Brisbane. "Producers are much better prepared after 2011. Most miners increased their defenses by boosting their levees from a one in 500-year event to a one in 1,000 year event."
Aurizon, Australia's largest freight rail operator, has stopped delivering coal to the export ports of Abbot Point, Dalrymple Bay and Hay Point, the company said Sunday. Trains operating on the Goonyella and Newlands systems have been stowed, or are in the process of being stowed, it said.
Cyclone Yasi
Debbie is "very dangerous, and of a size not seen in Queensland since severe tropical cyclone Yasi in 2011," Bruce Gunn, the state's regional director for the Bureau of Meteorology, said in a statement on the agency's website. Yasi was the first Category 5 storm to strike the Australian state since 1918. Debbie is expected to strengthen to a Category 4 by the time it makes landfall.
Contracts for premium metallurgical coal surged to a record $330 a metric ton in 2011 after floods curbed supply from Australia. They were settled at $285 for the first three months of this year, boosted by production curbs in China. Newcastle thermal coal, which closed at $81.09 on Friday, spiked above $170 in 2008 and climbed over $130 in 2011 amid similar flooding.
Any impact to production at South Walker Creek will be reported in the company's next quarterly update, BHP said. Glencore said the output suspension at Collinsville and Newlands is unlikely to affect annual production forecasts, while normal operations are continuing at the Oaky Creek, Clermont and Rolleston coal mines.
Before it's here, it's on the Bloomberg Terminal.
LEARN MORE