Risk Rout Eases as U.S. Stocks, Dollar Trim Losses: Markets Wrap
By
S&P 500 Index pares decline as health-care shares advance

Treasury yields slide below 2.4 percent, gold advances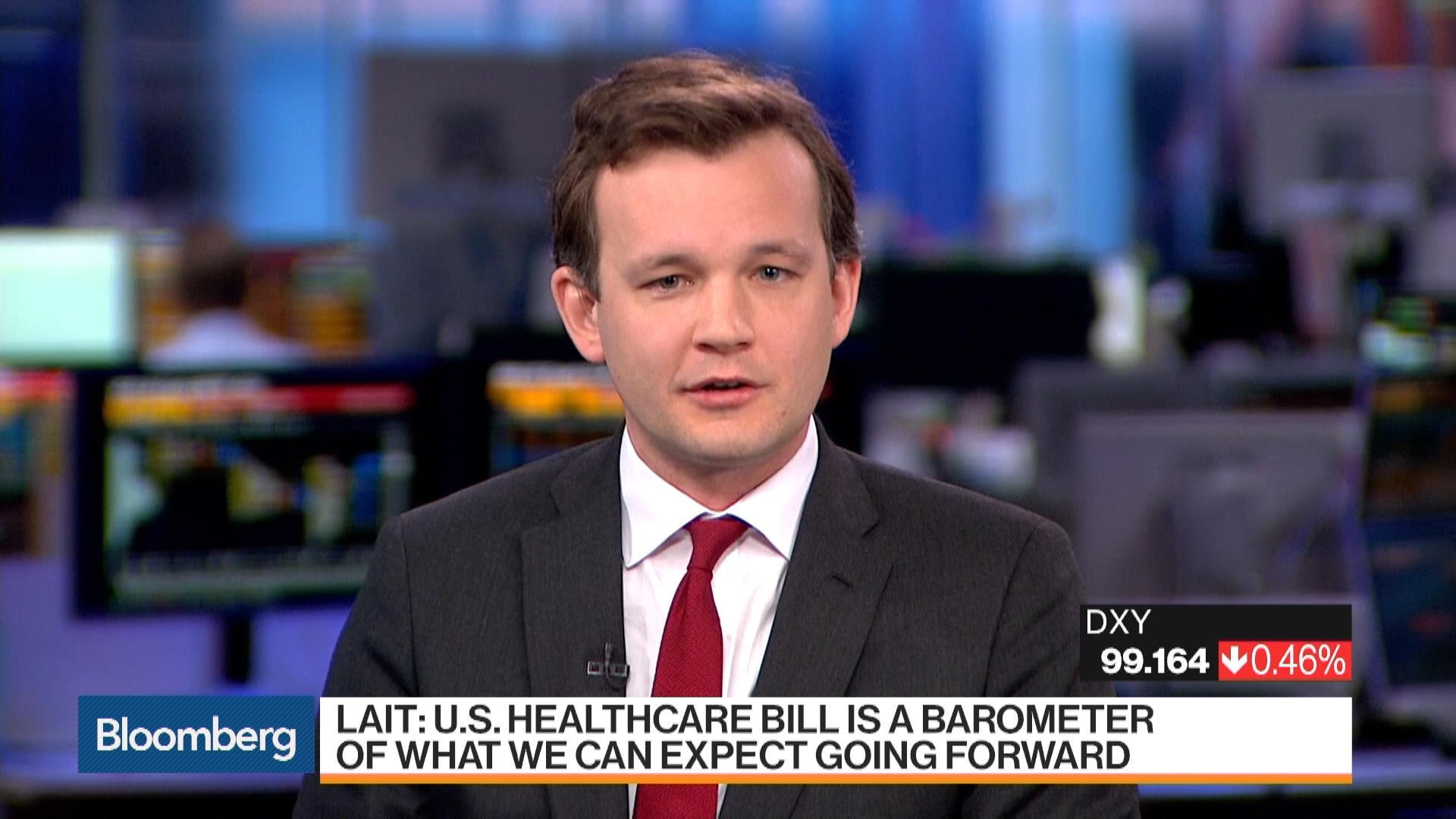 The selloff in riskier assets sparked by the Republicans' health bill failure eased as investors assessed the prospects for the Trump administration's pro-growth policies.
U.S. stocks finished lower, but the S&P 500 Index all but erased a loss of almost 1 percent and the Dow Jones Industrial Average rebounded more than 100 points from its session low. The Dow still notched an eighth straight loss for its longest slide since 2011. Hospital operators paced gains, while banks trimmed a loss that topped 2 percent as Republicans turned attention to tax cuts and regulatory rollbacks. The greenback clawed back from the verge of erasing the rally spurred by Trump's election victory.

The tempered decline in U.S. stocks slowed a global equity selloff sparked by Friday's decision to cancel voting on the health-care bill. While cracks remained in the so-called Trump Trade, Republicans vowed to succeed with other policy priorities that Wall Street has cheered and there remained no signs that the economic growth that's underpinned the rally is faltering. 
Read our Markets Live blog here.
Here are this week's key events:
U.K. Prime Minister Theresa May will on Wednesday formally trigger the start of two years of Brexit negotiations with a letter announcing Britain's planned withdrawal from the European Union.
Proposals to design and build Trump's promised 2,000-mile border wall between the U.S. and Mexico are due March 29.
Hungary, Mexico, South Africa and Thailand are among countries setting interest rates.
Samsung Electronics Co. will introduce its Galaxy S8 smartphone, the company's first new mobile phone since the debacle with the Note 7 battery fires that led to its recall.
Here are the main moves in markets:
Stocks
The S&P 500 dropped 0.1 percent to 2,334.59 at 4 p.m. in New York, paring a loss that reached 0.9 percent. The measure dipped below its average price for the past 50 days for the first time since Nov. 9.
The Nasdaq 100 and Nasdaq Composite indexes added 0.2 percent and small caps in the Russell 2000 rose.
HCA Holdings Inc. jumped 5 percent and Universal Health Services Inc. rallied as hospital operators benefited from the failure to repeal the Affordable Care Act.
The KBW Bank Index lost 0.4 percent, rebounding after its drop from March 1 surpassed 10 percent. Goldman Sachs Group Inc. slid 1.4 percent for the second biggest drop in the Dow Jones Industrial Average.
The Stocks Europe 600 Index retreated 0.4 percent as it was dragged down by miners and banks.
The MSCI Emerging Market Index dropped 0.4 percent.
Currencies
The Bloomberg Dollar Spot Index fell 0.4 percent, paring its gain since Nov. 8 to 1.4 percent. The measure is down 4.1 percent in 2017.
The yen rose 0.7 percent to 110.595 per dollar. 
The euro gained 0.6 percent to $1.0866, a four-month high, after Angela Merkel's election victory in Saarland state delivered a reality check in this year's contest for the German chancellery. The British pound added 1 percent.
Bonds
Yields on 10-year Treasuries dropped four basis points to 2.37 percent, after giving up one basis point on Friday. The rate is the lowest since Feb. 27.
Two-year notes underperformed as the government sold $26 billion of new securities in the first of this week's three auctions.
Core European bonds ended little changed, with the German 10-year yield at 0.40 percent.
Commodities
Gold rose 0.6 percent to settle at $1,258.60. The metal touched $1,264.20, the highest since Feb. 27 and above its average price for the past 200 days.
Oil fell as a pledge by OPEC-led producers to consider extending their output-cut deal failed to excite traders concerned that more time is needed to trim global stockpiles.
West Texas Intermediate oil slipped 0.6 percent to settle at $47.73 a barrel, erasing an earlier gain of as much as 0.7 percent.
Copper futures erased losses that reached 2.5 percent on the Comex in New York, rising as equities turned higher in afternoon trading.
— With assistance by Susanne Barton, and Mark Shenk
Before it's here, it's on the Bloomberg Terminal.
LEARN MORE