Sinopec Sees Profit Jump, Spending Boost 1st Time Since 2013
By
China's refining giant forecasts 1Q17 net income up 150% y/y

Targets boosting spending in 2017 by 44% to 110.2 billion yuan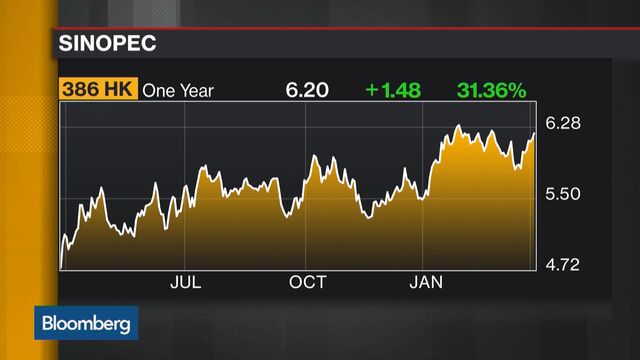 China Petroleum & Chemical Corp. said profits during the first quarter of this year are expected to more than double on higher crude prices and stable demand, bolstering plans by the world's biggest oil refiner to raise spending for the first time in four years.
Net income during the first three months will jump about 150 percent from the same period a year ago, the company known as Sinopec said in a statement Sunday to the Hong Kong stock exchange. That followed an earlier filing that showed it plans to increase spending by 44 percent this year and that profits in 2016 rose the first time in three years on improved refining margins and a one-time gain from pipeline asset sales.

Sinopec's Hong Kong-traded shares on Monday rose as much as 2.4 percent to HK$6.35. The city's benchmark Hang Seng Index fell 0.3 percent, while the MSCI AC Asia-Pacific Energy Index was little changed.
Oil prices have stabilized after a two-year crash as the Organization of Petroleum Exporting Countries leads a global effort to trim output. Meanwhile, China's apparent oil demand showed a 4 percent rise in the first two months of 2017 as investment, property and industrial drivers in the world's second-biggest economy started the year off on firm footing.
"The capex increase underlines Sinopec's confidence in the energy market recovery," said Gordon Kwan, head of Asia-Pacific energy research at Nomura Holdings Inc. in Hong Kong. "We expect most international oil majors will follow suit as oil prices rebound and global energy demand continues to scale new heights."
The company aims to boost capital expenditure to 110.2 billion yuan, while flagging that global crude production will fall a third year. Spending in 2017 will include building the second-phase of its Fuling shale-gas project and liquefied natural gas import infrastructure in Tianjin, as well as domestic gas-storage facilities. It also issued a final 2016 dividend of 0.17 yuan, compared with a forecast for 0.08 yuan in data compiled by Bloomberg.
Big Three
China's biggest offshore explorer, Cnooc Ltd., also plans to raise spending this year, increasing it by as much as 43 percent to as high as 70 billion yuan. It reported its worst-ever profit on Thursday, avoiding a loss thanks to bigger income tax credits, cost cutting and a recovery in oil prices. The nation's largest oil producer, PetroChina Co., announces results March 30.
Global oil refiners have fared better than producers during the energy downturn as cheaper crude boosted profit margins and stimulated fuel demand. Along with slashing spending, that has helped Sinopec outperform those state-owned rivals despite falling oil prices and declining crude production.
Net income in 2016 rose 44 percent to 46.7 billion yuan ($6.8 billion), Sinopec said Sunday. Gross refining margins rose about 48 percent from the previous year to 471.9 yuan a ton. It also booked a 20.56 billion yuan gain from the December sale of a 50 percent stake in a pipeline unit, Sinopec Sichuan-to-East China Gas Pipeline Co.

"Lower crude prices really helped Sinopec's margins last year," said Tian Miao, a Beijing-based analyst at North Square Blue Oak Ltd. "Sinopec may continue to benefit from China's strong fuel demand growth, especially gasoline. The risk for Sinopec going forward is that crude prices rise too high and too fast as higher upstream margins wouldn't be enough to cover refining losses."
In its separate profit alert for the first quarter, Sinopec said net income for the same period last year was 6.19 billion yuan, using Chinese accounting standards. That implies a jump to as much as 15.5 billion yuan, according to Bloomberg calculations.
Investors are also eyeing Sinopec's efforts to revive an initial public offering of its retail business, which could raise as much as $10 billion. The company asked banks to submit proposals by December for roles to manage a potential Hong Kong listing next year, Bloomberg News reported.
Other details of Sinopec's results Sunday include:
The company is targeting global crude output this year of 294 million barrels, according to its filing. That's down 3.1 percent from 2016, Bloomberg calculations show. 
Domestic crude will fall 2 percent to 248 million barrels, while overseas production slips 9 percent to 46 million barrels, according to Bloomberg calculations based on the filing.
Natural gas output will rise almost 15 percent to nearly 880 billion cubic feet.
Refining throughput will increase by almost 2 percent to 240 million tons.
Total capital expenditures in 2016 were 76.5 billion yuan, down 32 percent from the previous year and below the company's target of 100.4 billion yuan
Before it's here, it's on the Bloomberg Terminal.
LEARN MORE