Hong Kong Elite Elect China-Backed Candidate as City Leader
By , , , and
Former No. 2 Carrie Lam defeats popular ex-financial secretary

Chief executive picked by panel dominated by Beijing loyalists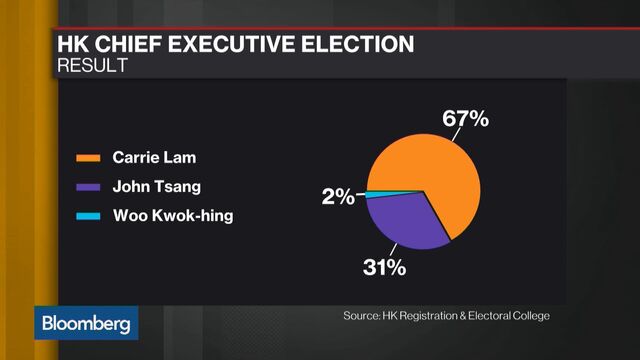 Hong Kong's former No. 2 official, Carrie Lam, was elected as the city's chief executive, giving China its preferred choice to lead the fractious financial hub. 
Lam, 59, won 67 percent of votes cast Sunday by an electoral college of 1,194 businessmen, professionals and politicians that selects leaders for the former British colony, according to final results. Her chief rival, ex-Financial Secretary John Tsang, 65, got 31 percent, despite greater popularity among the general public and support from the committee's pro-democracy bloc. A third candidate, retired judge Woo Kwok-hing, received 1.8 percent.
"Hong Kong, our home, is suffering from quite a serious divisiveness and has accumulated a lot of frustration," Lam told reporters after her victory. "My priority will be to heal the divide and to ease the frustration -- and to unite our society to move forward."
The result will make Lam, a career civil servant, the city's first female leader when her five-year term begins on July 1. She became the favorite to win after her unpopular former boss, outgoing Chief Executive Leung Chun-ying, bowed out in December and Chinese officials pushed behind the scenes to rally support for a candidate seen as compliant to Beijing's agenda.

The Hong Kong and Macau Affairs Office, under China's State Council, said that Lam met the standards of "loving the country and Hong Kong, being trusted by the central government, being capable of governing and enjoying the support of the people," the official Xinhua News Agency reported, citing an agency spokesperson.
China's local Liaison Office also posted a statement on its website congratulating Lam. The Chinese government must still formally confirm her appointment.
Lam's primary tasks will be quelling unease over Beijing's perceived encroachment on Hong Kong's affairs, and bolstering an economy vulnerable to China's slowdown and U.S. interest-rate increases. The former chief secretary's pledge to ramp up growth through spending more and cutting taxes will be aided by a projected budget surplus of HK$92.8 billion ($11.9 billion) for the current fiscal year. 
Her popularity has suffered amid weeks of media reports about Chinese officials working to quash opposition to her on the loyalist-dominated election committee. Lam trailed Tsang 29.5 percent to 46.6 percent in a poll of 1,009 adults published on March 16 by the South China Morning Post newspaper.
"She is viewed -- and she said so herself -- as C.Y. Leung's successor to continue his administration and policies," said Jason Y. Ng, a lawyer who wrote "Umbrellas in Bloom," a chronicle of the mass democracy protests in 2014. "She is too much of a known entity. There will be no honeymoon period at all."

Hundreds of protesters -- including some pro-Beijing demonstrators, waving national flags -- were separated from the convention center by scores of police officers and barricades. One pro-democracy group unfurled a huge banner proclaiming "I want genuine universal suffrage" from Lion Rock, which overlooks Hong Kong's Victoria Harbor.
"It's a fake election," said protester Ng Chi-fai, 52, who was concerned that Lam would follow in Leung's footsteps. "I believe Hong Kong people will be upset by this and will be more united to oppose her."
China promised to give Hong Kong a "high degree of autonomy" before the U.K. relinquished control two decades ago. Lam's inauguration ceremony will take place on the 20th anniversary of the handover, giving her an immediate test for handling a politically sensitive occasion.

President Xi Jinping may attend the event, which is accompanied by an annual pro-democracy march, in what would be his first visit to Hong Kong since taking power in 2012. The Post reported on March 6 that the commander-in-chief might also review a military parade while in town.
Lam has promised a more accommodating approach after the mass protests and legislative gridlock that marked Leung's tenure. She told Bloomberg last month she would focus on boosting the economy rather than potentially divisive issues like an election reform proposal that prompted student demonstrators to occupy swaths of the city in 2014. 
Lam, who had planned to retire this year, was raised in a walk-up apartment in the city's Wan Chai district. While studying sociology at the University of Hong Kong, she showed an activist streak, supporting a group of Yau Ma Tei boat people during efforts to relocate them. Upon graduation, she joined the government.
'More Pragmatic'
"I always say she's more pragmatic," Lui Che-woo, the billionaire founder of Galaxy Entertainment Group, told reporters before voting. "She has a practical and realistic style. Hong Kong must rely on this kind of people."
She has held about 20 positions over 36 years, including a 2007-12 stint as development secretary when she persuaded villagers to relocate to make way for new projects. As Leung's top deputy, she was known for championing China's policy goals without inspiring the same animosity from the opposition as her boss.
That reputation took a hit during a December trip to Beijing, when Lam -- who was then mulling a run -- announced plans to build a Hong Kong offshoot of China's Palace Museum. The surprise move prompted a backlash with lawmakers accusing her of failing to consult the public about the project or her choice of architect.
"This campaign changed me, and I'm sure it also changed her," said Tsang, who congratulated Lam and called on the city to unite around her. "I ask that you all give her a chance and your support."
— With assistance by Fion Li, and Janet Ong
Before it's here, it's on the Bloomberg Terminal.
LEARN MORE