Scrapping TPP Was a Mistake, Ex-Trade Representative Froman Says
Bloomberg News
Says worst case would be a 'tit-for-tat' trade war with China

Former U.S. Trade Representative Michael Froman speaks at Boao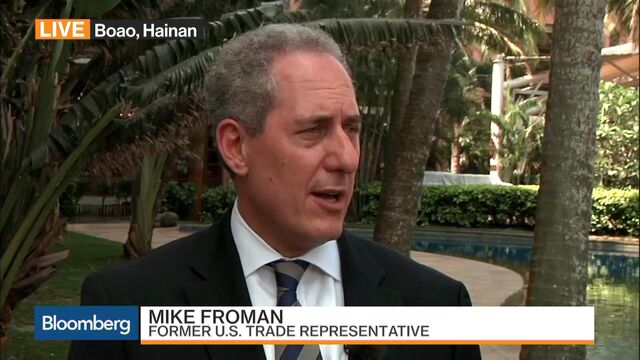 Former U.S. Trade Representative Michael Froman said the goals of a 12-nation Pacific trade pact he helped negotiate are likely to live on in some fashion and that President Donald Trump's decision to abandon the agreement was a "terrible mistake."
Asia-Pacific nations value "high standard rules" negotiated in the Obama administration-led deal, Froman said Friday in a Bloomberg Television interview from the Boao Forum, an annual conference on the southern Chinese island of Hainan. "The rules that we negotiated find their way into effect in some way or another in a number of different ways."
Froman also warned that pulling out of the Trans-Pacific Partnership would have broader ramifications for the U.S. It "creates a void that China is filling in the region," said Froman, now a fellow at the Council on Foreign Relations.
He pointed to the possibility that TPP countries continue without America's involvement or turn to the 16-nation Regional Comprehensive Economic Partnership, an Asia-wide agreement that's favored by China but does not include the U.S.
Moving forward with key provisions of the TPP won't prove easy, though Australia in particular has spoken of that possibility. Trump signed an executive order to withdraw form the agreement in January, citing the risk to U.S. jobs from a deal that would have covered 40 percent of the global economy. Since then, regional attention has shifted toward the RCEP, or to seeking bilateral deals with the U.S.
Revising TPP Terms
Progress on the TPP without the U.S. would require significant revision of terms that at least six states, which together account for 85 percent of the combined gross domestic product of all original signatories, ratify it. The U.S. made up about 60 percent.
Asked about the possibility of a trade war with China, Froman said the worst-case scenario would be a "tit-for-tat" outcome where the U.S. raises tariffs and other countries respond in kind.
The Chinese are "very tough negotiators and very well organized," and will want to find a way to work well with the U.S., he said. Talks on a bilateral investment treaty between the nations have made "a lot of progress," he said.
Froman, a Harvard Law School classmate of former President Barack Obama, was deputy national security adviser for international economic affairs before serving as the White House's top trade negotiator from mid-2013 through the end of the last administration.
— With assistance by Peter Martin, Miao Han, and Stephen Engle
Before it's here, it's on the Bloomberg Terminal.
LEARN MORE