Hospitals Gain as Republican Health Repeal Bill Is Pulled
By and
Tenet, Community rise as bill fails; Medicaid insurers gain

Vote on GOP bill is canceled at last minute on Friday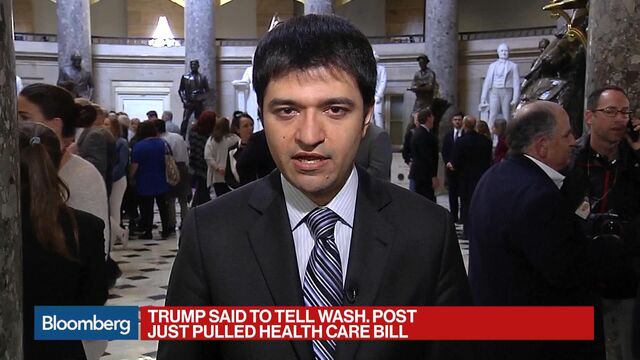 Health stocks surged late in the trading session Friday after Republicans pulled their bill to repeal and replace Obamacare, lacking the votes to pass it in the House.
Hospitals led the advance, with the BI North America Hospitals Competitive Peer Group Index up 5.4 percent at the close in New York. Centene Corp., an insurer that focuses on Medicaid plans, rose 5.2 percent to $68.73. Hospitals and insurers like Centene would have been hurt by the GOP bill, which would cut millions of people from health insurance and roll back an expansion of the Medicaid program for the poor.
House Republicans scrapped a vote on the embattled health-care bill Friday as a growing number of their party declared they opposed the latest version just a day after President Donald Trump demanded a do-or-die vote on the longtime GOP priority. While addressing health care is still a priority for Republicans, they are now likely to do so in much smaller steps, and other major legislative efforts on taxes and infrastructure may take priority.
"Obamacare is the law of the land, it will remain the law of the land for the foreseeable future," said House Speaker Paul Ryan, whose policy ideas were at the center of the GOP bill. He said Republicans are making a difficult transition to learning how to govern. "Now, we're going to move on with the rest of our agenda."
He predicted that insurance markets under the Affordable Care Act would worsen, eventually helping Republicans act. "What we're really worried about is the coming premium increases that are coming with a death-spiraling health system."
Good for Stocks
Sheryl Skolnick, an analyst with Mizuho Securities who tracks hospital industry stocks, cheered the Republican loss.
"This was bad legislation, with very damaging potential impact on hospitals, patients and doctors, and would have done little to restore competitive markets or rational pricing," Skolnick said in a note to clients.
While some challenges remain for the hospital industry as more patients are treated in cheaper outpatient settings, the bill's failure represents the removal of a significant overhang and shares moved appropriately to show that, Skolnick said in a telephone interview.
The hospital company Tenet Healthcare Corp. rose 7.4 percent to $18.28 and its peer Community Health Systems Inc rose 9.7 percent to $9.54.
"I think they're now in the correct neighborhood, reasonably balancing risk and opportunity," she said in a telephone interview. "Mr. Market tends to be very efficient."
GOP Regroup
Republicans will likely regroup over the weekend and determine their plans on health care and other issues.
"It is our responsibility to keep legislating," said Representative Justin Amash, a Michigan Republican and one of the firmest holdouts in a group of conservatives who objected to the bill. "When something fails you keep trying."

The bill, called the American Health Care Act, would have slashed billions from health spending and raised insurance costs for many, according to an analysis by a nonpartisan government body. That would be bad news for hospitals, which must take care of sick patients whether or not they can pay.
Hospital chains' shares have yo-yoed through the attempts to repeal and replace the Affordable Care Act as investors tried to determine the impact on the industry's bottom line, as well as the legislation's chances for passage. Medicaid-focused insurers, including Centene and Molina Healthcare Inc., have gyrated as well.
Molina shares were up 4.6 percent to $44.68 at the close.
— With assistance by John Lauerman, Billy House, and Steven T. Dennis
Before it's here, it's on the Bloomberg Terminal.
LEARN MORE