technology
Hampton Creek CEO Says Feds End Inquiries Into Mayo Buybacks
By
SEC and Justice Department didn't find wrongdoing, CEO says

Food startup told workers to secretly buy products from stores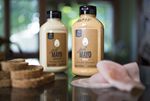 The U.S. has closed inquiries into Hampton Creek Inc.'s practices of buying back its own products from stores, Chief Executive Officer Josh Tetrick told employees.
The Securities and Exchange Commission and Justice Department didn't find wrongdoing in their inquiries, Tetrick wrote in a staff memo seen by Bloomberg. The probes were opened after Bloomberg reported in August that the San Francisco-based startup had bought back large quantities of its vegan mayonnaise from supermarkets, which made the products appear more popular than they were.
Spokespeople for Hampton Creek, the SEC and the Justice Department declined to comment.
Tetrick co-founded Hampton Creek in 2011 and went to work on creating an egg-free mayo that stores didn't need to refrigerate. He sold the vision to Silicon Valley venture capital firms, raising at least $220 million in total.
Starting in 2014, Hampton Creek began asking contractors to go undercover and buy up shelves of its products. The goal was to show "huge sales out of the gate," an executive wrote in an email to workers at the time. Contractors were also asked to call stores under false identities and request Hampton Creek products, creating the appearance of demand.
Investors weren't informed of the practices, Bloomberg reported last year. Tetrick said at the time that the company always complies with disclosure obligations and that buybacks accounted for a small fraction of total sales. The SEC opened an inquiry and the Justice Department began a criminal investigation to determine whether the company's accounting of the buybacks was fraudulent.
Mary Jo White, the former SEC chair, had advocated for greater scrutiny of startups, but the agency under President Donald Trump is expected to reduce regulation. Jay Clayton, the president's pick for SEC chairman, told lawmakers that he would scale back restrictions on private companies in the hope of spurring more initial public offerings.
Tetrick told employees last August that Hampton Creek would raise a new round of funding valuing the business at more than $1 billion and placing it among an elite group of unicorn startups. He said at the time that the deal would close imminently but hasn't provided an update. Lynne Benioff, the wife of Salesforce.com Inc.'s CEO, stepped down from the board last year amid the controversies, two people familiar with the matter said.
Hampton Creek declined to comment Friday on the fundraising efforts or the board change. Benioff didn't immediately respond to a request for comment.
— With assistance by Matt Robinson, and Tom Schoenberg
(
Updates with SEC and Hampton Creek context in the fourth paragraph.
)
Before it's here, it's on the Bloomberg Terminal.
LEARN MORE