Bullard Opposes Two More 2017 Hikes, Dudley Says Fed Taking Care
By and
New York Fed chief: economy can cope 'just fine' with hikes

Bullard: 'We don't need to be preemptive in this situation'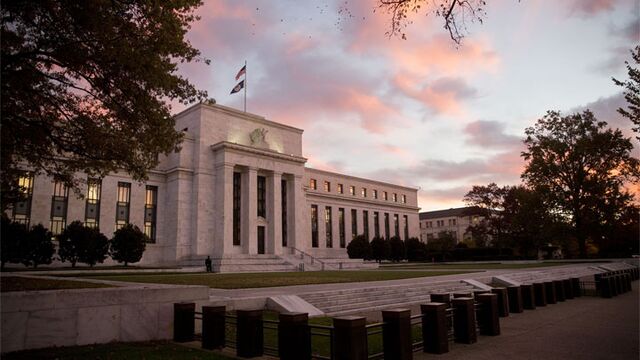 Federal Reserve rate increases are aimed at achieving a soft landing and the U.S. economy will cope "just fine" with gradual policy tightening, said New York Fed President William Dudley. His colleague James Bullard doesn't share that confidence.
"I think it is potentially overkill," the St. Louis Fed president said Friday, referring to the central bank's projection for future rate increases. "It's not necessary to raise rates that quickly if the goal is to keep inflation near target and keep unemployment between 4.5 and 5 percent," he told reporters in Memphis, Tennessee.
The Fed increased rates on March 15 and released forecasts showing officials expect to hike twice more this year, according to their median estimate, amid moderate growth that has lowered the jobless rate to 4.7 percent while nudging inflation toward its 2 percent target.

"We do not need to be preemptive in this situation," Bullard said. "Some of my colleagues seem to think you really have to get out in front with a faster pace of rate increases in order to keep inflation and unemployment where they are. I don't think you have to do that. I think you can take much more of a wait-and-see posture."
Gradual Increases
While the Fed's preferred gauge of inflation has jumped recently, reaching 1.9 percent in the 12 months through January, the measure that excludes food and energy components has remained at 1.6 percent to 1.7 percent for more than a year.
Bullard doesn't vote this year on the policy-setting Federal Open Market Committee and in March forecast that only one quarter-point rate increase would be warranted in 2017 -- a move that the committee matched at that meeting.
Dudley, who has a permanent FOMC vote as head of the New York Fed, went out of his way to stress that the Fed has been raising rates very gradually and would take great care not to doing anything "harsh."
"By taking out a little bit of that accommodation -- moving up interest rates just a little bit -- we think it's more likely we'll achieve a soft landing, and keep the economy about where it is today in terms of employment and inflation," he told students and faculty at York College of The City University of New York.
"So it's a delicate adjustment. It's not something that's very harsh. We think it's appropriate and necessary, but I think the economy will be able to adjust to this just fine."
Dudley was not specifically asked how many rate increases he favors, though his outlook is considered close to Fed Chair Janet Yellen. They both probably favor two more hikes this year.