At Stanford, Older Professionals Get a Chance to Hit the Books Again
A gap year for 60-somethings, at $65,000 a head.
By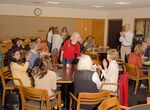 As senior vice president for HP Inc.'s laser-jet business unit, Pradeep Jotwani put in 70-hour workweeks and traveled tens of thousands of miles each year, leaving him little time for much else. So when he turned 60 two years ago, he was ready to wrap up his 28-year career at HP. Yet he dreaded the thought of retiring.
Then he heard about Stanford University's Distinguished Careers Institute, a yearlong program for executives and professionals mostly in their 50s and 60s who, like him, were grappling with what to do after ending successful careers. In January 2016 he began attending classes and seminars at one of America's most selective universities as part of a group of 25 DCI fellows, each of whom paid $65,000 for the privilege. "I'm a closet nerd and always wanted to go back to school and learn new things, plus I got to be with people my age who want nothing to do with retirement," he says. "We were all in exploration mode, trying to figure out what we wanted to do next, and we had the chance to share that journey."
It's like an older person's version of a gap year. Just as some young students take a break before starting undergraduate or graduate studies, growing numbers of baby boomers want to return to school after making their mark in their chosen profession. Many want to gain knowledge in subjects they didn't learn earlier in life or which didn't exist when they were in college. And they hope a break from the work they've done for two or three decades will help them find new directions.
Dr. Phil Pizzo, the 71-year-old pediatric oncologist and former Stanford School of Medicine dean who conceived and launched the DCI program in 2014, embraces the "gap year" label. "Moving from middle to older age is a gigantic transition, especially as people approaching traditional retirement age want to keep contributing and working in different ways and don't want to be isolated," he says. "We've structured this so fellows can bond and become friends and also mix with undergraduates."
Pizzo hopes DCI spurs other colleges to offer similar programs, especially some that are less costly and available to more people. Some universities might offer two-month summer programs or weekend courses scattered across an academic year.
"Fifty years from now, no one's going to think of universities as places just for people in their teens and 20s," says Laura Carstensen, director of Stanford's Center on Longevity, with which DCI is affiliated. "If you're going to live to 100 or older, you're likely going to have to return to school several times as an adult to learn what's new."
Harvard Business School already has its Advanced Leadership Initiative. Introduced in 2008, it's a yearlong program aimed primarily at executives who want to lead nonprofits or do social impact investing. Applicants for one of the 46 spots must submit a specific project they want to develop.

Stanford's program is less structured and doesn't require applicants to have a particular study plan or goal. It also invites fellows' spouses or life partners to participate—for an extra $30,000.
To help the fellows bond, the university hosts Wednesday afternoon meetings for fellows, in which they are asked to talk about experiences that most shaped them, including where and how they were raised and what personal losses they've experienced. "We want people who are willing to step out of their comfort zones and share who they are with one another," says Kathryn Gillam, DCI's executive director.
That approach suited David Gensler, 58, who was a fellow last year after he stepped down as co-CEO of Gensler, an architecture and design firm whose extensive client roster includes Apple, Airbnb, and Uniqlo. "My 81-year-old father is still working there half time, but I was completely burned out and needed to step away, have time to reflect, and find a new track for my next 20 or 30 years," he says.
He mapped out three study areas for his year at Stanford. "Just for joy," Gensler says, he took piano and voice lessons and music theory and then studied guitar, which he's now playing several hours each day. "It's my meditation," he says.
Gensler, who owns a vineyard in Northern California, also took courses in food security, soil science, and other topics in agriculture. He studied real estate development and investing at Stanford's business and engineering schools. He did the required work for all his classes and took some exams but says he enjoyed not having to worry about a grade. Since finishing his year at Stanford, he's been developing two ideas for new businesses and serving on several nonprofit boards.
Colleges that allow older adults to audit courses typically require them to only listen and not participate. At Stanford, most professors encourage DCI fellows to join in discussions.
Mary Ittelson, a current DCI fellow and head of Ittelson Consulting, a Chicago firm that advises arts organizations, wondered if she should "hold back" when she enrolled in a course on women poets with about a dozen undergraduates. But she was encouraged to participate, and "the discussions we have in class are so stimulating, they're continuing when we meet on campus," says Ittelson, 60. She found out about DCI on an airplane, when she and the man seated next to her talked about their colleges and she said she was jealous of undergraduates. "It turned out he was on DCI's advisory committee, and when he told me about the program, I said, 'That's my dream.' "
For 63-year-old Susan Wilner Golden, who slowed down her career as a venture capitalist when she was in her 40s and 50s to raise her two daughters and care for her mother, the program has been a bridge back to full-time work. "I reset my clock. I feel like I'm 30 now," she says. A DCI fellow last year, Golden is now a fellow at the Center on Longevity.
Jotwani, the HP retiree, studied renewable energy, climate change, social venture management, and art history. He's currently mentoring social venture entrepreneurs in India, Myanmar, and Tanzania, and serving on several corporate and nonprofit boards. But he liked being back at school so much that he enrolled for an extra year at DCI—and is encouraging others his age to go back to school. "I have a retiree friend who this term registered with me for a continuing education class because he realizes he needs more than golf and biking," Jotwani says.
The bottom line: A Stanford University program for older adults may be a model for other schools seeking to diversify their revenue sources.
Before it's here, it's on the Bloomberg Terminal.
LEARN MORE