politics
Schumer Opposes Gorsuch, Urges Other Democrats to Vote No
By and
Pennsylvania's Casey also says he'll oppose top court nominee

Gorsuch ends Senate panel testimony with no major stumbles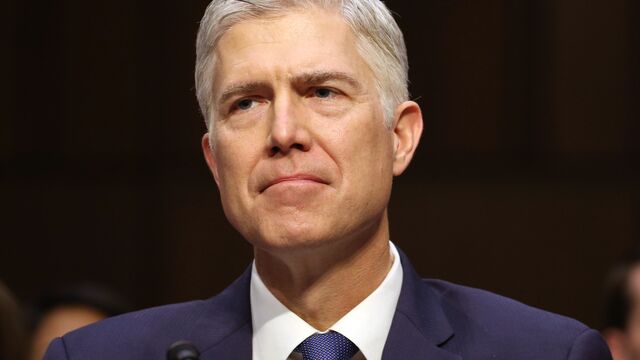 Senate Minority Leader Chuck Schumer said he will vote against Neil Gorsuch's nomination to the U.S. Supreme Court and called on fellow Democrats to try to block confirmation.
"After careful deliberation I have concluded that I cannot support Judge Neil Gorsuch's nomination to the Supreme Court," Schumer, of New York, said on the Senate floor Thursday. "He will have to earn 60 votes for confirmation. My vote will be no and I urge my colleagues to do the same."
Minutes before Schumer spoke, Pennsylvania's Bob Casey told reporters he will vote against Gorsuch's confirmation. The judge has a rigid philosophy that "employs the narrowest possible reading of federal law and exercises extreme skepticism, even hostility, to executive branch agencies," Casey said.
Senator Tom Carper of Delaware, viewed as a moderate like Casey, said Thursday he'll also oppose Gorsuch. Those three senators were the first Democrats to announce what direction they'll take after Gorsuch survived two days of questioning before the Senate Judiciary Committee with no major stumbles.
White House spokesman Sean Spicer called Schumer's announcement "truly disappointing" and called on Democrats to drop any effort to block Gorsuch.
QuickTake on Gorsuch and the Supreme Court
Democrats can go all-out to block a vote on President Donald Trump's first high court nominee and satisfy a political base still angry that Democrats didn't get to fill the vacancy. Or some may decide to swallow their objections and let Gorsuch win confirmation, saving their ammunition for what could be a more important Supreme Court fight when the next vacancy arises.
Either way, Gorsuch is a heavy favorite to win confirmation, even though Republicans who control the chamber 52-48 need eight Democratic votes to advance the nomination if the minority party seeks to block it. No Democrat has publicly backed Gorsuch yet.
"He's going to get confirmed one way or the other," second-ranking Senate Republican John Cornyn of Texas said Thursday. In the event of a Democratic filibuster, the GOP could eliminate the minority's ability to block Supreme Court appointments -- now and in the future -- by changing the rules with a simple majority vote, known as the "nuclear option."
"We know that some Senate Democrats will continue trying to come up with any reason, any reason, to delay the confirmation process," Senate Majority Leader Mitch McConnell of Kentucky said on the Senate floor Thursday. Gorsuch should be confirmed "without delay," he said.
Many Democrats say they're concerned that Gorsuch, 49, will reinstate a conservative Supreme Court majority that over the past decade has voted 5-4 to roll back protections for consumers, workers and racial minorities, while giving companies new rights. A handful of other Democrats have previously announced their opposition, including Jeff Merkley of Oregon, Kirsten Gillibrand of New York, and Elizabeth Warren and Ed Markey of Massachusetts.
"We don't want judges with ice water in their veins," Schumer said, pointing to Gorsuch rulings that he said failed to show "mercy" and favored companies over their workers.
Schumer cited Gorsuch's ruling against a truck driver fired for abandoning his trailer after waiting several hours in subzero temperatures for a repair, and the narrow standard the judge used for assessing the educational rights of disabled students.
'Judicial Decency'
"It requires only the bare minimum of judicial decency to rule the right way in the cases I mentioned, and Judge Gorsuch did not," Schumer said. He also said the judge lacked the "backbone" to stand up to the president who appointed him.  
Gorsuch has repeatedly asserted his independence from Trump's administration, saying Wednesday, "I am a judge, I am independent, I make up my own mind."
Casey is one of 10 Senate Democrats under particular pressure because they're seeking re-election next year in a state Trump won in 2016. Outside groups lobbying senators are focusing on those senators, also including Montana's Jon Tester, Missouri's Claire McCaskill and Florida's Bill Nelson.
Others who have said they are considering supporting Gorsuch include independent Angus King of Maine and Democrat Chris Coons of Delaware. Senator Joe Manchin of West Virginia said he'll make a decision after meeting with Gorsuch next week.
McCaskill, King and Michael Bennet of Colorado said Thursday they were undecided, as did second-ranking Senate Democrat Dick Durbin of Illinois, a Judiciary panel member.
'Every Tool'
Another Democrat on the Judiciary panel, Richard Blumenthal of Connecticut, said he was undecided but deeply troubled by Gorsuch's refusal to say whether he would adhere to Supreme Court precedents including the Roe v. Wade abortion-rights ruling.
"If I oppose his nomination, I will use every tool at our disposal, including a filibuster, to try to block his nomination," Blumenthal said. "I have not reached a conclusion."
Republicans are united in Gorsuch's support, as Republican Orrin Hatch of Utah offered unqualified praise to the nominee.
"You, sir, are one of the great ones. And I'm proud of you," Hatch said. "Why anybody in this body would vote against you, I'll never understand."
The Judiciary panel is hearing Thursday from outside witnesses supporting and opposing Gorsuch's confirmation. The committee is scheduled to vote April 3, and the full Senate plans a vote later that week.
If Trump gets the chance to fill another Supreme Court vacancy, it could mean a major, long-lasting shift at the court.
The most frequent swing justice, Anthony Kennedy, is 80. Liberals Ruth Bader Ginsburg and Stephen Breyer are 84 and 78, respectively. Replacing any of them with a conservative would put the court in position to roll back a number of liberal precedents, including the landmark Roe v. Wade abortion rights ruling and decisions protecting the rights of gays and racial minorities.
— With assistance by Justin Sink, and Steven T. Dennis
Before it's here, it's on the Bloomberg Terminal.
LEARN MORE