Photographer: David Ryder/Bloomberg
markets
Cannabis Stocks Soar More Than 130% in Australia
By
Government has eased laws on imports of medicinal marijuana

Aussie stocks in the sector are up on average 136% this year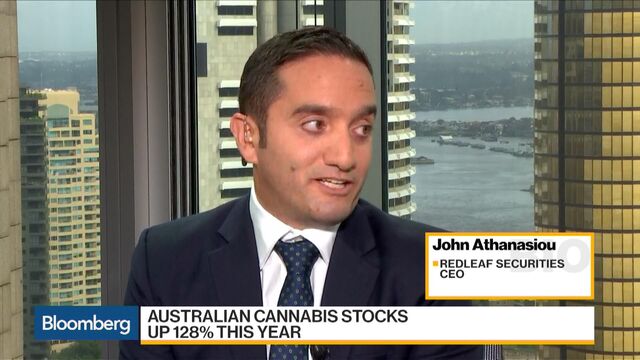 There's a buzz in Australia's stock market.
Shares of companies involved in the cultivation, production and research of medicinal marijuana have on average soared more than 130 percent in Sydney this year. That's six times higher than their peers in the U.S. and Canada. The surge was sparked by Australia easing restrictions on imports of cannabis to treat illnesses from epilepsy to cancer.
Australia's nascent cannabis sector is a sliver compared to the U.S., where more than half of states have legalized medical uses of the plant. While that allows plenty of room for growth, companies with unproven business models and patchy cash flows remain at the mercy of regulators, according to Peak Asset Management LLC. Only Queensland allows specialist medical workers to prescribe pot-related products to people who don't respond to conventional medicine.
"The market is excited by the potential upside it could bring," said Niv Dagan, Melbourne-based executive director at Peak Asset Management. Dagan has a very small chunk of his more than A$100 million ($76 million) fund exposed to Australian pot stocks. "The key risk we see is obviously regulatory risk," he said by phone.

Investor enthusiasm isn't abating. The Hydroponics Co. Ltd., which makes lighting rigs and glasshouses that help grow cannabis plants, is raising money for an initial public offering next month. The A$8 million share sale is almost three times oversubscribed, according to the company's chairman Alan Beasley. The stock will list with the ticker THC, shorthand for Tetrahydrocannabinol, the main psychoactive ingredient that gets cannabis users high.
Initial demand for medicinal marijuana in Australia could top A$100 million a year, a University of Sydney report estimated. If cannabis-derived pharmaceuticals become more mainstream within the decade, demand could grow to A$300 million, the report's author Michael Katz said. That's still a tiny fraction of the U.S. market, which could be worth nearly $21 billion by 2020, Morgans Financial Ltd. said, citing ArcView Market Research.
Read more about how one hedge made a mint from investing in U.S. listed pot stocks.
The Australian industry players are small, with an average market capitalization of less than A$80 million, even after a 136 percent increase this year, according to a Bloomberg index based on a similar gauge from Red Leaf Securities of 10 firms. That gauge was up 1.9 percent as of 11:22 a.m. on Friday in Sydney. 
The returns smash the 21 percent advance on the Bloomberg Intelligence Global Cannabis Competitive Peers Index this year, as well as the less than 1 percent gain by the S&P/ASX 200 Index.
Stemcell United Ltd., which is involved in extracting traditional Chinese medicine from plants, briefly boosted its market capitalization to about A$150 million this month from less than A$5 million, and is now around A$92 million. The company said it will move its focus to medicinal cannabis and appointed Nevil Schoenmakers, known for his work in cannabis genetics, as an adviser.
Shares of MMJ PhytoTech Ltd. are up 191 percent this year. In addition to Australia, the company operates in markets including the U.S. and Israel that have regulated medicinal cannabis laws. Auscann Group Holdings Ltd. is up 207 percent since its IPO and counts Toronto-listed Canopy Growth Corp. as its largest shareholder. Canopy became Canada's first marijuana unicorn when its market capitalization surpassed $1 billion last year.
John Athanasiou, chief executive officer at Red Leaf Securities, a Sydney-based brokerage and advisory firm that's managing the Hydroponics Co. share sale, is betting the rules surrounding medicinal cannabis will be relaxed further.
"The tea-leaves are definitely there," Athanasiou said by phone, suggesting that cannabis may become as common as getting prescription medicine in the next five years.
Companies in the Australian index, based on a Red Leaf Securities gauge (as of March 22): AC8, BOT, CPH, ESE, MDC, MMJ, MXC, QBL, RGI, ZLD.
Companies in the Bloomberg Intelligence global index (as of March 22): ETST US, CNBX US, MMJ AU, MXC AU, MJN CN, CARA US, BE CN, CNAB US, VRT CN, APH CN, ARNA US, XXII US, GWPH US, ZYNE US, WEED CN, GRWC US, INSY US, GBLX US, IIPR US, MDM CN, ACB CN, CCAN US, TRTC US, THC CN, LDS CN, MSRT US, AMMJ US, SL CN, CRZ CN, OGI CN, NSP CN, CANN US, GLH CN, CVSI US, MJNE US, CBIS US, SRNA US, BLO CN, MJNA US, EMH CN, MCIG US, CGRW US, MDCL US, CBDS US, CHV CN, PNPL US, KSHB US, EAT CN, PHOT US, CANL US, CLSH US.
Read Next: Marijuana Helped the World's Top Hedge Fund Gain 145%
(
Updates with today's trading in seventh paragraph.
)
Before it's here, it's on the Bloomberg Terminal.
LEARN MORE