Portuguese Retailer Expands Abroad Without Breaking the Bank
By
Sonae deal with U.K.'s JD Sports extends partnership strategy

Retailer seeks to limit debt, financial risk in overseas push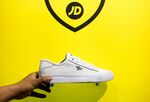 Sonae SGPS SA, Portugal's biggest hypermarket and supermarket chain, wants to show that a retailer from a modestly sized market can expand overseas without deploying shopping carts full of cash.
The company this month expanded its presence across the Iberian peninsula by combining its sports retail arm with the regional unit of JD Sports Fashion Plc of the U.K. The deal gives Sonae a boost in Spain, where its sporting-goods business struggled with a lack of scale that has weighed on the company's share price.
It was the latest in a series of moves by Sonae, based in the northern Portuguese city of Maia, to bolster its overseas operations through partnerships in order to avoid capital-intensive investments in its own stores and limit financial risk. Sonae expanded to 17 new markets in 2016 and now operates in 89 countries, generating sales of more than 600 million euros ($647 million) abroad.

"We knew we wouldn't be able to do it alone," Chairman and Co-Chief Executive Officer Paulo Azevedo said on the sidelines of an earnings presentation this month, dressed in his own brands' clothing and sneakers made from Portuguese cork and wool. "We want to grow. We're not looking at other markets simply to replace Portugal."
Mozambique, UAE
Last year, Sonae agreed to buy a 50 percent stake in Portuguese clothing company IVN-Servicos Partilhados SA, also known as Salsa, to bolster its non-food retail business abroad, expanding in Spain, France and Italy. It also partnered with billionaire Mohamed Ibrahim's Satya Capital LLP to acquire two food retail stores in Mozambique and agreed to start a supermarket chain with Fathima Group in the United Arab Emirates.
Even while expanding, Sonae has reduced net debt to 1.2 billion euros last year from 1.3 billion euros a year earlier. Its shares have fallen about 17 percent over the past 12 months as investors focus on tight margins in its domestic food business and telecommunications operations, though they've bounced back from lows last summer.
The JD venture, in which Sonae is keeping only 30 percent, creates the second-largest player in sports retail in the Iberian Peninsula after Decathlon SA, with 287 stores in Portugal and Spain, the companies say. It "shows that Sonae is willing to take more decisive actions to turn around its non-food business," Haitong Research analysts including Tony Shiret said in a note March 9. 
Sonae's domestic growth began in the 1980s when Belmiro de Azevedo, the co-CEO's father, took over a money-losing wood-panels manufacturer and expanded into retailing, telecommunications and shopping-center development. Family holding Efanor is still the biggest shareholder with more than 50 percent.
Travel, Tourism
Sonae's investments at various times extended to a travel agency and a tourist resort south of Lisbon, a construction company and one of Portugal's leading daily newspapers, Publico. Azevedo said the company was adjusting to yielding some control over its far-flung operations as it moves ahead with the new approach to expansion.
"We are known for having a knack for buying rather than selling," Azevedo said. "We're getting more comfortable working with partners."
Before it's here, it's on the Bloomberg Terminal.
LEARN MORE