No Press? No Problem: Tillerson's CEO Secrecy
"It's getting written a lot that he's an idiot, and he's not an idiot."
By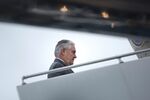 Rex Tillerson is rewriting the rules for what it means to be secretary of state. His ideas for conducting diplomacy track closely with beliefs shaped during his 40-year career at Exxon Mobil Corp., where negotiations happened behind closed doors, leaks could cost millions of dollars in shareholder value, and the press was seen as a nuisance. Case in point: Tillerson's staff handpicked just one reporter, from the Independent Journal Review, a conservative website, to join him on his plane during his recent trip to Asia.
"We have some very, very complex strategic issues to make our way through with important countries around the world, and we're not going to get through them by just messaging through the media," Tillerson told IJR. "We get through them in face-to-face meetings behind closed doors."
For the group of reporters covering him at State—who were used to being on the same plane with previous secretaries—keeping up with Tillerson was impossible. The itinerary was as follows: Land in Tokyo and meet top officials; fly to a U.S. air base in South Korea and hitch a helicopter ride to the North Korean border; bed down in Seoul for the night; then fly to Beijing before returning to the U.S. Total time in the neighborhood: about 84 hours.
The beat reporters had to trail Tillerson on their own flights, and the IJR journalist was told not to update her colleagues with his whereabouts. Although the media stayed in the same hotels as Tillerson in Seoul and Beijing, America's top diplomat was basically off the grid for hours at a time. "I'm not a big media press access person," he told IJR in an interview between Seoul and Beijing. "I personally don't need it."
Tillerson's style marks a clean break with traditional notions of what it means to be America's top diplomat. For decades, public relations was as much a part of the job as private negotiations, both to champion American ideals and to make sure the guy on the other side of the negotiating table didn't control the message.
Tillerson is forgoing the PR role. He's dispensed with news conferences—taking questions instead at tightly controlled "media availabilities" in Tokyo, Seoul, and Beijing from outlets chosen by his staff. He hasn't dropped by U.S. embassies in the countries where he visits. And he has so far declined to elucidate any foreign policy vision in public, other than to say he supports Donald Trump's call to cut his agency's budget by nearly a third.
Aides say Tillerson sees himself as a man of action who wants to spend his limited time getting the job done and not talking about it. They say he'll deliver a message when he has something to say, and that's it. "What we know about Tillerson is that he comes from a 'small r' view of realism of foreign policy, that money is power, weapons are power, but ideas are not so much power," says Heather Hurlburt, who wrote speeches for Democratic Secretaries of State Warren Christopher and Madeleine Albright.
Tillerson views himself as the antithesis of his predecessor, John Kerry. The rap on Kerry was that he never met a camera he didn't like. He was happy to fly to Geneva, spend two days locked in negotiations about Syria, fail to reach a deal, and hold a news conference saying so. For good measure, he might throw a few verbal jabs at his counterpart standing 3 feet from him on the podium. "The days of knocking a soccer ball around on the tarmac between press conferences are over," says Tillerson spokesman R.C. Hammond, a former Newt Gingrich aide who came to the State Department with a mandate to shake up the old order. "Instead, we are going to do actual diplomacy that leads to results—then press conferences."
Tillerson is also taking seriously his boss's decision to eliminate wasteful spending. He's chosen to fly on a modified Boeing 737, which carries fewer people than the modified 758 Kerry used and flies faster. He travels with a lighter footprint, as his staff likes to say. That means a slimmed-down staff. Speechwriters, press handlers, and deputies stay at home. If that means the media get things wrong, so be it.
That was made clear in Seoul on March 17. A local paper reported that Tillerson had canceled dinner with top officials because of fatigue. The rumor turned out to be false. A dinner was never planned. The problem wasn't so much that he had no pool reporters traveling with him, but that Hammond was unavailable to handle questions, and Tillerson hadn't brought a press wrangler to keep reporters apprised of the secretary's every move on such trips. Had he done so, the fatigue story would have been shot down in minutes.
While Tillerson's staff stays busy sculpting his image as a doer and not a talker, there's an equally plausible reason for his reticence to deal with the press. The Trump administration, like any other, has competing power centers when it comes to foreign policy. Getting out too far ahead of Trump, especially early in the presidency, could prove disastrous. And yet in the vacuum left behind, negative stories have begun to percolate about Tillerson not being up to the job. "It's getting written a lot that he's an idiot, and he's not an idiot," Hurlburt says. "First-term secretaries usually have to be a little careful of how much independent profile they have."
When news broke on March 21 that Tillerson may skip the annual NATO meeting in April, the blowback was quick and bipartisan. "I believe all the incoming crowd at the State Department are internationalists. But to basically say, 'Withdraw, I'm going to forfeit engagement,' that's a mistake," says Daniel Runde, a Republican who's a fellow at the Center for Strategic and International Studies in Washington. Ivo Daalder, the permanent U.S. representative to NATO from 2009 to 2013, was even more critical: "He's dissing them, and what's more, he works for a president who ran for office on an anti-NATO platform. There's a lot of reassurance to be done."
The bottom line: Tillerson is eschewing traditional modes of diplomacy for a more secretive, no-frills approach.
Before it's here, it's on the Bloomberg Terminal.
LEARN MORE