Le Pen to Visit Moscow as Russia Calls Her Political 'Realist'
By and
Trump, Le Pen are anti-globalists, not populists, Lavrov says

Russia-U.S. relations are in 'expectant pause,' Lavrov says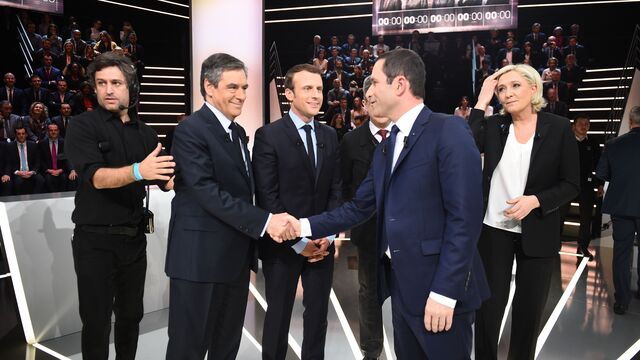 Marine Le Pen is to visit Moscow on Friday as Russia hailed the French presidential candidate as a realist who opposes globalization along with U.S. President Donald Trump.
The National Front leader will hold talks with State Duma Speaker Vyacheslav Volodin and lawmakers "at my personal invitation," Leonid Slutsky, chairman of the international relations committee in Russia's lower house of parliament, said, according to the Interfax news service. They'll discuss the fight against terrorism and issues of Russian-French cooperation, he said.

Her campaign chief, David Rachline, confirmed the planned visit.
The trip by the far right firebrand was announced hours after Russian Foreign Minister Sergei Lavrov said Le Pen and Trump are "realists, if you want, or anti-globalists," and not representatives of fringe or "populist" views. Relations with the U.S. "are in an expectant pause" until the Trump administration fills senior posts, while allegations of Russian interference in other countries' elections, including in France, are "completely fictional," Lavrov said, in remarks to the military academy of the general staff in Moscow posted on the ministry's Facebook page.
Le Pen, who polls show likely to reach the May 7 run-off for the presidency, is the most outspoken admirer of Putin among the top five candidates. While Republican rival Francois Fillon has said he would seek to rebuild ties with Russia, Le Pen has outdone him in calling for close relations. She's openly supportive of Putin's military operations in Syria and his annexation of Crimea.
"Russia is a decisive element of the balance of power that could help bring peace to the world," she said during her Feb. 23 speech in Paris on foreign policy. "Russia has been mistreated by the EU and its vassal France," she said.
Russian Backing
Russia's First Czech-Russian Bank OOO helped her finance an earlier campaign with a 9-million-euro loan in 2014. In the same year, party founder Jean-Marie Le Pen's political fund Cotelec received another 2-million-euro loan from a Russian-backed fund based in Cyprus, news website Mediapart reported.
Le Pen is still seeking a loan to help her finance her presidential run. She says French banks are refusing to lend her the millions of euros she needs. So far, she has a 6-million-euro loan from Cotelec, according to wealth filings with authorities made public this week. 
Her campaign treasurer Jean-Michel Dubois didn't respond to a text message asking if she plans to meet with potential lenders during the Russian visit.
Russia appeared to switch its support from Le Pen to Francois Fillon when he emerged as the Republicans' contender for the French presidency, with Putin telling reporters at talks in November that they had "very good" relations. With support for Fillon sliding ahead of next month's first-round voting, polls show Le Pen is likely to face and lose to Emmanuel Macron in the run-off, a 39-year-old independent who backs the EU sanctions and accuses the Kremlin of cyberattacks on his campaign.
Before it's here, it's on the Bloomberg Terminal.
LEARN MORE