Indian Students Think Twice About Attending U.S. Universities
They worry about anti-Indian violence and getting a U.S. job after graduating.
By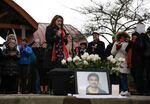 Rahul Lachhani, a technology analyst at Credit Suisse Group AG in Mumbai, is on the verge of realizing his dream of pursuing a graduate degree in the U.S. The University of Southern California Viterbi School of Engineering has accepted him into its computer science graduate program. But the Trump administration's strident anti-immigration stance has him worried. "After so many years of hard work, my friends and I are now questioning—are we right in investing in a U.S. degree at this time?" he says.

For decades, the U.S. has lured thousands of foreign students who've earned graduate degrees in engineering or mathematics and been quickly hired by the likes of Google Inc. and Microsoft Corp. Now the Trump administration is trying to slash immigrant visas, while Republican and Democrat lawmakers are introducing bills to curb the number of work visas. Recent violent attacks against Indians—several fatal—have raised the specter of physical danger among Indians who have fantasies of a life in the U.S.
Lachhani is among the two dozen people attending a meeting in Mumbai for those admitted to Viterbi. "We want the best and brightest to come to USC," Sudha Kumar, director of the university's India office, tells them. What should have been a routine session to talk up the virtues of a Viterbi education and share tips on living costs and campus jobs turns into a sort of group therapy where the attendees vent their fears. "Many students are thinking twice because of the violence," says Stuti Patel, one of the attendees.
Of particular concern to those at the meeting are leaked draft orders that herald changes to the H-1B visa program, which has allowed thousands of Indians like Lachhani to get high-paying jobs in the U.S. after graduating. Indians received almost 120,000 H-1B visas in 2015, 70 percent of the total issued.
Kumar attempts to soothe the attendees. "We are waiting and watching what's going to happen on the visa front, but I can tell you that American universities need international students and American companies want foreign engineers," she says.

The job outlook in the U.S. is especially crucial for students who'll be borrowing heavily. Tuition at Viterbi is about $50,000 to earn a master's degree. "I will graduate with heavy debt, and I worry about repaying my student debt if H-1B visas are not available for finding jobs in the U.S.," says Gauri Joshi, a top telecommunications engineering student at a local school.
Parents of potential Viterbi students are anxiously checking the news. The murder of a young Indian in Kansas and the ensuing FBI hate crime investigation into the triple shooting dominated newspaper headlines and prime-time TV in India for days. The father of an Indian who survived appealed to his countrymen not to send their children to study in America. "My parents call every morning with the latest Trump policy headlines or the newest episode of violence, but I tell them that California is safe," says 21-year-old Shreya Jain, who's about to graduate from a local college. The USC campus is friendly, Kumar tells the group, and Los Angeles is as safe as any big city in India. "The president of the university is an immigrant," she says. "The dean of the engineering school is an immigrant. Don't let the news of violence and the actions of a few fringe groups keep you from getting a great USC education." Then, to nervous laughter, she adds, "We hope President Trump cooperates with us."
The bottom line: Indians who normally are eager to study in the U.S. are having doubts because of the anti-immigrant steps Trump has taken.
Before it's here, it's on the Bloomberg Terminal.
LEARN MORE