Goldman, BNY Mellon Bow to Investor Pressure on Gender Pay
By
Other financial institutions rebuff shareholder proposals

Verizon, AT&T and Qualcomm also satisfy investor requests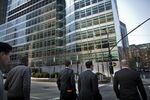 An activist shareholder says it has persuaded Goldman Sachs, BNY Mellon and three telecommunications companies to "take proactive steps" to address the disparities in men's and women's compensation, avoiding a shareholder vote on the issue.
Pax World Management, which oversees about $4.1 billion, had filed proposals asking the two banks, along with Verizon, AT&T and Qualcomm, to disclose what's known as pay-gap data and to work toward parity. Pax withdrew the proposals after all five agreed to take steps to address pay inequities, though none committed to the specific requests to make public the data or to close the gaps.
"This is a process," said Heather Smith, lead sustainability research analyst at Portsmouth, New Hampshire-based Pax. "We don't expect our work to stop here. We will be continuing our conversations with these and other companies."
Following Pax's proposals, three of the companies -- Bank of New York Mellon Corp., Verizon Communications Inc. and Qualcomm Inc. -- released statements outlining their commitments to pay parity and explaining how they will monitor it. Goldman Sachs Group Inc. agreed to enhance pay equity disclosures in a report this spring, Smith said. Fletcher Cook, a spokesman for AT&T, said the company had signed the White House Equal Pay Pledge last year, reinforcing "what we already deliver to our employees: equal pay for comparable work, experience and performance."
Other finance companies are resisting similar pressure from Boston-based Arjuna Capital. At 2017 annual meetings, shareholders at Wells Fargo & Co., Citigroup Inc., American Express Co. and Bank of America Corp. will vote on measures asking the companies to issue reports examining gender-pay gaps and their efforts to ensure parity.
All four have advised investors to reject the proposals, arguing that they already have strong records on hiring, paying and promoting women. None make public any examination of gender-pay gaps or efforts to ensure pay parity, according to Natasha Lamb, managing director at Arjuna.
Lamb said the companies she engaged with had offered similar responses to those Pax received, but Arjuna didn't withdraw its proposals. "It is not sufficient," she said. "We expect the same level of reporting as the tech companies gave in 2016. That means reporting the percentage gap and committing to close it." Last year, Arjuna made equal pay proposals at nine tech companies, seven of which -- including Intel Corp. and Apple Inc. -- agreed to make the data public and close the gaps.
The gender-pay gap has become an important metric for investors and others who are concerned about increasing opportunity for women in finance. While women represent about half of the workforce of the 23 banks with market capitalization of greater than $25 billion, they make up only about 21 percent of their executive ranks, according to Bloomberg data.
The finance industry also has one of the largest pay disparities, according to a survey by job site Glassdoor.com. Men who work at financial services firms on average earn 6.4 percent more than women, after controlling for job title and responsibilities. The gap at technology companies, for example, is 5.9 percent.
Before it's here, it's on the Bloomberg Terminal.
LEARN MORE