politics
Le Pen Courts Putin as Fillon Says French State Is Attacking Him
By , , and
Fillon calls for Hollande to be investigated over leaks

Nationalist pledges opposition to EU sanctions against Russia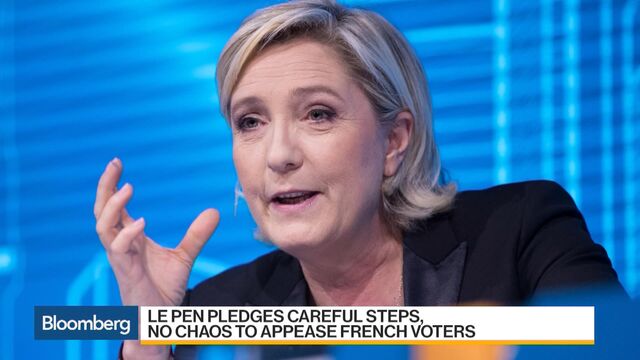 The anti-euro candidate Marine Le Pen met with Vladimir Putin in Moscow Friday as the French establishment was consumed by an unprecedented fight over the presidential election campaign.
As Le Pen promised Putin she'll oppose European Union sanctions against Russia if she becomes France's next leader, the Gaullist candidate Francois Fillon accused Socialist President Francois Hollande of manipulating the country's courts in a covert operation to destroy his candidacy.
"I am calling into question the president of the republic," Fillon said in an interview on France 2 television late Thursday, saying Hollande is running a secret, high-level team to interfere with the judicial process. He called it "a state scandal."
France's two establishment parties are going to war over a criminal probe into Fillon's affairs that has derailed his campaign and leaves both facing elimination in the first round of voting for the first time in modern history. Hollande abandoned his own hopes of re-election last year with his approval rating stuck at a record low.
For more on the Fillon scandal, click here
With the country's traditional powers in meltdown, the 39-year-old centrist Emmanuel Macron has emerged as the main rival to Le Pen in his first ever political campaign. Macron has defended German Chancellor Angela Merkel's insistence on the EU's punitive measures against Russia, both Le Pen and Fillon are pushing for closer ties with Putin and even acceptance of Moscow's annexation of Crimea.
"I have always been against the sanctions," Le Pen said Friday, before her meeting with Putin. "I have always considered them counterproductive."
Putin's Bet
Le Pen said she wants to see France and Russia work together to fight Islamic terrorism while her senior adviser Florian Philippot denied she is in Moscow looking for financing. French banks have refused to lend to Le Pen's campaign, and she has said she's speaking to international lenders instead.
"If Fillon had some chance of victory, Putin wouldn't have met Le Pen," said Igor Bunin, director of the Moscow-based Center for Political Technologies. "But since he's been convinced that Macron is another Merkel, he decided to go all in." Putin denied that he was trying to influence the French election in televised footage of the start of the meeting.
Almost every French presidential race in recent history has featured a runoff between the nominees from Fillon's and Hollande's parties. This year however, polls show neither is likely to survive the first round of voting on April 23. Socialist candidate Benoit Hamon is lagging even further behind Fillon while Macron is projected to beat Le Pen in the May 7 runoff by about 20 points.
"If Marine Le Pen wins, it is the end of the European Union, it is the end of the euro zone," Sandro Gozi, Italy's junior minister for European Affairs, said in an interview with Bloomberg Television. "The French elections are a key moment for the history of the European Union."
Fillon Leaks
Fear of Le Pen, who wants to take France out of the EU and impose trade controls, was the main reason Defense Secretary Jean-Yves Le Drian gave on Thursday when he endorsed Macron instead of his own party's Hamon.
Fillon, who was the favorite to be France's next head of state less than three months ago, has seen his campaign battered by almost weekly revelations in the newspaper Le Canard Enchainé and other media about his finances.
On Thursday night, he accused Hollande of orchestrating those leaks and said the president himself should be investigated. Noting that documents seized by investigators in his office at the National Assembly appeared in the press 48 hours later, Fillon said only the highest authority could have allowed the information to get out.
The French president fired back within the hour, releasing a statement excoriating Fillon for making "false allegations" and "provoking unbearable trouble" for the presidential campaign.
"The only scandal is not about the state, but about a person who will have to face justice," Hollande said.
— With assistance by Fabio Benedetti Valentini, and Ilya Arkhipov
Before it's here, it's on the Bloomberg Terminal.
LEARN MORE