Dutch Four-Way Coalition Talks Progress With Greens on Board
By
Greens leader Klaver sees 'huge differences' between parties

Rutte's Liberal Party won March 15 election with 33 seats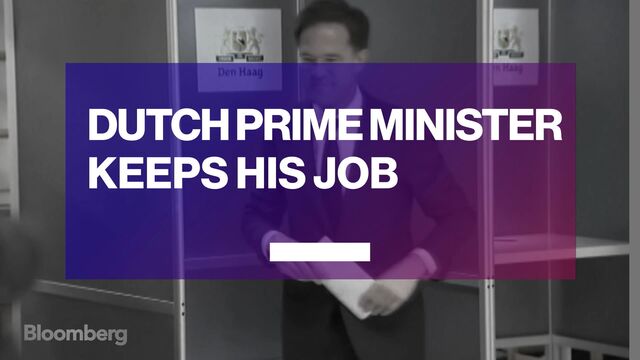 The Dutch Liberals, Christian Democrats, the centrist D66 party and the Greens will investigate whether they can form a coalition government despite policy disagreements, Prime Minister Mark Rutte said.
"I've said that I'm prepared to continue talks, but we have also spelled out to each other that the political differences between these parties are substantial," Rutte, the Liberal party leader, said on Dutch television on Thursday. He spoke after a meeting in The Hague with Health Minister Edith Schippers, who's heading the preliminary talks, Christian Democrat leader Sybrand Buma, D66 head Alexander Pechtold and Jesse Klaver of the Greens.
Schippers, who was appointed by parliament as the so-called scout to investigate coalition options after the March 15 election, previously had separate meetings with the four party leaders. Thursday was the first time they all gathered jointly for talks.

At least four parties will be needed to form a government with a parliamentary majority. The Liberals, Christian Democrats and the centrist D66 have 71 lawmakers between them; adding the Greens would give them 85 seats for a 20-seat cushion over other parties in the lower house. The Liberals remain the largest party after the election, while the other three posted the biggest seat gains.
The talks under Schippers are the first part of a coalition-forming process that has lasted an average of 72 days in the Netherlands since World War II. The next step is for the new lower chamber to appoint an "informer" to take discussions further.
"I told the scout that there are various reasons, despite the differences, to appoint an informer to go into the next round," Buma said after the meeting. "There was not much about the content, but it was rather about looking at whether this could be a fruitful step and I think we've established that," Pechtold said.
The coalition that is now being looked at would also have a majority in the smaller upper house of parliament. Still, the leader of the Greens, who have never formed part of a Dutch government before, expressed less enthusiasm.
"For us this is far from an ideal coalition," Klaver said. He's questioned whether the other parties share the Greens' commitment to tackling global warming, among other issues. "There are huge differences between the parties. We will see whether we can bridge the differences and we'll see whether we can realize our ideals together."
Before it's here, it's on the Bloomberg Terminal.
LEARN MORE