World's Largest Refugee Host Says EU Deal Near Collapse
By , , and
Turkish minister Celik says EU agreement is too one-sided

Says 'racist' backlash threatens Europe's democratic values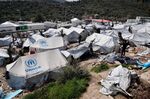 Turkey's agreement with the European Union to help stem the largest flow of refugees since World War II is inching closer to collapse, according to Turkey's minister in charge of EU integration.
By hosting about 3 million refugees -- the most of any nation -- and halting their migration to Europe, Turkey has saved the EU from a "racist" backlash that threatens the bloc's democratic character, Omer Celik said in an interview on Tuesday in Ankara. Describing the deal as one-sided, he said Turkey is under no obligation to continue implementing it, adding that his country's commitment to seeking EU membership wasn't unconditional.

"We won't abandon these people to their deaths, but an agreement has two sides and if one side doesn't abide by its obligations, neither will the other," Celik said. "If the refugee agreement collapses, what we foresee is clear: we won't cooperate with any mechanisms acting on behalf of the EU."
The prospects of Turkey joining the union are dissipating as politicians lash out ahead of a series of votes that could define relations for decades. In Europe, populists are campaigning on anti-Muslim and anti-immigration sentiment, while in Turkey, President Recep Tayyip Erdogan has been appealing to nationalists ahead of an April referendum on endowing his office with full executive authority. European officials have voiced their disapproval of the plebiscite, saying it would undermine democracy in the NATO member.
Pressure
That's put more pressure on the refugee deal struck a year ago, under which Turkey agreed to help stem the flow of refugees from Syria in exchange for $3 billion in aid, a pledge to "re-energize" Turkey's stalled membership talks and to secure visa-free travel for Turks in the EU's 26-nation Schengen area.
The latter pledges have become politically toxic in Europe, where upstart politicians including Geert Wilders in the Netherlands and Marine Le Pen in France are campaigning on anti-immigrant and anti-Muslim sentiment. The EU should be taking a stronger, united stand against racism inside the bloc, Celik said.
The EU has said Turkey must amend its terrorism laws for visa-free travel to be considered, a condition described by Celik as impossible given the recent attacks in Turkey by Kurdish and Islamic State militants and last year's coup attempt.
"Instead of praising Turkey, they are issuing orders," he said, adding that the EU should focus instead on political trends that he argued were undermining the EU's claim to be a standard-bearer for democratic principles.
Capital Punishment
While support in Turkey for EU membership remains high, belief that it will happen has collapsed, Celik said. Ultimately, Turkish voters will decide on the future of the relationship as well as any legislation to reintroduce the death penalty, he said.
"This issue depends on whether relations with the EU are maintained or not," he said. "It is up to the Turkish people whether to keep the EU process or halt it."
Turkey abolished capital punishment in 2002 as a prerequisite for EU membership, but chants for its reinstatement are now frequently heard at Erdogan's rallies. Earlier this month in a speech in Istanbul, Erdogan said he'd approve legislation to introduce the death penalty if it's passed by parliament.
Turkey has proposed a summit to provide some clarity on the state of relations between the bloc and its biggest Muslim-majority neighbor, but has yet to receive a commitment from Europe's leaders on a date, according to Celik. Turkey-EU ties need a new blueprint, he said.
"We want full membership in the EU as long as it adheres to its values," Celik said. "We won't be a part of a Europe based on double standards and Islamophobia."
Before it's here, it's on the Bloomberg Terminal.
LEARN MORE