Fashion
Nike's Biggest Sneaker Launch Ever Is a 1996 Reboot
Celebrity endorsements are still the way kicks are sold.
By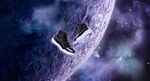 Nike just had its biggest sneaker release, thanks to a cartoon bunny and Michael Jordan.
In December, the shoemaker's Jordan brand began selling the Space Jam XI, celebrating the 20th anniversary of the 1996 comedy featuring the basketball legend alongside Looney Tunes characters. Shoppers went bonkers.
"The Space Jam XI was the largest and most successful shoe launch in the history of Nike," Trevor Edwards, president of Nike, said on a conference call with analysts Tuesday. He didn't disclose sales numbers.
The sneaker is a rerelease of the Air Jordan XI that made its debut in the original Space Jam movie. The new $220 shoe has a black mesh top with patent leather, white on the sides, and translucent blue outsoles. The number 45 (not Jordan's original 23—he came out of retirement wearing 45) and the Jumpman logo are stitched on the back. It comes in a special edition box.
The Space Jam shoe was a bright spot in Nike Inc.'s otherwise gloomy quarter, as shares fell amid investor concerns that Nike is losing market share to hard-charging competitors Adidas AG and Under Armour Inc.

Retro styles such as the Space Jam kicks are having a fashion moment, and Beaverton, Ore.-based Nike is riding that wave. Throwback rollouts for shoes such as the Nike Air Zoom Generation and the Adidas Stan Smith have hit the market. Last year, heritage styles were the fastest-growing category in footwear.
Space Jam has become a cult classic decades after its initial release. The tale of a basketball star teaming up with the zany toons from Warner Bros. to thwart the evil plans of aliens from Moron Mountain is a banner movie for nostalgic Gen Xers. A video of the theme song has more than 26 million views on YouTube, and the original Space Jam website remains online, retaining its old school graphics from a bygone internet era.
For Nike, celebrities and athlete participation is seen as worth the lofty price tag. Performance athletic-wear companies spend much more on marketing, as a percentage of sales, than regular apparel companies because endorsements can have a big impact on sales, said Simeon Siegel, an analyst at Instinet. Four-time NBA MVP LeBron James signed a lifetime deal with Nike in 2015 reportedly worth more than $1 billion. Nike's ability and willingness to pay for famous names makes it possible to churn out top-selling hits, such as Kyrie Irving's Kyrie 3 and Kevin Durant's KD9.
"They've decided to spend this massive amount of money because endorsements create the value around these launches," said Siegel. "Without the endorsement, these sneakers are just another sneaker.""
Before it's here, it's on the Bloomberg Terminal.
LEARN MORE