markets
Li Ka-Shing's Main Companies to Increase Dividend Payments
By
CK Hutchison, CK Property say they'll increasing payments

Flagship CK Hutchison reports profit rose 6% last year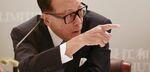 Billionaire Li Ka-shing's two main companies raised their dividend payments as Hong Kong's richest man followed through on a pledge to shareholders after completing the biggest-ever reorganization of his business empire.
Li's flagship CK Hutchison Holdings Ltd. said Wednesday it plans a payment, excluding interim dividends, of HK$1.95 a share from HK$1.85 a year earlier. Cheung Kong Property Holdings Ltd. agreed to increase the payout to HK$1.15 a share, though that missed analysts' estimates by about 12 percent.
The payments build on the 88-year-old mogul's assurances two years ago that he'd bolster shareholder returns, a move that could ease investor concerns that have kept shares of the companies below their book values. Anticipation had been building after one of Li's infrastructure units announced an increase in dividends on Tuesday and earlier this year, his most cash-flush unit announced its first special dividend in more than a decade.
Profits Rise
CK Hutchison also announced profit rose about 6 percent to HK$33 billion last year, compared with the average analyst estimate of about HK$32 billion. At CK Property, the underlying profit that excludes gains from real-estate revaluations and deferred taxes increased to HK$18 billion, versus the average analyst estimate of HK$18.2 billion.
Shares of CK Hutchison fell 0.5 percent to close at HK$96.45 on Wednesday, while CK Property declined 1 percent. Both companies reported after trading hours.
CK Hutchison benefited from growth at its European telecommunications business, which saw profit climb 10 percent to HK$12.8 billion as key markets such as Italy recorded higher earnings. That helped soften the impact from the weaker pound, which is important for Li because the U.K. is his biggest market.
Risks from the U.K. may persist as Prime Minister Theresa May plans to trigger the process of splitting the country from the European Union next week. Britons voted to leave the bloc last year, making the Hong Kong tycoon's businesses vulnerable to swings in the pound and increased uncertainty about trade with the U.K.
More headwinds abound from Europe as investors await the outcomes of a series of elections in the region this year, which could affect European demand for CK Hutchison's ports and retail operations.
In a move that would help him diversify away from Europe, Li is bidding to buy Australian power provider Duet Group. If the deal gets approved by Australia's Foreign Investment Review Board, the tycoon would have access to an energy network covering an area three times the size of Hong Kong.
Additionally:
CK Hutchison said it plans to open more than 1,000 stores this year, with 65 percent of them catered toward health and beauty in China and Asia.
CK Hutchison sees the European telecommunications business as a growth driver and the company is open to consolidation opportunities in European markets such as Sweden and Denmark, said Canning Fok, group co-managing director.
There is still plenty of room to grow the retail business in Asia, said Fok.
(
Updates with bullet points at bottom of story.
)
Before it's here, it's on the Bloomberg Terminal.
LEARN MORE