business
Top Barclays Banker Quits To Fight Trump Assault on Civil Liberties
By
Barclays's Amer Sajed will leave executive role in July

Sajed said to be concerned for rights of Muslims, immigrants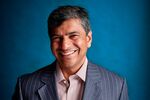 One of Barclays Plc's most senior U.S. executives is retiring to fight for civil liberties in his adopted homeland amid concerns about the rights of Muslims, immigrants and women.
Amer Sajed, a 56-year-old Pakistan-born immigrant who moved to the U.S. to attend college, will step down from his role leading the bank's credit-card business in July. He has been working with the American Civil Liberties Union and other grassroots community organizations after being spurred into action by the acrimonious political climate under President Donald Trump, according to two people familiar with his thinking.
Sajed joined Barclays in 2006 after stints at Citigroup Inc. and HSBC Holdings Plc, rising through the ranks to become head of the Barclaycard, which is the largest credit card issuer in the U.K. and ranks in the top 10 in America. Sajed lives in the Philadelphia area and works out of Barclaycard's offices in Wilmington, Delaware.
"We wish Amer and his family every happiness, and especially in pursuing his passion for the promotion of civil liberties, and contributing to the community where he lives," Chief Executive Officer Jes Staley, who appointed Sajed to his executive committee last year, said in a statement Wednesday.
The Trump administration's attempts to ban some Muslim immigrants and silence critical journalists, as well as comments toward women and gender rights, contributed to his decision to leave banking, one of the people said. The ACLU has already brought several legal challenges against Trump's travel ban and is also fighting the President's reversal of the Obama administration's order to phase out federal use of private prisons.
While Trump has stocked his cabinet with Goldman Sachs Group Inc. alums and many bankers have cheered his pledges to deregulate and cut taxes, much of Wall Street hasn't been as welcoming of some of his social policies. Goldman Sachs CEO Lloyd Blankfein spoke out against Trump's controversial attempt to halt immigration from seven Middle Eastern nations in January, while Citigroup's Mike Corbat said the lender was concerned about the message the order sends.
American Move
Sajed was born to a wealthy family in Lahore, Pakistan and moved to the U.S. when he was 19 on a one-way plane ticket with $900, he said in an interview with Bloomberg News last year. His first job brought him down to earth, cleaning toilets for a McDonald's Corp. franchise during a summer when he was at Vassar College. He only lasted a few days.
"There was a lot of learning there, coming from Pakistan and from a pretty well-off family, to go and clean toilets in McDonald's," he said in the interview. "It helped put in perspective that hierarchies are crap and basically what matters is what you do and how well you do it."
Sajed graduated from Vassar in 1983 and later received an MBA from New York University. He met his wife as an undergraduate and has four children with her, according to a profile on Vassar's website. 
The Barclays executive already works on several community organizations in his local area, such as an adviser to the Select Greater Philadelphia Council, which promotes local businesses.
Read More: Amer Sajed and his plans for Barclaycard
Barclays Chairman John McFarlane has previously described Sajed as Barclays's "ace" as he and CEO Staley focus on boosting profitability, exiting operations like African banking to expand better-returning businesses like Barclaycard. The bank said it will look at internal and external options for the future leadership of its international consumer cards and payments business.
Before joining Barclays in 2006, he worked at Citigroup for two decades in a number of roles from Pakistan to St. Louis. During his five years in charge of U.S. Barclaycard, he doubled the volume of the business, the profile says.
Barclaycard had the highest profitability of any of the bank's businesses in 2015. Last year, the company stopped reporting it as one unit as it split U.K. and international divisions ahead of Britain's ringfencing rules.
Barclays is looking to allocate more resources to the credit card division to help it expand in Germany and the U.S. Sajed's successor will inherit his strategy to use the extra capital to invest in technology and revamp its rewards program, as a European cap on card interchange fees shakes up the industry and forces rivals to cut back on their own rewards.
Sajed said he fostered a different culture at Barclaycard to the more traditional banking operations based on Canary Wharf. The division is headquartered in Northampton, 67 miles north of London, in an open-plan office dotted with sofas where employees are allowed to wear jeans and sneakers.
— With assistance by Richard Partington
(
Updates with biographical information throughout.
)
Before it's here, it's on the Bloomberg Terminal.
LEARN MORE