quicktake
Why Brazil's Tainted-Meat Probe Worries the World: QuickTake Q&A
By and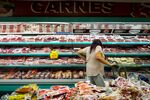 Though Brazil has generated more than its share of scandal and corruption allegations recently, a new probe into sales of tainted meat there has sent shock waves far and wide. The so-called Weak Flesh investigation has generated allegations of widespread bribery and sales of bad meat both at home and overseas. In response, a number of countries temporarily banned or curbed beef and poultry imports from Brazil, the world's largest exporter of both.
1. How serious are the accusations?
Investigators say they have evidence that 21 meat companies bribed government inspectors to approve sales and exports, even when the meat and poultry was contaminated or spoiled. Thirty-three federal inspectors are being investigated, according to the Agriculture Ministry.
2. Who's been named?
Notably, JBS SA and BRF SA, Brazil's two biggest meat suppliers. A JBS worker in Parana state has been accused of bribing inspectors. The company says it doesn't agree with the employee's actions and will take "applicable measures." Two BRF executives have been arrested. A BRF plant in Goias state was suspended by the government after allegations of irregularities. Police said the company shipped seven cargoes of salmonella-tainted meat to Europe. BRF said the meat was permitted under European standards, and that the plant follows national and international sanitary standards.
3. What do we know about the tainted meat?
Apart from the allegations against BRF and JBS, investigators say that in smaller slaughterhouses supplying the domestic market, meat, including sausages and cold cuts, was adulterated. In some cases, they say, smells from spoiled meat were masked by applying acid. No cases of poisoning have been linked with the scandal. After collecting 174 samples of meat from the 21 meat plants being investigated, Brazil's government said it has found no evidence of meat improper for human consumption.
4. Why is this such a big story?
Even if you don't live in the South American nation, if you're a carnivore, there's a good chance you eat Brazilian beef and poultry. The country accounts for 20 percent of global beef exports and almost 40 percent of chicken exports. Beef, poultry and pork accounted for almost 10 percent of Brazil's export revenues last year. BRF and JBS are among the largest companies in the country.

5. What's the market impact been?
Top importers of Brazilian chicken and beef, including China and Hong Kong, had suspended shipments after the allegations became public, but they've already lifted the restrictions. The European Union suggested Brazil obtain an external audit of its meat production. The scandal comes at a bad time for Brazil's giant meat companies. JBS plans an initial public offering in the U.S. later this year while BRF is pursuing a sale of shares in a unit that produces meat that is halal, that is, prepared as prescribed by Muslim law.
6. Is the probe connected to other corruption investigations?
There's no such indication. But the Weak Flesh probe has been going on for at least two years in Curitiba, Parana state, which also gave rise to the sprawling Car Wash investigation into bribes involving top executives and politicians. The police allege some of the bribes by the meat companies were destined for political parties.
7. What happens next?
Police investigators say they have more, as yet unreleased information. In the meantime, JBS and BRF have been on a PR offensive, publishing newspaper ads and prime-time television spots. The government is also trying to control the crisis, providing information intended to instill confidence in the investigation and the sanitary inspection system.
The Reference Shelf
— With assistance by Gerson Freitas Jr
Before it's here, it's on the Bloomberg Terminal.
LEARN MORE