Trump Antitrust Pick Saw Few Hurdles for AT&T-Time Warner Nod
By
Deal doesn't raise major issues, Delrahim said before election

Trump said on campaign trail that he was against merger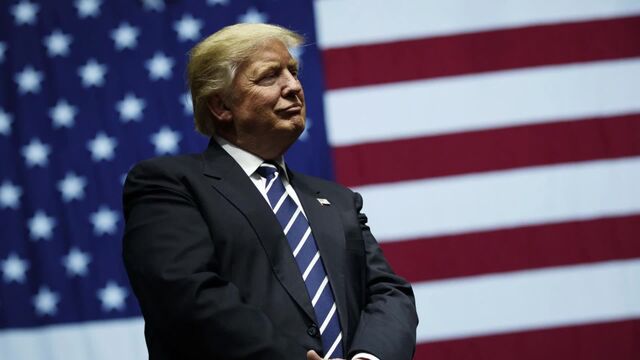 President Donald Trump said during his campaign that AT&T Inc.'s proposed takeover of Time Warner Inc. should be blocked. His pick to lead the Justice Department's antitrust division doesn't seem to agree.
Makan Delrahim, a former Justice Department antitrust lawyer now working at the White House, told Canadian business news channel BNN last year that the Time Warner deal doesn't raise the same hurdles as a merger of two direct competitors, because it would unite a distributor and a content provider.

"Just the sheer size of it and the fact that it's media, I think will get a lot of attention," he said in the October 24 interview. "However, I don't see this as a major antitrust problem."
Those remarks set up a potential clash with an administration that has prized loyalty to its agenda. Delrahim is Trump's pick to lead the antitrust division, people familiar with the matter have said, which would put him in charge of some of the government's biggest merger reviews -- the $85 billion Time Warner takeover, as well as pending tie-ups between Bayer AG and Monsanto Co. and Dow Chemical Co. and DuPont Co.
'Concentration of Power'
Trump blasted the Time Warner acquisition on the campaign trail, saying it puts "too much concentration of power in the hands of too few," and privately reiterated his opposition to the merger after the election. Later in January, he said the government still had to review the details. "I haven't seen any of the facts yet," he said.
Delrahim declined to comment on the interview with BNN, which was conducted two days after the deal was announced. Once formally announced, Delrahim would need Senate confirmation before taking helm of the division, where he would gain access to the unit's investigation of the deal and could change his views.
Trump doesn't have direct authority to block the deal. While he could direct the Justice Department to sue to block the tie-up, the department would have to persuade a federal judge that the merger threatens competition. The White House has traditionally avoided interfering with such investigations. 
Critics have argued that a beefed up AT&T could undermine competition by raising how much it charges rivals for Time Warner content like HBO and CNN. In the BNN interview, Delrahim said the Time Warner merger could raise such concerns but that it didn't raise the "same challenges" as earlier deals such as AT&T's failed bid for T-Mobile US Inc.
"From a technical standpoint, I think these folks would have an easier route toward approval than a merger of two competitors," he said.
Before it's here, it's on the Bloomberg Terminal.
LEARN MORE